Five Incredible Under-the-Radar Blues Guitar Solos by Fender Stratocaster Players
From Jimmie Vaughan, Doyle Bramhall II and Kenny Wayne Shepherd to Robert Cray and Bonnie Raitt, these deep cuts are bound to have you reaching for your Strat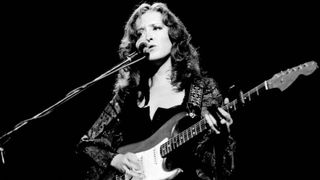 (Image credit: Gus Stewart/Redferns)
Introduced in 1954, the Fender Stratocaster has long been an electric guitar of choice for blues players. Some of the guitar's earliest proponents include bluesmen Buddy Guy and Otis Rush, while Jimi Hendrix helped repopularize the Strat in the late '60s with his decidedly psychedelic take on the blues.
Since then, a host of blues guitar heroes have championed this iconic solidbody, including Stevie Ray Vaughan, Eric Johnson and Joe Bonamassa.
From Jimmie Vaughan, Doyle Bramhall II and Kenny Wayne Shepherd to Robert Cray and Bonnie Raitt – here are five of the best under-the-radar guitar solos performed by Strat-toting blues players…
1. "Tuff Enuff" by the Fabulous Thunderbirds from 'Tuff Enuff' (1986)
Guitarist: Jimmie Vaughan
The other Vaughan is as cool as the other side of the pillow, especially compared to his fire-spitting brother. They both favor Strats, but the similarities pretty much end there. Jimmie rarely plays fast or dirty, and is never flash. He mostly sticks to stabbing single notes within a traditional framework giving them plenty of space to breathe.
Jimmie Vaughan reminds us that less notes can certainly mean more, and his solo on the title track from the Fabulous Thunderbirds' 1986 album Tuff Enuff is a shining example.
Vaughan doesn't usually do effects, but in this instance shimmering reverb and delay add remarkable depth to his sparse phrasing. It's hard to find better evidence of a pure blues solo building a perfect bridge to a crossover hit.
2. "Cry" by Doyle Bramhall II from 'Welcome' (2001)
Guitarist: Doyle Bramhall II
If ever there was a guy to get a handle on the SRV attitude and fire without copping Stevie's licks, it's Doyle Bramhall II.
On this slow 12/8 number, Bramhall gets all kinds of righteous Strat tones, including spooky tremolo, clanging semi cleans, and a positively massive, exploding-amp lead tone.
He does a killer, thematic break mid-tune but saves his best stuff for the end of the song. For the outro solo he coaxes awesome, howling feedback before leaning into his powerful bends that are jam-packed with emotion. His note choices and phrasing as fresh as always – due in part to playing lefty-strung-righty – but Bramhall's super-deep pocket might be his greatest asset.
3. "Blue on Black" by Kenny Wayne Shepherd from 'Trouble Is...' (1997)
Guitarist: Kenny Wayne Shepherd
When Louisiana native Kenny Wayne Shepherd broke big while still a teenager in the mid '90s, he was heralded as the next Stevie Ray Vaughan.
Of course, nobody is ever the next SRV, but Shepherd's highly rhythmic southern Strat histrionics clearly owe a debt to Austin's patron guitar player. And like SRV, KWS has a knack for turning stock blues licks into memorable, melodic moments via clever phrasing.
You know a player – especially a bluesman – believes he's made a statement when he sticks close to the recorded version of a solo onstage night after night, year after year. "Blue on Black" is case in point. It's hook-laden licks get under your skin and stick in your brain whether it's the original version on 1997's Trouble Is…, or 2010's Live! In Chicago.
4. "Chicken in the Kitchen" by the Robert Cray Band from 'Cookin' in Mobile' (2010)
Guitarist: Robert Cray
Though he owes much of his success to a fairly slick, mainstream crossover sound, Robert Cray can play no-holds-barred blues with the best of them.
Recorded live, "Chicken in the Kitchen" (on Cookin' in Mobile) not only features some of the most beautiful, sparkly, out-of-phase Strat tone you'll ever hear, it also has not one but two great solos.
Number two, especially, is full of incredibly cohesive lines with blindsiding surprises, occasionally getting close enough to the edge that you start worrying whether Cray will make it out alive.
5. "Three Time Loser" by Bonnie Raitt from 'Sweet Forgiveness' (1977)
Guitarist: Bonnie Raitt
While blues and contemporary pop are not always an easy coupling, Bonnie Raitt has been interlacing the two for decades now with consistently cool results.
This track from her 1977 album Sweet Forgiveness is a high water mark. The chord progression here has nothing to do with the customary 12-bar form, but Raitt's supernatural slide work infuses the song with deep blues feeling.
Nobody else can make a quarter-tone glissando sound so expansive, and her overdriven Strat tone burns – the way whiskey does going down your gullet. Listen close to hear her widen her vibrato and pluck harmonics in the final rideout.
Pure swagger.
All the latest guitar news, interviews, lessons, reviews, deals and more, direct to your inbox!
Guitar Player is the world's most comprehensive, trusted and insightful guitar publication for passionate guitarists and active musicians of all ages. Guitar Player magazine is published 13 times a year in print and digital formats. The magazine was established in 1967 and is the world's oldest guitar magazine.
When "Guitar Player Staff" is credited as the author, it's usually because more than one author on the team has created the story.