Jimmie Vaughan Reveals His Guitar Tone Secrets
From pickups to mics, the Texas blues legend shares some priceless pointers in this classic interview from the GP archive.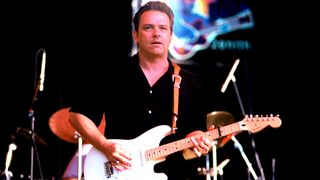 (Image credit: Tim Mosenfelder/Getty Images)
To hardcore fans, Jimmie Vaughan is a virtual deity – a living legend with an electric guitar style so deep that it defies description.
Since emerging in the Fabulous Thunderbirds, Vaughan has walked the long walk and earned the respect of blues guitar superstars such as B.B. King, Buddy Guy, and Eric Clapton.
He has spun his signature licks in dives and stadiums, shared a bill with Jimi Hendrix, and toured the world with Clapton, ZZ Top, and the Rolling Stones.
Not bad for a guy who traded high school for an endless stream of roadhouse gigs.
Back in 1998, Guitar Player caught up with the man himself following the recording of his maverick solo album Out There.
During our conversation, Vaughan revealed some rare insights into how he manages to nail his world class guitar tones.
The following interview excerpts originally appeared in the July 1998 issue of Guitar Player…
"I've narrowed it down to what works and what doesn't work, and what works is getting that fat tone on a Fender guitar – which is not necessarily known for that… It's not really any trick. You just turn the amp up and use your fingers to get a good guitar sound.
"I like the treble pickup because it has a pure tone without a lot of overtones. It almost sounds like a steel guitar, you know?
"But you can say different things tonewise by where you pick. For example, depending on where I pick the string – closer to the bridge or farther away from the bridge – and whether I use a pick or a finger is sort of like my three pickups."
Raising the Game
"I don't know if this is good advice for anybody else, but I raise up my [pickup] treble side and lower the bass side. It just seems more balanced that way – you know, the ratio of the volume between the treble strings and the bass strings.
"Now, if you get the pickup too close it'll start making a beating sound. One thing I do that I don't think nobody else does is raise my action up real high. I don't necessarily use big strings, but I have the action up pretty high so that my strings really ring.
"I know Fenders were designed to play really easy, but I like it when you've got something to hold on to."
Studio Secrets
"Back with the Thunderbirds we got our sound by using the room. Instead of recording the signal and putting an effect on it to make it sound good, we moved the microphones away from the amps and the drums… That's really how I get a good guitar tone. It's the room. Now I'm giving away all my little secrets.
"It's also the amp and the guitar, of course, but you record everything where there's enough room for the sound to breathe. You don't put the mic right up on the speaker.
"This is the same way I've recorded every record I've made – the ones that sounded good, anyway." [laughs]
Browse the Jimmie Vaughan catalog here.
All the latest guitar news, interviews, lessons, reviews, deals and more, direct to your inbox!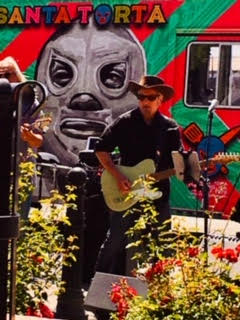 Art Thompson is Senior Editor of Guitar Player magazine. He has authored stories with numerous guitar greats including B.B. King, Prince and Scotty Moore and interviewed gear innovators such as Paul Reed Smith, Randall Smith and Gary Kramer. He also wrote the first book on vintage effects pedals, Stompbox. Art's busy performance schedule with three stylistically diverse groups provides ample opportunity to test-drive new guitars, amps and effects, many of which are featured in the pages of GP.