Robert Cray on Growing Up on Gospel and Soul, Inspirations and Why Good Players Need to Be Good Listeners
Paying tribute to the sound of Sam Cooke's records, Robert Cray revitalizes R&B, soul and funk on 'That's What I Heard.'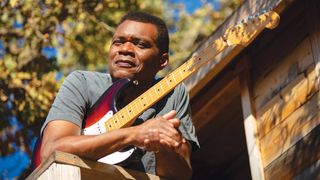 (Image credit: Future / Jeff Katz)
Over the course of his 40-year recording career, Robert Cray has forged a sophisticated blues-soul sound that is timeless, even when it's hewed to the roots of the Memphis soul scene.
His recordings have been imbued with the sound of Stax and Hi Records, and he even cut his 2017 Grammy-nominated album, Robert Cray and Hi Rhythm, with members of that label's rhythm section.
For his latest release, That's What I Heard (Nozzle/Thirty Tigers), the guitarist has taken a different tack by paying tribute to the sound of Sam Cooke's late-'50s/early '60s soul, R&B and gospel records, which the late singer cut in Hollywood. The album is Cray's sixth with producer/drummer Steve Jordan and was recorded at L.A.'s legendary Capitol Studios.
"One of the great things about working with Steve Jordan is he's really good at putting people in the mood and capturing that mood in the studio," Cray says. "Part of it was the combination of the styles we were going after - like doing a Curtis Mayfield number and a gospel number and stuff like that - and also by being at Capitol and using some of those old microphones they have there.
"There have been situations in the past where Steve wanted a certain vibe for a song and we weren't getting it, so he'll call everyone into the control room and put on a record that's similar in style, and we'll listen to it for a while.
"Sometimes, he'll have us just jam on something for, like, 15 or 20 minutes - just playing until he can hear that we've captured that mood. Then he'll say, 'Okay, you guys are ready, let's cut it.'"
Cray and Jordan go way back, having met in 1987 during the making of the Chuck Berry documentary Hail! Hail! Rock 'n' Roll. They started working together in 1999, when Jordan produced Cray's Grammy-winning album, Take Your Shoes Off.
In 2014, Jordan returned to produce In My Soul before going on to helm Robert Cray and Hi Rhythm. Jordan spoke about his vision for That's What I Heard, saying, "If we could get this thing that Sam Cooke used to have - the kind of sound that early Sam Cooke records had - then we could pull this off."
Although no Sam Cooke tunes actually make an appearance on the album, the vibe was what mattered, and with one of the best voices in the business - not to mention guitar chops galore - Cray was indeed the guy to "pull this off."
The result is an album that blends R&B, soul and funk, wrapping it all up in a package that features four new songs by Cray ("Anything You Want," "This Man," "Hot" and "To Be With You"), along with tunes either written or covered by artists that include Bobby "Blue" Bland, Curtis Mayfield, the Sensational Nightingales and several others, plus two obscure soul rarities thrown in just for fun.
How do songs come to you?
You keep yourself open to the ideas when they come. When you know it's time to do a record, you keep your ears open to music. As far as coming up with ideas, you have to be ready for them, so if you're in the shower or you're cooking, or something like that, you have to break away because an idea just popped into your head. You take advantage of situations.
For example, we had a couple of days of rehearsals before going into the studio, and "Anything You Want" came together spontaneously during one of the rehearsals. We were just killing time, and then the chords came out. I started playing and everybody fell into it, and it was there. We were in the mood, you know?
That's a great song that really sets the tone for this album. It also stands out with that cool vibrato on the guitar.
That's the Magnatone amplifier. It's an old one that has the pitch-bending vibrato. I've had that amp for years. It doesn't travel well, but I use it in the studio. Our guitar tech, Greg Zaccari, had the original Magnatone schematics, and he made a rack-mounted version of it for the road. [According to Zaccari, Cray uses vintage Magnatone 260 and 280 amps in the studio.]
Are you always working on song ideas?
[laughs] I know people who get up in the morning and have a sheet of paper and pencil with their coffee, but that's definitely not me. A good friend of mine named Dennis Walker used to produce the early Mercury records, and that's how his day would start.
He had certain ways, and he had a concept with his ideas. There are things you can pick up from people like that, but that's a certain type of person. I have to do it a different way because we also have to go on the road and tour.
Do you ever bounce song ideas off the band?
Sometimes I do. For example, I took the idea for "Hot" from our bass player, Richard Cousins. There was a joke going around, and he said, "Yeah, I'm old but I'm hot." So it was about coming to grips with where we are age-wise, and I took that idea and ran with it.
It sets itself up for a rockier uptempo thing. It's got a rock and roll feel and then breaks into like a James Brown funk groove at the end. I also think "Little Less Lonely" is a great song that Richard wrote with a good friend of his named Hendrix Ackle.
They have a group when Richard's not on the road with us, and so they're a songwriting duo, but they try to always contribute something when we're making a record. I guess on this one he's not so much in the groove of having a steady relationship, but he's having a good time with who he's with, so he's a little less lonely. [laughs]
What do you listen to for inspiration?
I listen to a lot of music, and I always have a guitar sitting at my side because I want to steal as much as I can when listening to Grant Green or B.B. King, or Larry Young playing his organ. But I think you can get just as much from listening as opposed to trying to cop some licks. Listening helps you capture the vibe, and that's just as important - or maybe even more important.
Do you still find things in B.B. King's playing that inspire the way you play?
Well, B.B. didn't play a whole lot of notes, but his playing had a lot of presence and poignancy due to the fewer notes he played. I think that once you stop playing all the notes, then the sound becomes more important. And once I'd had the opportunity to meet B.B., I understood.
It was very purposely done to have you listen and pay attention to what he's saying. I'd also like to get better at "singing though the guitar," as he used to call it. Jimmie Vaughan is one of my heroes too. He doesn't play a lot of notes, but the vibe is there and the tone is there. Those things are very important.
Since you perform constantly, what advice do you have for playing live?
It's always easy to fall back to just riffing, and what's that do? Now you've lost the groove with the song and you've lost your footing. Remember to always be in the song. That's one of the things that makes it fun to play onstage.
Lock yourself into the song and don't get distracted by the audience or things going on around you. Don't let yourself get out of the moment that you're in. Remain in place and make the song what it could be and should be.
Your signature Strats are a mainstay of your sound, but did you use any other guitars on this record? How about amps?
Yeah, I used a James Trussart SteelDeville on a couple of tracks. The SteelDeville has that hollow sound, so it's got its own signature tone, and it can get great feedback because of the hollow steel body.
On "My Baby Likes to Boogaloo," I played it through a Fender Super Reverb to get a brighter sound, which I thought was appropriate for it, and then on "Burying Ground," I played it through one of the Magnatone amps and had the vibrato on, which gave it a completely different sound.
For me, it doesn't really matter if it's a Strat with single-coils or a hollow guitar with humbuckers; I think it's all about what the song demands. The time to experiment with different sounds and guitars and amps is in the studio, because you do want to get some uniqueness to the tracks.
Speaking of "Burying Ground," was it your idea to have a gospel song on the record?
Steve brought up the idea of doing a gospel number, so me being a big gospel fan, I went to the records and pulled one of my favorites by the Sensational Nightingales. Steve thought we could get something out of that one, so that's how we decided to record "Burying Ground," which is a traditional song.
You had a lot of exposure to gospel growing up. Can you talk about that?
My dad would play gospel music on Sundays. It was Swan Silvertones, Sensational Nightingales, the Five Blind Boys of Mississippi - and Alabama - and all kinds of stuff like that. During the week it would be Ray Charles, Bobby "Blue" Bland, Sarah Vaughan... that sort of thing. It's funny, because as a kid I heard all that music, and then, as kids do, of course, you listen to your own music.
When I got into my late teens and picked up the blues bug, I started taking my parents' records from the house, and then embellished that collection by buying my own records. So getting the gospel music or getting Curtis Mayfield or the Impressions was all just part of what I grew up on.
Your singing always sounds so effortless. Is it easy for you to get great vocal tracks in the studio?
It's a pretty simple formula. We just go at it and try to get the mood. I do a working vocal when we're doing the live tracks with the band, but then I go back in and re-do my vocal in one take. I have to, especially if it's a song that's pushing my range. There is no going back, so you've got to do it the first time.
What's the story behind "My Baby Likes to Boogaloo"?
Steve called me up and said, "You've got to get this CD [Groove & Grind: Rare Soul]!" I ordered it, and it had all these obscure tunes. I put it on, and the first song was "My Baby Likes to Boogaloo," by Don Gardner, which is a funky groove. I told Steve, "Man, we've got to cut that," and he says, "I know, and I'm pulling rank - I'm playing drums on it."
We cut another song from the CD called "Do It" by a singer named Billy Sha-Rae, who was from Detroit. We had Ray Parker Jr. come in and play the driving guitar line on that track.
Ray didn't play on that song originally, but he played with Billy Sha-Rae as a teenager back in the '60s when he lived in Detroit. Ray tells a story that, back in those days, a lot of band leaders would make off with the money.
So when they played a gig one night and didn't get paid, they went back when the club closed and loaded up the gear and took it across the border to Canada and sold it. Then they went to Billy's parents house where he was staying. The next morning, Billy Sha-Rae came to pay them, and that's how the band finally got their money.
Robert Cray's That's What I Heard is out now via Nozzle/Thirty Tigers.
All the latest guitar news, interviews, lessons, reviews, deals and more, direct to your inbox!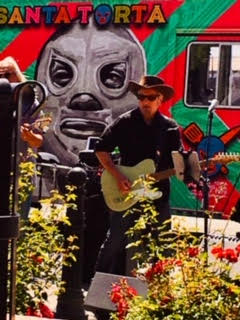 Art Thompson is Senior Editor of Guitar Player magazine. He has authored stories with numerous guitar greats including B.B. King, Prince and Scotty Moore and interviewed gear innovators such as Paul Reed Smith, Randall Smith and Gary Kramer. He also wrote the first book on vintage effects pedals, Stompbox. Art's busy performance schedule with three stylistically diverse groups provides ample opportunity to test-drive new guitars, amps and effects, many of which are featured in the pages of GP.