5 of Doyle Bramhall II's Greatest Guitar Playing Insights
The maestro talks songwriting, soloing and more in these inspiring interview snippets from the GP archive.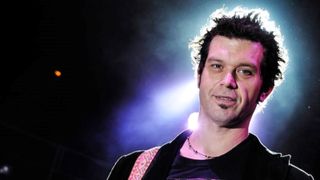 (Image credit: Future)
Chances are, if you recognize the name Doyle Bramhall II, it instantly recalls the guitarist's brushes with musical greats such as Eric Clapton, B.B. King and Roger Waters.
At age four, Bramhall and his family shared a house with Stevie Ray Vaughan in Austin, Texas. Hence the youngster spent countless hours listening to his dad – renowned singer-songwriter and drummer Doyle Bramhall – jamming with Stevie and Jimmy Vaughan.
Suffice to say, by age 18 the young guitar prodigy was playing with the Fabulous Thunderbirds.
In more recent years, Bramhall has donned his producer cap for the likes of Eric Clapton and Sheryl Crow, while his outstanding guitar playing talents have seen him collaborate with Elton John and the Tedeschi Trucks Band.
He is also a prominent solo artist in his own right.
Many years ago, Guitar Player spoke to the man himself following the release of his 2001 solo album Welcome. During our conversation, Bramhall shared some insight and advice for fellow musicians.
The following interview excerpts originally appeared in the October 2001 issue of Guitar Player…
1) Songwriting
"You can perfect what comes naturally to you, but I don't know if you can learn to write good songs or songs with substance. The key is to be emotionally connected to your songs and to convey a message – even if it's not the most lyrically poetic or heady message. If you're heart isn't connected to the song, it's not worth doing.
"Clapton gave me some advice. He said to just follow your heart, and if it's good, people are going to come onboard and follow your lead. But you're the only one who has your vision, so don't second-guess it."
2) Solos
"A lot of times, a solo has to play out a specific melody because it's really important for that song. But it just depends if the song calls for it. For the most part, I just come up with the stuff when I pick up the guitar. Even with the things that I stick to, I don't think I ever play them the same way twice."
3) Inspiration
"If you want to create great music, you have to either shut out everything and create something new, or you have take bits from all kinds of music – world, jazz, blues, classical, anything. All the great bands did that. The Stones took from classical, blues, country, and traditional music."
4) Listening
"I grew up listening to Freddie King, Lightnin' Hopkins, Little Son Jackson, Mance Lipscomb – a lot of the local Texas blues artists. Here's one that will get you – I thought John Lennon was a great guitar player. Not many people look at him as a guitar player, but I found him to be really inventive."
5) Stevie Ray Vaughan
"Stevie was one of the greatest players ever, and nobody is ever going to fill that void, so you might as well just get over it and make your own music. There are a lot of cheap imitations out there, and I think they're all missing one thing – his soul."
Browse Doyle Bramhall II's catalog here.
All the latest guitar news, interviews, lessons, reviews, deals and more, direct to your inbox!