Steve Vai was stunned when he heard him, Joe Bonamassa says he's reinvented the guitar, and Al Di Meola says that it "would take lifetimes to catch up with him." Meet Matteo Mancuso the man who's light years ahead of us all
When it comes to improvisation, Italy's fingerstyle fusion maestro Matteo Mancuso is leaving the best players in the world in the dust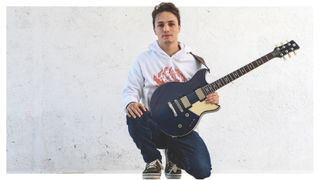 (Image credit: Paolo Terlizzi)
It was just before the pandemic hit in 2020 that I happened upon a YouTube video by an Italian funk-fusion trio named the Snips. The initial hook for me was the fact that they were playing The Chicken, the funky Pee Wee Ellis tune that Jaco Pastorius had adopted as a set opener for his Word of Mouth big band in the early 80s. As Jaco's biographer, I was naturally curious about their version.
These were three young guys, just 19 or 20 years old at the time they first posted this audacious video in 2017. Jacked on adrenaline and youthful enthusiasm, they burned through the funk vehicle at an absolutely blistering pace (that video to date has garnered an awesome 2.4 million views on YouTube). The rhythm tandem of bassist Riccardo Olivia and drummer Salvatore Lima was impeccably tight, but what really stood out for me was the guitarist, Matteo Mancuso, who executed the incendiary lines and mind-boggling solo that followed, sans pick, with a kind of nonchalance that was totally disarming.
And while his fingerstyle approach immediately recalled such other players who eschewed the pick — Mick Goodrick, John Abercrombie, Lenny Breau, Phil deGruy, and of course the whole lineage of classical and flamenco players who historically have navigated imposing lines with a strictly fingerstyle approach — this was something else entirely.
Other YouTube videos followed by this precocious trio, including uncannily exacting renditions of chops-busting vehicles like Allan Holdsworth's Fred, Chick Corea's Spain (915k views), Tribal Tech's Face First and UZEB's Penny Arcade, as well as Matteo's at-home practice videos of him blazing through John Coltrane's Giant Steps, Charlie Parker's Donna Lee and the age-old jazz jamming vehicle Cherokee, each one containing more jaw-dropping feats of fretboard fantasia by the young prodigio.
The comments sections for those same YouTube videos were soon flooded with superlatives about this amazing new guitar discovery. And it wasn't long before the pros began weighing in on Matteo's abundant talent, with no less than Al Di Meola, Steve Vai and Joe Bonamassa welcoming Mancuso into that rich lineage of great Italian guitarists, from Eddie Lang (Salvatore Massaro), Joe Pass (Anthony Jacobi Passalacqua), Pat Martino (Pat Azzara) and Joe Diorio to Frank Zappa, Bucky and John Pizzarelli, Di Meola, Vai, Frank Gambale, Joe Satriani, John Frusciante, John Petrucci and Chris Impellitteri.
"I wrote to him and said, 'Matteo, what are you doing? You're killing us!'" says Di Meola, who invited the young Palermo-born guitarist to sit in with him on Spain and Mediterranean Sundance at the 2022 Eddie Lang Jazz Festival in Monteroduni, Italy.
"I mean, his improvisational ability is light years ahead. Like, it would take two, three lifetimes to catch up with him. It was almost like when Jaco came on the scene: How the hell did he get so good so fast?"
Adds Steve Vai, "I was pretty stunned when I heard Matteo. The evolution of the guitar is firmly secure in the hands of people like him… It's just a new level: the tone, the touch, the notes… Incredible!"
And Joe Bonamassa was over the moon for Mancuso. "I've never seen anything like it," he raved. "It's the most incredible thing I've seen since I first saw Stanley Jordan. He's completely reinvented the instrument. He rips like Eric Johnson, then he'll play over changes, then he'll play Iron Maiden. It's the most versatile thing I've ever seen."
Finally, after six years of blowing minds on YouTube, Mancuso has released his first album, The Journey, on the Players Club/Mascot Label Group. And rather than just showcasing his prodigious and unprecedented chops on yet another string of well-chosen covers from the jazz and fusion canons, the 26-year-old has written all original material for this eagerly awaited debut, each already garnering hundreds of thousands of views on YouTube.
Playing a Yamaha Revstar Custom electric guitar with a Line 6 Helix pedalboard for all his solos while overdubbing rhythm guitar parts on another Yamaha guitar, as well as a Bacci baritone guitar, Matteo rips on rockers like Silkroad and Drop D, swings confidently on the jazzy 3/4 number Polifemo, conjures up a bit of Holdsworth and Eric Johnson on Falcon Flight and Samba Party, and a touch of Pat Metheny on the bright, uplifting melody of Open Fields. He then showcases his beautiful nylon-string acoustic playing on Time to Leave and the poignant title track, which closes The Journey on a hymn-like note of reflection.
Guitar Player caught up with Matteo in a Zoom chat from his home in Palermo.
It's great to meet you, Matteo. I've been following you on YouTube since The Chicken.
Yes. That was the first viral video, from 2017. That was my first trio, Snips. I was maybe 19 when it was starting. The bass player was Riccardo Olivia, who is also from Sicily, but now he lives in Milan. The drummer, Salvatore Lima, is also from here. We were playing a lot of very traditional fusion stuff back then, like Chick Corea's Spain and Allan Holdsworth's Fred, which I still play live. It's one of my favorite tunes to play live. And then, in 2020, during the pandemic, I founded the Matteo Mancuso Trio, and it was a different trio from Snips. And that's when I started composing original material and working on this album, The Journey. So there are nine pieces in total, all original compositions.
The new core trio is Stefano India on bass and Giusseppe Bruno on drums. It's a very flexible trio.
They are very versatile musicians, able to play rock very aggressively and also swing, and sometimes within the same song. My goal was to have an album that wasn't associated with only one style, and these guys really help me achieve that.
Let's talk about your beginnings on the instrument. I read that your father, Vincenzo, was a guitarist and that you and he played Django Reinhardt together early on.
My father is an electric/classical guitar player. He played everything from classical music to funk, so he's a very versatile player. He was in an Italian rock band called Camaleonti in the mid-1960s, and he worked as a touring pop guitar player for other people here in Italy. Now he is more like a producer than a pure guitar player, so he's worked with a lot of popular Italian musicians. He helped a lot with my album.
He was like a listening guide for me, more than a teacher. I started playing guitar when I was around 10 years old, and I always saw my father playing guitar around the house. When I first started, I played with fingers because I thought that the instrument was meant to be played like that, because I always saw my father playing with fingers.
Your father never used a pick?
Sometimes, but he mainly uses fingers. I started playing in a duo with him when I was around 17, though I had already played live at age 12 at the 2009 Castelbuono Jazz Festival in Sicily. I later studied jazz guitar at the conservatory here in Palermo, and because I wanted to study that repertoire, a guitar duo was perfect for me. That's why I started playing live with my father. We mostly played standards and Joe Pass stuff.
And it was very natural for you to play with fingers from the beginning?
Yeah, it felt really natural from the start. I didn't even know that you should use a pick for electric guitar. Basically, you have four picks when you play fingerstyle, so it allows you to have more possibilities for extended arpeggios. So I started off playing with bass technique, using two fingers. Later on, when I was around 14, I started studying to learn classical guitar, and that helped me a lot to develop my right- and left-hand technique. But I wasn't really a good student of classical guitar. I consider myself an electric guitar player rather than a classical one, but I borrowed a lot of things from the classical world.
What about the flamenco world?
Flamenco is slightly different. They use different guitars than the pure classical models, and the technique is different, of course. I have some similarities with the flamenco technique, speaking of the right hand. But I think my technique is closer to the bass rather than the pure flamenco technique.
You mentioned bass technique. I'm sure you're familiar with Mick Goodrick. He played with two fingers on his beautiful single-note lines.
Yeah, yeah. I know him.
And then we have someone like Lenny Breau, who played fingerstyle on a seven-string guitar with a high A. Were you hip to him at all?
Yeah, I discovered him a few years ago, and I was shocked because of all the harmonics he was playing. I borrowed some stuff from him, speaking of chord melody. Yeah, he's a phenomenal player.
I'd like to talk about your instrument of choice. Like in those early videos, The Chicken and Fred, was that a different guitar than you're playing now?
No, it's actually always been the Yamaha Revstar. It was a different model then, of course. Right now I mostly use my Custom model, which I've played since 2019. I use slightly different models for rhythm parts on the new record, but the main one is the Revstar Custom. I really like that the Revstar has a dark sound. It's close to a Gibson SG, and I was chasing that for a while; that fat, humbucker sound is something that I really like. The Revstar is a little bit more versatile than the SG, so I can play jazz, funk and metal with it. And I have a five-way switch on my Custom, so I can also split the humbuckers to get a single-coil sound. Of course, I prefer a slightly wider string spacing, just because you have more room for your fingers. But once I got used to it, it wasn't really a problem for me.
You mentioned the SG. I understand that one of your early rock influences was AC/DC. Angus Young plays a Gibson SG, and Holdsworth also played one in his earlier days.
Yeah, Angus Young was the reason I bought an SG [depicted on 2017 YouTube videos of him shredding on Guthrie Govan's Fives, Eric Johnson's Cliffs of Dover and UZEB's Penny Arcade]. I was and still am a big AC/DC fan. That was the first band that I was listening to. So the SG was because of Angus Young. Later on I discovered Fender Stratocasters through Jimi Hendrix, who was another big influence on me. Some of the first tunes that I learned of his were Hey Joe, Purple Haze and All Along The Watchtower. But AC/DC was always a big influence.
Holdsworth and all the fusion guys came later for me, when I was around 17. Allan is for sure one of my biggest influences, especially when it came down to phrasing and vocabulary. He was such a big influence, in fact, that I stopped listening to him for a while, because I started sounding too much like him. So I started listening to other players, like Scott Henderson, Frank Gambale, Robben Ford... All the jazz-rock guys. And I basically built my vocabulary through these players. So yeah, Allan is such a big influence that I had to stop listening to him too much. He changed the guitar forever, I think.
Comparing your early YouTube videos to your more recent stuff from The Journey, it seems that you've developed some incredible whammy-bar articulation, shaping the notes in that liquid fashion that reminds me of Holdsworth. When did that become part of your vocabulary?
It started when I first got the new Yamaha Pacifica, which is basically their Stratocaster. I started playing that when I was listening to Scott Henderson, who is a master of the whammy bar. So I started playing like that because of him. And actually, the first tune on the album, Silkroad, is dedicated to Scott, because the first theme was inspired by that diminished aspect of his playing. And then, of course, there is the Holdsworth influence on all the legato stuff. But that is also because Scott himself said that Holdsworth was a big influence for him. So I guess it's also a tribute to Allan, you know?
The second tune, Polifemo, opens like a swinging jazz tune in 6/8 that you play with a warm, clean tone. But you also inject some kind of crunch sound on your solo. You're very adept at mixing influences, not strictly separating the tunes stylistically into rock and jazz camps. It's all integrated very organically. Can you break that tune down?
Polifemo is a perfect mix of my jazz influence in a rock song, if you want. Because I feel that if it is hard to categorize, that means that you are on the way to making something new. So that was the goal with Polifemo. I wanted to do a jazz song, and I wanted to promote distortion but without sounding too much out of place. The first solo is with the piano, played by Giuseppe Vasapolli, and I came to the second solo with a distorted tone, but it's not too aggressive. It's more like a tone that Eric Johnson uses, for instance. More like an overdrive, rather than a pure distortion pedal.
And what device or pedal are you dialing for that?
I mainly used a digital amp modeler for the entire album. So all the sounds you hear on the album are digital, basically. And I mainly used the Line 6 Helix for modeling. The simulation of the amp was a Matchless DC-30, which is called the Matchstick Channel 2 on the Helix. And the Helix distortion I used for Polifemo is called a Tube Driver. It's really close to the Klon Centaur distortion. The distortion sound on Silkroad was the same sound, but with a different guitar.
Falcon Flight is an intense tune with a lot of harmonic movement and some open-string arpeggiating underneath. And you have a fairly clean sustain tone on the melody and your solo. Tell me about that one.
First of all, I wrote that tune, like, two years ago. I wanted to write a bass drum 'n' bass song because I was listening to a lot of Mark Lettieri back then. He's a really funky guitar player with Snarky Puppy. I love Mark. So I was trying to write something similar, but I ended up doing something completely different. That's how I write most of these songs: I get inspired by one player or one particular song and I try to do something similar, but I end up doing something completely different.
On Falcon Flight, the rhythm section is slightly different. Gianluca Pellerito plays drums on that track. He's a pretty popular player in Italy. He is more like a chops kind of player, very American-sounding. There was a drum section that was really busy in that way, and I think Gianluca was the perfect choice for that piece.
Open Fields feels a little more relaxed. It opens with solo guitar that develops this kind of warm, inviting, almost Pat Metheny–esque kind of a melody. Very engaging and uplifting, like Metheny's Phase Dance. To go from the burning intensity of Falcon Flight into the more intimate Open Fields is a nice contrast.
I actually wrote the song with classical guitar, but I wanted to do a trio version for the album, so it changed a little bit during the recording. It is dedicated to Sicily: The Italian name for Open Fields is Campagna Siciliana, which means 'Sicilian countryside'. So it's dedicated to the landscape we see every time we go to my home in Sicily. It's really similar to what you see on the album cover of The Journey. And yes, it has a lot of Metheny vibes, because I was listening a lot to Pat when I wrote it.
Pat Martino told me that his people were from Palermo. Was he of interest to you when you were at the conservatory there studying jazz?
Yeah, Martino was the starting point for my bebop vocabulary. I began working on it back when I was at the Conservatory of Palermo. Of course, I started with Charlie Parker and then I studied all the bebop guys, like Pat Martino and Joe Pass, of course. I learned a lot from them, especially Joe Pass, who was my starting point for my chord melody stuff, even though I don't consider myself that kind of player. Joe also played with a pick a lot, but later on he played with just fingers.
There's no mistaking the rock influence on Drop D, your first single. There's some heavy power chording, and you're just wailing on it. It sounds like a big production number with a lot of guitar overdubs. And you are just shredding on it with a ton of tapping on your solo.
Drop D is my kind of tribute to my first rock influences — AC/DC, Led Zeppelin. It's also a tribute to all my rock-blues influences. This is the tune where I recorded lots of layers, guitars on guitars — backing guitars, even with the Bacci baritone guitar. I think it's the most produced song on the album, because it's more like traditional song sections rather than jazz elements.
Blues For John is a swinging tune with Giuseppe Vasapolli on organ. And I think I heard some Wes Montgomery kind of chord melody and octave playing in there. He must have been an influence on you at some point.
Yeah, sure. Wes is one of my favorite jazz players. And Blues For John is one of my favorite tunes on the album, because on the solo section it tells through guitar my story to the blues, starting from the bebop clean stuff of Pat Martino, Wes Montgomery and George Benson, then moving into the more blues-rock players like Joe Bonamassa and Eric Johnson, with distortion tone. And this tune is actually dedicated to John McLaughlin, who is one of my favorite composers as well being a legendary guitar player. John McLaughlin is a perfect example of mixing technique with beautiful compositions. So it's a blues dedicated to him, basically.
Time to Leave sounds like you're playing a nylon-string acoustic guitar.
It's a classical guitar, though my kind of touch is not really like a classical player's. I play in a more aggressive way than a classical player. Time to Leave started as a solo guitar piece, but then I changed my mind and started to work on an arrangement for the trio. That was actually one of the first things I composed for this album. I wrote it during the pandemic.
Samba Party features some incredible arpeggiating. And your fingerstyle technique allows you to very easily integrate tapping into your absolutely hellacious solo on this tune. Most players with a pick have to make a big overture to start tapping, but you do it so naturally.
I worked a lot on it, of course. I try to mix the tapping in a natural way. I don't want it to be like a switch turning on: like, "Now I'm doing tapping, now I'm doing alternate picking, and now I'm doing legato." So if I have to do a tapping section, it needs to be integrated into the solo really well. One of the guys that does this consistently is Greg Howe. He's a really big influence, especially when it comes to the tapping sections, so he is one of my inspirations for Samba Party. I think it is maybe my favorite song from the album, because, personally speaking, I can't categorize Samba Party. I don't know if it's fusion, jazz or rock. It's a perfect mix of all of those influences.
So yeah, my goal, as I said, is to find something that wasn't associated with only one style, so Samba Party is a perfect example of that.
I'll tell you what it isn't. It's not a samba.
Yeah, that's for sure.
You're such a scholar and you have such a developed ear. You have obviously assimilated the music of Allan Holdsworth, Scott Henderson, Eric Johnson — and not just skimming off the top. It seems like you've very deeply absorbed these guys. You have a great ear and you integrated it all very organically into your own vocabulary.
Thank you. Yeah, I've transcribed a lot of their solos and worked on the phrasing, so that's why you hear those guys in my playing.
I imagine that The Journey, the very poignant melody played on acoustic guitar, expresses your own journey that you've been on.
Yeah. That was the last tune I wrote for the album. Initially, there were only eight songs but I wanted to write a pure ballad. Open Fields was the closest to a ballad, but there is also the distortion ending. So I wanted a pure ballad, like a Pat Metheny kind of vibe. I started working on the melody with my father, and he ended up playing second guitar on that tune. My father was on the acoustic guitar and myself on the classical guitar. So it is a father-and-son duo.
That's a beautiful way of coming full circle for you.
Thank you. I wanted to do something with my father as the last tune, because he was my listening guide for a lot of years.
The Journey is out now on Players Club/Mascot and available to buy or stream.
All the latest guitar news, interviews, lessons, reviews, deals and more, direct to your inbox!