George Benson: My Career in Five Songs
From "Breezin'" to "On Broadway" – George Benson reveals the stories behind his most significant tracks.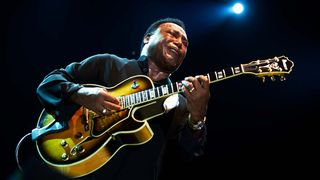 (Image credit: Manuel Queimadelos Alonso/Redferns via Getty Images)
George Benson has been called the definitive modern jazz guitarist, but he bristles at the mention of such a label. "I don't make records for jazz critics," he says. "I make records for the audience. If a song is good, I want to play it. I don't really care what you call it."
Clearly, his recorded work underscores his expansive and unquenchable musical thirst: Over a 50-plus-year period, he has made both instrumental and vocal-oriented Platinum sellers that span straight-ahead jazz, bebop, swing, fusion, pop, rock, R&B, and Latin music.
Recently, however, the guitar legend surprised even himself when he accepted an invitation to participate in a quarantine-style recording with funk titan Bootsy Collins on a new song called "The Power of the One."
Over a Bootsy-sized, supergalactic groove, and amid spacey keyboards and turbocharged horns, Benson lays on dexterous, liquid- smooth solos that send the tune into another dimension.
"I didn't know I had it in me," Benson says with a laugh. "Let's be honest – I'm no funk master. When Bootsy sent it to me, I thought, I don't know what to do with this. But I finagled and finagled, and when I sent it back to him, he said he loved it. So now I guess I'm funk, too."
His musical left turns haven't always been greeted with universal acceptance. Recalling his 1970 pop-jazz tribute to the Beatles, The Other Side of Abbey Road, on which he threw selections from the Fab Four's swan song into a blender, Benson says, "There were guys in the jazz world who talked about that record like it was a dog. There was one disc jockey who started playing the album on the radio, and halfway through he grabbed it and smashed it to bits. You could hear him crack it right in the studio. That kind of stung."
He adds that his wounds healed quickly once he heard from the Beatles themselves. "They said, 'Man, we loved what you did with our music.' After that, I was glad I made the record."
Starting in the mid '70s, Benson's golden singing voice – he actually started out as a vocalist, performing in clubs at the age of eight – landed him on AM radios, but nearly a decade before, he established his reputation as a supremely tasteful instrumental craftsman whose warm tone, effortless speed, (you never got the feeling he was sweatin' it) and hook-filled phrasing combined to form an instantly recognizable signature sound.
"I kind of take from everybody and it comes out like me," he says modestly. "I studied everybody – Charlie Christian, B.B. King, Muddy Waters, T-Bone Walker, Barney Kessel… And of course, there's Tal Farlow, Hank Garland, and Grant Green. Wes Montgomery was a big favorite of mine. I'm a mixed bag of all those people."
Below, Benson shares some stories about the recording of five especially noteworthy tracks from his remarkable career.
"What's New?" – George Benson, Giblet Gravy (1968)
"This was on my third album. I was pretty much a flat-out guitar player at the time. I didn't have anything special going on, but I was growing quickly. Every song came to me the way it came to me, and I tried to live within the context of the song. Sometimes I made it more, but most of the time… well, let's just say I made it. [laughs]
"I didn't have the musicianship that I would have loved to have had, but that eventually came. The first side of the album was R&B, and the second side was jazz. On this track we had Ron Carter on bass, Billy Cobham on drums, and Herbie Hancock on keyboards. It was a good group.
"Herbie played some beautiful harmonies, and he forced me into thinking more along those lines. He knew all about the substitutions a player can use to make a song more interesting. I played pretty much the standard chord changes with no real harmonies – that was just my mindset at the time.
"I had developed a nice relationship with the people at the Guild Guitar Company. Sometimes I played D'Angelicos, but I was really into the Guilds at this time. I was very proud that they liked what I did and gave me guitars, so I played the crap out of their instruments.
"I got really good sounds with those guitars. I played an X-500, but on this record I used the Guild Artist Award. It was a fabulous guitar designed by Johnny Smith."
"Paraphernalia" – Miles Davis, Miles In The Sky (1968)
"Talk about pandemonium. I played on two or three cuts with Miles, but only one track made it on the record. I was honored that Miles liked my guitar playing, but he could be tough.
"For this record, I'd get together with the band to rehearse before Miles came to the studio. We'd get a tune together, and then he'd show up, take his horn out of the case, play three or four notes, and then he'd put it back in the case and walk out. Didn't say a word. He did that twice. I started to get a little intimidated. Was it because of me?
"Finally, on the third day, he called me up: 'George, are you coming to the session?' And I said, 'Well, I hadn't planned on it, man.' He said, 'What do you mean?' And I said, 'I don't know. We're not making a record, so I don't want to take your money.' He said, 'Man, don't worry. We'll make a record, just come on down.' So I went back to the studio and we finally got him to make some music.
"Miles was always mad about something. He didn't like the sound he was getting back from his headphones. 'Man, this sounds terrible!' he'd complain. He'd get mad at the producers about all sorts of things.
"One time, the drummer, Tony Williams, tried to talk to me about how to approach a song, and Miles yelled at him, 'Tony, shut up! Who are you to tell somebody what to play? Play your drums, man! And by the way, take your drums and set 'em over by that wall over there. You're too loud!'
"Even so, he always treated me like an individual. He said, 'I called you because I wanted George Benson. Why would I call anybody else when I wanted you?' We became friends, but I couldn't hang out with him, because he did crazy things. You never knew when he would feel like fighting."
"Breezin'" – George Benson, Breezin' (1976)
"I hear the song everywhere. It's been very good to me, but the funny thing is, I didn't think I should record it. It had already been done two times before, and Bobby Womack's recording of it was magnificent – great rhythm, beautiful bass line. I thought, I can't do anything better with it; leave it alone.
"People had asked me to record it, and then my producer, Tommy LiPuma, started in on me about it. Finally, I said, 'I'll consider it, but can you get Bobby Womack to come to the studio? Maybe he can give me a new idea.'
"Bobby came in and he went, [sings] 'Da-da-da-da-da-da-da duh-daaa!' That's the lick everybody knows. It was something he always wanted to put on his record. I said, 'That's the only thing you think I should do?' And he said, 'Sure. It's the way I want to hear it.' So I went with that little change to the melody, and it made all the difference in the world. That was the line that took 'Breezin'' to the public. It was the big hook.
"I got a really nice sound on the record, but I used two things I'd never played before: The first was this brand-new Gibson Johnny Smith guitar. I bought it off this young boy who came to my house looking to sell it to me.
"I had a lot of guitars already and didn't need another one, but I really liked this thing. So I bought it from him, and I took it to the studio and put it through a Polytone amplifier. The company wanted me to use their amps, so I decided to give one a try. The two things together gave me a sound I never had before."
"Affirmation" – George Benson, Breezin' (1976)
"I like Latin music because it's loaded with counter-rhythms, great harmonies, and open chords. So I wanted to get a song that had these ingredients, and Tommy LiPuma came up with this José Feliciano tune. This was the first song we recorded for the Breezin' album, and, man, we had a really good time with it.
"Now, I knew I couldn't be José Feliciano. I wish I had his vibe. He's got great finger technique, and his harmonies are out of this world, but he's not a jazz man, so that was my area. During my improvisation, I mixed in some dissonant chords and atonal things to take it somewhere else. I think the combination of the Latin vibe and my jazz thing made it really interesting.
"I think José liked my version. I'm sure he liked the royalty checks! [laughs] One day his people called and invited me to meet José at a hotel in New York. We pulled out our guitars and played that song together. Whenever I'm with another guitarist, I try to learn something, but, man, I realized that I could never play like him.
"He played the song incredibly that day. I said, 'There it is. You just showed me why I loved the song in the first place.' We became instant friends. There was a lot of respect for each other because we both love guitar so much."
"On Broadway" – George Benson, Weekend in L.A. (1978)
"Here's another time that Tommy LiPuma and I disagreed. He asked me what I thought about doing 'On Broadway.' I said, 'You're not talking about destroying that one, are you? Man, I don't like stepping on classics.' I really liked the song, so I didn't feel good about doing it.
"He said, 'Why do you think you'd destroy it? I think people would love to hear you play it.' So I said, 'Let me think about it. Maybe I can do it off-the-cuff or something.' I was trying to think of a different approach, but I really didn't think I could do it justice.
"I had been talking to Quincy Jones, and we discussed two-bar phrases. That stuck in my head, so when I went back and listened to 'On Broadway,' I realized it's a one-bar phrase – the same thing repeats every bar.
"That was the magical moment when I realized what I could do with the song. With a two-bar phrase, I could always do something different in that second spot – I could put in a new accent or play something staccato. That changed the whole texture of the song, and it gave me a lot more room to improvise.
"It was still tricky, though. I believe in staying close to the melody, and the reason why people loved the song so much was because of that melody. I wanted to leave that in while still doing all sorts of crazy improvisational things. I did the scat singing along with what I played on guitar. The first time I tried it, it felt good. The second time I played it, it felt automatic to me.
"We got a really good take laid down, and, man, people loved it! It became a huge hit. But I didn't want to do it because I thought it would get on the radio; I wanted to record it because I thought I could take it somewhere new."
George Benson's The Other Side of Abbey Road 50th Anniversary Limited Edition, is out now on gatefold vinyl via Friday Music.
All the latest guitar news, interviews, lessons, reviews, deals and more, direct to your inbox!
Joe is a freelance journalist who has, over the past few decades, interviewed hundreds of guitarists for Guitar World, Guitar Player, MusicRadar and Classic Rock. He is also a former editor of Guitar World, contributing writer for Guitar Aficionado and VP of A&R for Island Records. He's an enthusiastic guitarist, but he's nowhere near the likes of the people he interviews. Surprisingly, his skills are more suited to the drums. If you need a drummer for your Beatles tribute band, look him up.