Vinyl Treasures: Johnny Smith's 'Moonlight in Vermont'
Undeservedly obscure today, Smith is an icon of 20th-century guitar, and this was his finest moment.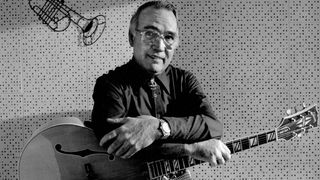 (Image credit: Denver Post via Getty Images)
I'm lucky to have a group of inspired friends who retain a youthful exuberance for musical discovery. Recently, my friend Richard Julian texted me about an album he was excited about: Moonlight in Vermont by the Johnny Smith Quintet, featuring Stan Getz.
His text reminded me how much I've studied and loved both this LP and Johnny Smith, who is one of my all-time favorite guitarists.
Released in 1956 on the Roost label, Moonlight in Vermont compiles two previously released 10-inch records: Johnny Smith Quintet Jazz at NBC and Johnny Smith Quintet Featuring Stan Getz Jazz at NBC. Along with Smith's guitar work, Getz's tenor sax adds an equally outstanding voice on an album that sounds cohesive despite its origin as two separate records.
Born in 1922, Johnny Smith was a self-taught guitarist and learned to read music while in the military. This served him well, as he went on to become the staff studio guitarist and arranger for NBC before prioritizing his family in Colorado Springs. Smith stayed active and recorded a great legacy of fine records on the Roost label, among other notable ventures.
To me, Moonlight in Vermont is the quintessential Johnny Smith album, a showcase for his versatility and unique approach to the guitar. My guess is that he had a formidable left hand. His challenging wide-stretch chord voicings are very pianistic, exemplifying a high bar of musicality while covering a large section of real estate on the guitar neck.
Smith rarely plays the common grips we mere mortals gravitate toward. This is illustrated wonderfully on the title track. The first three chords of Johnny's chord melody employ (from middle C, low to high) C - E - G - A, and (below middle C) A - C - E - G and G - A - C - E. I might suggest trying this at home, kind readers.
You'll discover how deceptively effortless and introspective Johnny Smith sounds, when in actuality these chords are an athletic finger cruncher. That said, the bottom line is a lovely musical experience for all music fans, and the choices he makes always sound inviting.
Chet Atkins called Johnny Smith his favorite jazz guitarist, which makes perfect sense to me. Smith's approach is compositional and immersed with intention and counterpoint strategy, but right when we might think every hair is in place, he'll play a flurry of 64th notes that make you sit up in your seat.
The second track here, "Tabu," shows his capacity to shred, while Getz and company throw the ball back and forth. When Smith plays phrases that would challenge the likes of Jimmy Bryant, he still sounds as relaxed and in control as a Ferrari going 80 mph with a wealth of unused headroom.
"Tenderly" is another great track here and sounds like the twin sister of "Moonlight in Vermont." Both songs feature a perfect dialog between Getz and Smith, and his chord choices are a wonder. "Jaguar," one of my faves, is another burner.
Smith swings while bassist Eddie Safranski and drummer Don Lamond groove hard and pianist Sanford Gold plays futuristic Monk-like fills in between the 64th-note unison lines.
On the side-two opener, "Stars Fell on Alabama," Smith and Getz play unison lines, and their teamwork is stellar. Their take on this track is surprisingly exotic and has an element of mystery.
In fact, every track on Moonlight in Vermont is excellent, and it contains absolutely no filler. In addition to being one of the great jazz guitarists of the '50s and having a hit with "Moonlight in Vermont," Smith has a sought-after signature guitar, wrote the Ventures hit "Walk Don't Run," left a legacy of great records, and was a Guitar Player columnist. So I always wonder why he doesn't come up more often in conversations about guitar.
His music might lack the free-and-easy rollercoaster ride exhibited by the works of Wes Montgomery or Grant Green, but his chordal approach is groundbreaking, his single-note lines are hot, and the group arrangements are thrilling.
He's one of the stand-out guitarists of the 20th century. Thanks again for the text, Richard!
Jim Campilongo and Luca Benedetti's new release, Two Guitars, is out now via City Hall Records on CD and vinyl
All the latest guitar news, interviews, lessons, reviews, deals and more, direct to your inbox!
Jim Campilongo has 14 critically acclaimed instrumental records available on vinyl, CD and digital download here.