Steve Vai Names His Top Five Career-Defining Tracks
From freight trains to wild horses, Vai reveals the influences behind some of his most significant cuts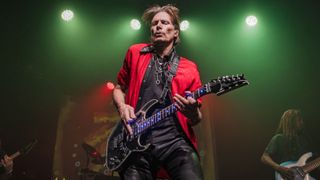 (Image credit: Frank Hoensch/Redferns)
As any longtime Guitar Player reader knows, Steve Vai and this magazine go way back. His introduction to the wider guitar community came via an appearance in the magazine in October 1984.
The unveiling of "The Attitude Song" on the Eva-Tone Soundsheet flexi-disc provided in that issue brought Vai's insane chops and melodic sensibilities directly to the people who would appreciate them the most, the Guitar Player readers, something Vai acknowledges in the following list of career highlights.
He is currently celebrating the success of Inviolate, his 10th studio album, which was released earlier this year to universally strong reviews and debuted at the top of the Billboard Hard Rock album chart.
"I'm humbled by the response that Inviolate has received," he says. "None of my solo work has ever debuted at number one on any chart, anywhere. I can't believe it.
"It's been a while since I did a purely instrumental record. When I was making it, I was in that frame of mind where I thought, I don't know how people are going to take it, but I'm not going to worry about that.
"What I do know is that the people who follow what I do and like what I do want me to make the music that's most important to me. Because then it has in it the thing that they like, and it's a great formula: I'm satisfied, and they're satisfied. The right people are attracted. It is so nice to feel that your contribution is appreciated."
Shortly after the album's release, Vai underwent shoulder surgery and recorded a YouTube video which showed him shredding one-handed through a piece called "Knappsack," while his right arm was suspended in a sling.
Vai re-injured the joint but fortunately the damage wasn't too severe.
"They thought that I had re-torn the shoulder, which would have entailed a 16-month healing time, but fortunately that wasn't the case," he explains. "It was a different tear, and I was already able to pick a little with my right hand a week later."
Always one of the most cerebral and spiritually minded artists, Vai has an interesting philosophy on what it takes to maintain a mind-and-body approach to well-being.
"I'm a vegetarian," he says. "I like to eat foods that are close to nature, I don't take any drugs and I'm not on any drugs.
I don't really drink or anything like that, but that just feels natural to me. It's not like I'm doing that to be healthy. I don't think that health comes from things like that but from the health of your mind. That requires a whole different focus.
"If you're open enough, you know what things work for you, whether it be food or exercise or whatever. But if you're in some kind of funky mindset, you won't know what your best choices are. That's how I view things."
Having spent so long in lockdown, and several more months recuperating from surgery, Vai is currently on a mammoth global tour.
"What I do is psyche myself up for whatever lies ahead of me," he explains. "That means that if I'm at home, I'm psyched to be at home, and I'm psyched to be in the studio, recording.
"When the record is done, I start to psychologically align myself with going on tour, and that's when the feeling changes to 'I've got to get out of Dodge and I've got to get on that iron horse! [laughs] I've got to play my guitar to people now!'
"I cultivate the impulse and then I'm ready to go. When the tour starts to wind down, I then psychologically align myself with being at home, and then I don't want to be on tour. It's all mental gymnastics to keep my sanity."
Vai picked through his extensive catalog to select these five tracks that he considers among the most important to his career…
1. "The Attitude Song" from 'Flex-Able' (1984)
"This was a very important song for me. When I recorded it, I had no expectations with regard to what would happen with it, or even whether anybody would hear it. It was just like joy when I made it. I had so much fun, and I had so many ideas.
"'The Attitude Song' checked off a box for me, with regard to the wild kinds of things that I was working on at that time on the guitar.
"Some of the things I was doing seemed unique: pulling up on the bar and playing the melody, the weird harmonies, and the way that things were structured. It didn't dawn on me until decades later that those things were quite unique.
"It had innovation, but I didn't realize that so much at the time. It was quite a tricky song to play, with the polymeter: 7/8 over a 4/4.
"When it appeared in Guitar Player on a Soundsheet, I can honestly say that that was the first major exposure for me as a guitarist to the guitar community, and it went over very well."
"I think this is undoubtedly my best-known piece of music. I'd probably get beat up after the concert if I didn't play this live. I never get bored playing it, though; I can lose myself for an eternity in just one note in that song.
"This was another track that came from a very innocent kind of approach. At the time that I made Passion and Warfare, I knew that I was deliberately turning my back on 'rock stardom.'
I had toured the world multiple times with David Lee Roth and Whitesnake, and it was really big, and it was lucrative. You get to play the part of a rock star, which was fantastic, but it wasn't entirely what I was looking for.
I knew all along that there was this music in me that had to come out, and in my mind, I thought that it would just be the end of my career. It was a nice run being a big rock star, but I have to do this music.
"When I recorded 'For the Love of God,' it was under the auspice that this record that I was making really didn't have an audience or a place, because there was nothing like it at the time. I knew it was something that was in me that had to come out, regardless of how the guitar community was going to receive it.
"I remember someone hearing it and saying, 'It's nice, but it's kinda long and wanky.' [laughs] I remember thinking those sentiments may be true, but fuck that; this is a beautiful piece of music. I really had an intimate relationship with that song when I recorded it, and I think that's what people feel.
"When I handed this album to Capitol Records, who had previously released Eric Johnson's Ah Via Musicom, they actually said to me, 'We have no idea what this is. We are not going to promote it, and the advance that we told you we were going to give you, we're cutting that in half.'
"I just said, 'Fine, I'm taking it away from you. You broke the deal, so I don't have to release it on Capitol.' Relativity picked it up after that."
"For me, this is the perfect amalgamation of my intense side and my tender side. I love the way that it starts out with those octaves. It's very sweet, and there are so many dynamics and such articulation. Those things really make melodies speak.
"I knew that I wanted it to build and build organically; every note is part of the melody in that piece. It's another song that was very well received by the guitar community. It was planted at exactly the right time for me, whereas my previous album, Sex and Religion, seemed to have come out at exactly the wrong time.
"I think the guitar community had a big question about that album: 'What's he doing? Why vocals? This isn't an instrumental album!'
"When Alien Love Secrets came out, it was friendly for the guitar community, with tracks like this, 'Kill the Guy With the Ball' and 'Bad Horsie.' 'Tender Surrender' has such a nice melody and builds so well to a climax that it was almost a perfect formula for those people that really love instrumental guitar music.
"It really struck a nerve. It's another song that I play in concerts all the time, because if I didn't, I think people would be very disappointed."
"This is a very different track from 'Tender Surrender.' It had the bones to exist in the metal community. It's a side of me that I really enjoy. It's sort of like Jack Butler [the character Vai plays] in the movie Crossroads.
"It's connected to that song that I played in that film; that movie had a significant impact on my career. When I was doing Crossroads and reading the script, it said, 'Jack Butler kicks into a guitar riff that sounds like a freight train.' I wondered what a freight train would sound like if it were mimicked with a guitar.
"The first thing I did was tune down, then grind out that rhythm on the bass notes. Soon after that, I had a dream where I was on a wild stallion, and I was riding through a field of high grass, being chased by a train.
"Suddenly the horse stopped, turned around and charged at the train, at which point I woke up. [laughs] That was when I thought I'd write a song with the train concept from Crossroads and mix it with a horse.
"It's a song that I really love playing. It's malleable – we can constantly change it up. It's heavy and it's satisfying when you feel that heaviness. It's another song that has gravitated toward becoming a favorite of my fans. It's definitely one of my most metal tracks."
5. "And We Are One" from 'Modern Primitive' (2016)
"I would go on record to say that I think the solo on this is perhaps my greatest accomplishment on the guitar. That would be because of its phrasing, its neatness and its beauty. I don't feel pretentious saying that, because I'm speaking within my capacities.
"So if I say something is profoundly, deeply moving and beautiful to me, that's to me, you know? There may be others that feel that way, but it's important that an artist invests their intimacy into their music, because it carries their DNA in it.
"This is what people want: They want you, your unique creativity. They don't want you to sound like somebody else. They can smell fake a mile away.
"With this song, I told myself, 'You're going to record a solo here, where every riff is going to be unique for you. It can't be anything you've done before, and it has to be innovative.' In that one song, there is more phrasing and melodic intimacy than anything I've ever recorded. That's why this song is so important to me.
"There is really a lot going on in my playing that might not be apparent to someone who isn't watching me play this. Not that that is important in itself, of course. What is important is that when the listener hears it, they feel something."
Visit the Steve Vai website for tour dates and ticket info.
Browse the Steve Vai catalog here.
All the latest guitar news, interviews, lessons, reviews, deals and more, direct to your inbox!
Mark is a freelance writer with particular expertise in the fields of '70s glam, punk, rockabilly and classic '50s rock and roll. He sings and plays guitar in his own musical project, Star Studded Sham, which has been described as sounding like the hits of T. Rex and Slade as played by Johnny Thunders. He had several indie hits with his band, Private Sector and has worked with a host of UK punk luminaries. Mark also presents themed radio shows for Generating Steam Heat. He has just completed his first novel, The Bulletproof Truth, and is currently working on the sequel.