How Steve Vai Wrote "For the Love of God"
The virtuoso's first "real visceral, long-playing guitar" piece came during a 10-day fast, changing his life in the process.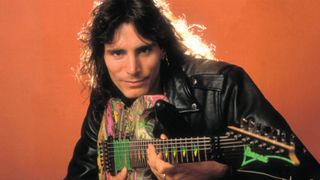 (Image credit: Frans Schellekens/Redferns)
Ask Steve Vai's fans to name their favorite of his songs, and most will tell you it's "For the Love of God," the hypnotically transplendent seventh track on his 1990 solo album, Passion and Warfare.
"It's an important one, for sure," Vai agrees. "It was one of the first real visceral, long-playing guitar songs I'd written. Other songs of mine are similar in the sense that they're melodic, but then they go off into the stratosphere – songs like 'Windows to the Soul,' 'Whispering a Prayer,' and 'We Are One.' But for many reasons, 'For the Love of God' has a special place in my heart."
For The Love Of Luke
The song's origins go back to the late '70s, when Vai moved from New York to Los Angeles to begin working with Frank Zappa. Knowing Vai was a big Lenny Breau fan, a friend gave him a cassette of his music. He absorbed side one and anxiously flipped to side two. However, what he heard wasn't Breau at all – it was somebody else.
"The solos were unbelievable," Vai recalls. "They started off with a lot of space, very melodic, and then they grew into these towering peaks. They were unlike anything I'd heard before."
For years, Vai didn't know the identity of the mystery guitarist until he ran into his friend again. "I asked him, 'Who is that on the flip side of that tape?' And he said, 'Some guy named Steve Lukather.'"
Vai not only became a huge Luke fan but was also inspired to write a song with the same kind of trajectory. "But it's not the kind of thing you can just command yourself to do," he says. "It has to be that moment when something taps you on the shoulder and says, 'Now.'"
That moment came when he walked by an acoustic guitar. "I picked it up, played the chords, sang the melody, and recorded it on a cassette. It was all right there."
Don't Try This At Home
The cassette sat on Vai's shelf for years. "I would walk past it, and it would kind of trip me, but I just didn't know what to do with it," he says. It wasn't until he was recording the follow-up to his indie smash Flex-Able that he felt ready to give the song the treatment it deserved.
Working in his own home studio, Vai guided bassist Stuart Hamm and drummer Tris Imboden through their parts, then recorded his guitar tracks in his own inimitable fashion. While standing underneath a wooden pyramid he had built ("I was fascinated with pyramids at the time"), Vai, on the fourth day of a 10-day fast, performed the song's breathtaking solo on one of his signature Ibanez Universe seven-string guitars.
"Because I was fasting, I alternated between feeling sick and experiencing this strange euphoria," he says. "Even in this state of mind, I wanted the solo to grow, and I gave it everything I had. It was pure, infinite freedom of expression. When I was done, I said, 'That's it. That's the best I can do.'"
Finding A Believer
Vai had just joined the band Whitesnake, but he was also signed to Capitol Records as a solo artist. When he played Passion and Warfare for his label reps, he was dismayed at their reaction. "They told me, 'We have no idea how to promote this,'" he says.
Encouraged by Whitesnake singer David Coverdale (who had recorded a spoken-word coda on "For the Love of God"), Vai played the album for Relativity Records' A&R head Cliff Cultreri. "Cliff got the record right away. Relativity released Passion and Warfare, and it struck a nerve. It was fantastic."
Vai can't recall a live show in which he hasn't included "For the Love of God" in the set. "It's such a privilege every time I play it," he says. "I never get tired of it. I always look to go deeper and deeper into every note."
With a laugh, he recalls the first time he performed it onstage, in 1991, in Spain. "What an experience that was! I wish I could say the heavens opened up and white doves flew down, but the truth is, I was so invested in playing it right from start to finish that I couldn't be in the moment. The whole time, I was thinking, 'Don't fuck this up, Vai!'"
All the latest guitar news, interviews, lessons, reviews, deals and more, direct to your inbox!
Joe is a freelance journalist who has, over the past few decades, interviewed hundreds of guitarists for Guitar World, Guitar Player, MusicRadar and Classic Rock. He is also a former editor of Guitar World, contributing writer for Guitar Aficionado and VP of A&R for Island Records. He's an enthusiastic guitarist, but he's nowhere near the likes of the people he interviews. Surprisingly, his skills are more suited to the drums. If you need a drummer for your Beatles tribute band, look him up.