15 Fantastic Electric Guitars Priced Under $800 – Tested and Reviewed
Your next guitar doesn't need to cost the earth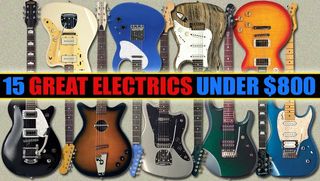 (Image credit: Future)
It's easy to get sucked into the idea that a good guitar has to be expensive. True, there are some plusses to spending $3,000 or more on a finely crafted solidbody from one of the premium makers. Hand-picked woods that are aged to ensure that excess moisture won't interfere with tone, and pickups that have been wound on the same machines used by Gibson or Fender in their Golden Age are but a few of the factors that support the notion that you get what you pay for when it comes to guitars. Like many things these days, however, companies large and small have cracked the code on how to produce guitars that sound, look, and play very impressively at prices that often defy logic.
The reasons for this, of course, hinge a lot on the global economy, whereby workers in certain parts of the world – okay, let's just say Asia – get paid atrociously less than their counterparts in Western countries. Materials factor into it too, as woods sourced from suppliers who don't give a hoot about the sustainability of tonewoods such as mahogany and rosewood are obviously going to be cheaper than those purchased from cutters who harvest trees in a manner that ensures the survival of their habitats. Just have to say it: as one of the brands featured in this story, Godin is notable for having a long history of building very affordable guitars using a local workforce and materials sourced from forests right in their own Canadian backyard. So it can be done, and depending on your point of view on such things, this alone might influence what you buy.
For this roundup of "budget" guitars we set the upper price limit at $799 street, which encompasses instruments that qualify as professional quality, while still allowing for "gateway" guitars that the beginner can get into for less than the price of a tablet PC. All of these guitars were evaluated on the basis of build quality and setup, and all were given thorough shakeouts – multiple times, in fact – to see how they stacked up for playability and tone. And while no reviewer can divorce themselves completely from their preferences for pickup types, neck shapes, or body styles, the truth is that after playing these guitars through a broad assortment of amplifiers and pedals, we all came away pretty impressed by what they have to offer.
Carvin Guitars Bolt-C
We've been quite smitten with the offerings from Carvin and now Kiesel Guitars over the past few years, with their Jason Becker-inspired signature offerings and custom-shop-level showpieces. Well, this hum-sing-sing beauty brings all that quality at a substantially more affordable price point.
I hit one chord on the Bolt-C and could instantly tell that it has great sustain and resonance. The notes just seem to jump right off the gold EVO frets before I ever plugged it in. The playability is insane, with perfectly leveled and polished frets and unlimited bendability. Kiesel now installs dual carbon-fiber reinforcing rods in every neck they build, greatly contributing to neck stability
I have always been into the hum-sing-sing pickup configuration. It just seems to possess the perfect combination of VH power chords and SRV neck-pickup tones, and the Bolt-C delivers on all fronts. This model takes advantage of Kiesel's great promo of $100 of free upgrades, so, at no extra charge, the customer gets the aforementioned EVO gold frets, a KL12B bridge pickup, and S60 neck and middle pickups. That translates to killer tones in all positions, with the neck single-coil being particularly badass. The clean tones sounded great but when I went for some high-gain textures this guitar really came alive. The slick setup made blazing legato passages a breeze and I could bend as crazy as I wanted with no buzz whatsoever. It's no big surprise that fusion masters like Greg Howe and Frank Gambale choose this Carvin to work their magic. You can pretty much do anything with this guitar.
Carvin Guitars has long been a place where players can specify whatever options they want on an instrument. The model reviewed here can be modified with a Floyd Rose whammy, different fret options, various neck radii, custom pickup options, and assorted finishes. Their attention to detail is superb and the quality is unassailable. If you're in the market for a solidbody electric guitar, you need to check out a Bolt-C. – Matt Blackett

CONTACT kieselguitars.com
DIRECT PRICE $799
NUT WIDTH 1.69"
NECK Hard rock maple with tung oil finish and inline headstock
FRETBOARD Maple 25 1/2" scale with 14" radius
FRETS 22 gold EVO medium jumbo
TUNERS Chrome
BODY Alder
BRIDGE FT6 hardtail
PICKUPS KL12B Lithium humbucker (bridge) and two S60 single-coils (neck and middle)
CONTROLS Master Volume and Tone, 5-way toggle, On/Off Bridge switch
FACTORY STRINGS Elixir Nanoweb 1046E
WEIGHT 7.25 lbs
BUILT USA
KUDOS Great construction. Huge array of tones. Slick playability.
CONCERNS None
Danelectro Convertible
Based on its namesake model from the 1960s, the latest incarnation of the Convertible features a piezo transducer under the bridge and a Blend knob to control the mag/piezo mix. It also has niceties like die-cast tuners, a glossy tobacco-sunburst finish (also available in black and white), and a wooden bridge that can be rotated for intonation adjustments. My only gripe is that the bridge's un-notched steel saddle allows the strings to slip sideways when you pick or pluck the strings even moderately hard, making little creaking sounds in the process. It's surprising that the factory hasn't addressed this issue, but otherwise, the Convertible plays well thanks to its slim, satin-finished neck and polished frets with smooth tips.
The semi-hollow "shorthorn" body is light and resonant, which helps to give this guitar a vibrant unplugged sound. Running into a Dr. Z Z-Lux or Kendrick 4210 combo, the '56 Lipstick pickup in the soundhole provides a clear and beefy amplified tone with a voicing that sits well amidst standard humbucker and single-coil guitars. Blending in the under-bridge piezo takes things in a more acoustic direction, albeit with a pleasing sort of nasally honk in the midrange and a top-end sweetness that's quite different from the often-strident piezo sounds that acoustic-electric guitars can be prone to. In fact, the more piezo you blend in, the more the Convertible assumes a sort of Dobro-like persona, which makes it fun for blues and slide playing, especially when put in an open tuning. Also, unlike many hybrid electrics, the Tone control affects the magnetic and piezo signals.
The Convertible has always been a different animal in the Dano line, and this latest version carries on the tradition in fine form. The blendable pickups are a good update here, helping to make this Dano a very cool "color" guitar with a voice that can sit equally well in a track or a live mix. – Art Thompson

CONTACT danelectro.com
STREET PRICE $499
NUT WIDTH 1.69" aluminum
NECK Maple, bolt on
FRETBOARD Rosewood, 25" scale
FRETS 21
TUNERS Vintage-style enclosed
BODY Poplar and Masonite semi- hollow
BRIDGE Wood with steel saddle, floating metal tailpiece
PICKUPS '56 Lipstick (neck) and piezo underneath the bridge
CONTROLS Volume, Tone, piezo/magnetic Blend control
FACTORY STRINGS D'Addario, 010-.046
WEIGHT 5.56 lbs
BUILT China
KUDOS A good sounding hybrid guitar.
CONCERNS Strings can move sideways due to un-notched bridge saddle
Epiphone Les Paul Tribute Plus Outfit
With so much attention being focused these days on Gibson's high-end clones of late '50 and early '60s Les Pauls, it's nice to see that Epiphone has come out with its own highly affordable version of a vintage LP in the guise of the Les Paul Tribute Plus Outfit (the "outfit" part refers to the included hardshell case). This guitar offers the essential elements such as a great playing SlimTaper D-style mahogany set neck capped with 12"-radius rosewood fretboard, a mahogany body with a carved maple top, and a set of Gibson-made '57 Classic humbuckers that feed the standard configuration of dual Volume and Tone controls and a 3-way selector. The only deference to modern times is that the Tone pots are push-pull types that split the coils of the pickups for single-coil sounds when you pull up on the barrel-style "speed" knobs. Given a high-gloss faded cherry sunburst finish (other finishes available) with flawless cream-colored binding on the top and neck, the Tribute Plus looks fantastic. There are even cream plastic covers for the control and toggle-switch cavities on the back.
So what you get here is a reasonably lightweight LP that is set up very well and gives the same kind of soulful playing feel you expect from a vintage-style guitar – minus perhaps the feel of nitro lacquer, which is one of the things you pay extra for on the high-end Gibsons. Otherwise, I found the Tribute Plus to be a blast as it has the quick attack and long sustain of a good LP, and packs a sonic wallop courtesy of its PAF-style humbuckers, which deliver a cool blend of fatness and chime for lead playing, and roll back for ringing clean tones when you turn 'em down. The neck pickup can do warm jazz rhythm textures or sing with a sweet tone when driving a high-gain amp such as the Mesa/Boogie Mark 5:25 I used. The bridge position may come up a little short of the Tele-style bite that a prized PAF can deliver, but it's still a fine sounding pickup with ballsy mids and a clear, smooth top end that makes it very satisfying for grinding rhythm tones and gained-up solos.
The Tribute Plus is an obvious choice for anyone who wants to get into this legendary blues/rock guitar for a fraction of what a Gibson would set you back. It packs all the essential LP elements needed to deliver the classic dual-humbucker experience, and what a swingin' deal for all you get! – Art Thompson

CONTACT epiphone.com
STREET PRICE $749, including hardshell case
NUT WIDTH 1.69"
NECK Mahogany, SilmTaper D style profile
FRETBOARD Rosewood, 24.75" scale, 12" radius
FRETS 22 jumbo
TUNERS Grover locking
BODY Mahogany with carved maple top
BRIDGE Lock Tone Tune-o-matic with stop tailpiece
PICKUPS Two Gibson USA '57 Classic humbuckers
CONTROLS Two Volume, two Tone (with push-pull coil-split), 3-way selector
FACTORY STRINGS 010-.046
WEIGHT 8.64 lbs
BUILT China
KUDOS A well made, good sounding, and very affordable vintage-style Les Paul
CONCERNS None
ESP LTD FRX-401
When we unboxed this LTD FRX-401, we were a little frightened by the pointy horns and seemingly jagged edges along the body contours. Still, though, we were drawn in by the sleek curves, glossy finish, and undeniable solidity that this guitar exudes. Anyone who has played an ESP instrument knows all about their astounding fit and finish, slick playability, and overall quality, and this piece is right in keeping with that ethos. It was perfectly in tune right out of the case and immediately gave up big chords and effortless runs. Nice!
The cosmetics are admittedly a two-edged sword, but they are expertly rendered. The snow white finish is flawless and the hardware sets it off very nicely. Once you pick up the 401 and start playing, you really don't notice that it has some extreme features. You're much more likely to be taken in by the beautiful fretwork, easy bends, and impressive sustain. The set-neck construction gives you super-easy access to the 24th fret and also imparts a delicious resonance that you can feel all through the body.
This guitar was obviously built to rock, and the EMG humbuckers do a great job of that, with the mean, focused distorted tones that we love about them. That doesn't mean that they can't do great clean sounds (ever heard a Metallica record?), and the neck pickup is beautifully balanced and the two-pickup tones are nicely detailed. With those pickups and the guitar's sweet setup I found myself blazing through legato passages and churning out fiendishly picked staccato lines. You never want to ask a piece of gear to make up for what you lack as a player, but I swear the 401 can do a little bit of that. Bonus!
It's up to each of us to decide what kind of look we need in a guitar, but we can all pretty much agree on what we want in terms of quality, and this guitar flat-out delivers. This level of quality can be found on any LTD model, however, so keep that in mind while shopping. – Matt Blackett

CONTACT espguitars.com
STREET PRICE $799
NUT WIDTH 1.69"
NECK Maple
FRETBOARD Rosewood 25 1/2" scale with 13.78" radius
FRETS 24 jumbo
TUNERS Grover
BODY Mahogany
BRIDGE LTD Fixed
PICKUPS EMG 81 humbucker (bridge) and 60 humbucker (neck)
CONTROLS Master Volume and Tone, 5-way toggle, On/Off Bridge switch
FACTORY STRINGS Elixir Nanoweb 1046E
WEIGHT 7.1 lbs
BUILT China
KUDOS Amazing playability. Unique look. Impressive sustain.
CONCERNS Body style might be extreme for some tastes
Fender Standard Jazzmaster HH
It's always fun to imagine what might have happened if Fender and Gibson had merged in the 1960s, but one possibility would have been a Jazzmaster with humbuckers and a Tune-o-matic bridge (and, of course, the mercurial floating vibrato with its extra-long arm), which is basically what we have here with the Jazzmaster HH. Presented in Ghost Silver with a black pickguard, and outfitted with pickups sporting black and chrome bobbins, the HH is one graphic treatment away from becoming something you could snap up at an Oakland Raiders kiosk. With 22 well-dressed jumbo frets on its rosewood 'board, the Jazzmaster HH also feels like the rock axe it might have become if Gibson's Ted McCarty had his way with this model. Would the Ventures, the Surfaris or Sonic Youth have been the same if things had gone that way? Who knows, but for today's players who dig the Jazzmaster's visual allure, the HH is a rock-friendly platform with plenty of sonic tricks up its sleeve.
Played though a Mesa/Boogie Mark 5: 25, and a BluGuitar Amp 1, the Jazzmaster HH proved its ability to field tones that ranged from majestically clean to massively distorted. The neck pickup has a rich and detailed sound, and since it's the louder of the two, it's especially cool for soloing in humbucker mode, as well as for clean chording and fingerpicking when functioning as a single-coil. The dual-pickup setting with the coils split also provides cool rhythmic and melodic textures, and the only issue here is that the skirted Tone knob is difficult to get your fingers under when you want to pull it up in a hurry (a push-push Tone pot would be a welcome update). The bridge pickup isn't so hot that it loses clarity when you crank it up, making for meaty OD tones that have depth and detail, even when pushing a blizzard of distortion. The bottom line is, the more I played this guitar the more it grew on me, so if you seek a classic Fender that goes where no Fender has gone before, you owe it to yourself to try out the Jazzmaster HH. – Art Thompson

CONTACT fender.com
STREET PRICE $599
NUT WIDTH 1.69"
NECK Maple
FRETBOARD Rosewood, 25.5" scale, 9.5" radius
FRETS 22 jumbo
TUNERS Die-cast
BODY Alder
BRIDGE Adjustable 6-saddle with Jazzmaster vibrato
PICKUPS Two Blacktop humbuckers
CONTROLS Volume, Tone (with push-pull coil-split), 3-way selector
FACTORY STRINGS Fender, 010-.046
WEIGHT 8.64 lbs
BUILT Mexico
KUDOS Biggest sounding Jazzmaster yet. Plays well.
CONCERNS Difficult to pull the Tone knob. No vibrato lock
Gretsch Electromatic Pro Jet
This modern version of Gretsch's '50s-era rock-and-roll hot-rod features a compact chambered body, Blacktop Filter 'Tron humbuckers in pearloid rings, and classic touches that include "hump-block" fretboard inlays, chrome-plated "G-Arrow" knobs, a white pearloid pickguard with Gretsch logo, threaded/knurled strap buttons, and vintage-style tuners with line-embossed cases. The Bigsby Licensed B50 vibrato with roller bar has a smooth, responsive feel, and it kept the strings in tune quite well when imbuing parts with sweet-sounding bends. The C-shaped maple neck with its 24.6" rosewood 'board feels great and the setup on our review guitar is spot on, providing nice low action and no buzzing when fingering notes as high up on the fretboard as the cutaway allows.
The chambered construction provides a resonant acoustic sound, and when played through a variety of rigs that included a Kendrick 4210 combo, a Dr. Z Z-Lux, and a BluGuitar Amp 1, the Pro Jet spoke with a crisp, twangy voice that combined humbucker girth with a touch of single-coil shimmer. The moderate output of these lower-wind pickups will appeal to players who gravitate toward PAFs, and they have a dynamic response that's very cool when paired with an overdriven tube amp. You can fake bluesy archtop tones with the meatier neck pickup, while the bridge setting can deliver that Malcolm Young kind of rock attack when driving a high-gain amp channel or a distortion pedal. The system of three Volume knobs makes it easy to dial in hip dual-pickup sounds while controlling overall volume with the Master, however, the lone Tone control likes to kept wide open as it starts to reduce volume and murk the sound when turned down more than halfway.
That's a small point though, in what is one hell-of-a-deal in a swanky looking guitar that harks to the Golden Age of Gretsch electrics. – Art Thompson
CONTACT gretschguitars.com
STREET PRICE $499
NUT WIDTH 1.69"
NECK Maple
FRETBOARD Rosewood, 24.6" scale
FRETS 22
TUNERS Vintage style
BODY Chambered basswood with arched laminated maple top
BRIDGE Bigsby Licensed B50 vibrato
PICKUPS Two Blacktop Filter 'Trons
CONTROLS Neck Volume, Bridge Volume, Master Volume, Tone, 3-position selector
FACTORY STRINGS D'Addario XL110 Regular Light, 010-.046
WEIGHT 7.14 lbs
BUILT China
KUDOS Cool look. A twangy sounding rock-and-roll classic
CONCERNS None
Guild S-100 Polara
For those who love the look, the feel, and the vibe of a vintage-style double-cutaway guitar, the S-100 Polara from Guild's Newark St. Collection series is a serious contender. From a distance, the body style is similar to that of a standard Gibson SG, but upon closer inspection, the S-100 has slightly offset horns, a larger headstock, and an angled tailpiece, giving it a look all its own. Designed to be an exact replication of the original '70s-era S-100, this guitar is built with the same specs, hardware, materials, and electronics in mind.
This will be good news for Soundgarden fans who have heard Kim Thayil play on various S-100s throughout his career. But even if you are interested in playing jazz, country, metal, or something in between, the S-100 is suitable for a wide range of styles, because the guitar is so responsive to the way you play. The pickups have a lower output than some modern humbuckers, giving the S-100 enhanced depth and clarity. Plugged into a Fender Hot Rod DeVille 212, the S-100 delivered a fantastic clean tone that sounded perky and full with funky or percussive guitar riffs on the bridge pickup, but it could also fill the room with rich sustain on big open chords.
Combined with various levels of distortion, notes sang out with zest and punch. Overdriven tones had a classic, midrange-boosted sound that never got overly muddy or bass heavy. Testing this guitar was truly a blast, as it was really comfortable to play and it sounded amazing. Well built with high-quality parts, the S-100 Polara is durable, reliable, and a great choice for adding some vintage flair to any of your performances. – Joyce Kuo
CONTACT guildguitars.com
STREET PRICE $799
NUT 1 11/16"
NECK Mahogany, set
FRETBOARD Rosewood 24.75" scale
FRETS 22 narrow jumbo
TUNERS Grover Sta-Tite
BODY Mahogany
BRIDGE Guild Tune-o-matic, Guild compensated stop tailpiece
PICKUPS Two Guild HB-1 humbuckers
CONTROLS Two Volume, two Tone, 3-way selector
FACTORY STRINGS D'Addario EXL110, .010-.046
WEIGHT 8.81 lbs
BUILT Korea
KUDOS Excellent build quality and performance. Classic hum- bucker tones. Very responsive.
CONCERNS None
Slick SL57
Sometimes it's the little things that matter. At first glance, this Slick SL57 might look like just another Strat clone. And, at its insanely low price of $279, no one could blame you if you assumed that they cut every available corner on materials and workmanship. But you'd be dead wrong, and here's why. The Slick folks, in conjunction with Mr. Earl Slick himself, have addressed every aspect of what separates good guitars from great ones and put that knowledge into each component on their instruments.
You get a solid swamp ash body that is left unfinished so the wood can breathe (and it looks bitchin' too). The bridge features a solid steel baseplate with brass saddles and a massive solid brass sustain block. The nut is graphite and leads to a super straight string pull up the tilt-back headstock (so no need for string trees) to the precise tuners. All of this adds up to amazing sustain and acoustic volume. You can feel each chord ringing through the body.
The amplified tones are exactly what you would want out of a three-single-coil instrument, with big neck-pickup sounds, bright and cutting bridge tones, and the delightfully Knopfler-esque in-between sounds. The only thing I might change is to raise the middle pickup slightly to even out the output on the sounds with that pickup. The medium jumbo frets are nicely polished and easy to bend on. The whammy system arrived set for down-only action, as opposed to floating. This no doubt adds to the resonant quality of the SL57, but it did create some tuning problems, especially on the D, G, and B strings.
All non-locking systems take a bit of work for me to keep them reliably in tune, and I'm sure I could tame this one (I would set it up as a floating system so I could always yank everything back to the equilibrium point). None of this changes the fact that this is a great-sounding, great-playing guitar that is an absolute steal at this price. I would not hesitate to bring an SL57 on stage or in the studio. – Matt Blackett
CONTACT guitarfetish.com
DIRECT PRICE $279
NUT WIDTH 1.7"
NECK Solid Canadian hard rock maple
FRETBOARD Rosewood 25 1/2" scale and 12" radius
FRETS 22 nickel silver 6105 medium jumbo
TUNERS Slick with bronze crown gears, bronze pinion gears, and solid brass knobs
BODY Solid swamp ash
BRIDGE Vintage USA tremolo with solid steel baseplate, solid machined brass sustain block, and bent brass saddles
PICKUPS Three Slick "65" alnico single-coils
CONTROLS Master Volume, two Tone, 5-way toggle
FACTORY STRINGS D'Addario EXL110
WEIGHT 8.26 lbs
BUILT China
KUDOS Cool look. Great sustain. Awesome Stratty tones.
CONCERNS Whammy system created some tuning issues
Bohemian Guitars Boho Motor Oil
Okay – you want to break out of your same-old same-old? Well, have I got the oil can guitar for you! You've probably seen the crazy vibey instruments from Bohemian Guitars and wondered, "Does that thing even play? If it does, what does it sound like?" Well, it actually plays just fine once you get used to the fact that it doesn't sit on your lap quite like a normal guitar. The neck is comfortable and the action was easy to chord and bend on. There is also a very real "fun factor" that is inescapable when you're playing a guitar that has a damn oil can for a body!
That body is actually reinforced with basswood for both tone and stability. The maple neck runs the length of the body, and there is a removable panel on the back for accessing the electronics and hardware, but you could also stick a mic in there if things haven't gotten oily enough for you.
I plugged the Boho into a Kendrick combo and started riffing. It produces a full, slightly dark tone that was great for grungy chording and spooky slide lines. Pairing it with a Fulltone Full Drive pedal proved that the Motor Oil could be a ballsy rock machine as well. I got my best results by running the Full Drive bright and with lots of gain, which made bridge-pickup power chords bark with authority and kept the neck pickup clear and sing-y. Because there are no split-coil options, I tended to dial in clean tones on the bright side as well.
So who would want this thing, anyway? Honestly, lots of players. It might not be someone's choice for their first or only guitar, but anyone who wants to add some vibe and whimsy to their collection (and let's be honest… we could all use a little whimsy) would love a Boho. One look at their website and the great demo video by Grant Reynolds will show you that this guitar is well suited for gut-bucket blues, barroom boogie, and a whole bunch of other styles. Plus, it has a built-in stand! Just set it on the ground and walk away. Pretty damn cool. – Matt Blackett
CONTACT bohemianguitars.com
RETAIL PRICE $299
NUT WIDTH 1 11/16"
NECK Maple
FRETBOARD Rosewood 25 1/2" scale
FRETS 21
TUNERS 3+3 w/removable keys
BODY Recycled hollow metal w/basswood frame and removable back panel
BRIDGE Tune-o-matic style
PICKUPS Two humbuckers
CONTROLS Volume, Tone, 3-way toggle
FACTORY STRINGS .009-.042
WEIGHT 6.2 lbs
BUILT China
KUDOS Guaranteed eye-catcher. Easy playability. Built-in stand.
CONCERNS Slightly dark sounding
Godin Session LTD
This bolt-neck beaut looks slick with its Desert Blue finish and pearloid pickguard, and it comes outfitted with everything needed to make it a good choice for working players who want maximum performance for their money. The satin-finished maple neck feels as comfy as worn-in Levis, and the fretwork is super clean with even crowns and non-spikey tips – even the nut has been shaped to remove sharp corners. The 12" radius maple fretboard, which sports highly visible black dots on the top and sides, is perfect for bluesy bending, while still providing a fluid surface for speedy picking. Godin's fully adjustable trem bridge is adjusted to float for soulful pitch bends, and its buttery action helps it return to pitch very reliably. The Tru-Loc feature is cool too, as it allows you to easily adjust the range of swing on the bar (using the included hex wrench) so that it sits exactly where you want it.
To make this model suitable for a wide variety of styles, Godin has designed the Session LTD around the popular hum/sing/sing pickup configuration, using two of its own GS-1s in the pickguard and a Duncan SH-11 that sits in a chrome-plated bezel in the bridge slot. Along with a 5-way switch and knurled Volume and Tone knobs (the latter with a push-pull function for splitting the coils of the humbucker), this setup gives you a wealth of tonal options. Run through two different combos (a Kendrick 4210 and a Dr. Z Z-Lux), and driving a Fulltone Full-Drive 2 pedal for high-gain sounds, the Session LTD proved its ability to range from sparkling clean to massively overdriven, with settings aplenty for jazz, blues, country, fusion, hard rock, etc. The GS-1s are quite robust sounding – the neck unit being particularly cool for throaty blues soloing – and they dish out righteous rhythm textures in combination with the 'bucker in coil-split mode.
Add it all up and the Session LTD is perfect for players who have to cover a variety of styles, and at $749, it's certainly one of the best deals around in a North American-made guitar. – Art Thompson

CONTACT godin.com
STREET PRICE $749
NUT WIDTH 1.69"
NECK Maple, bolt on
FRETBOARD Rosewood, 25.5" scale, 12" radius
FRETS 22
TUNERS Godin die-cast
BODY Canadian basswood
BRIDGE Godin Tru-Loc Trem
PICKUPS Two Godin GS-1 single-coils, Seymour Duncan SH-11 humbucker
CONTROLS Volume, Tone (w/push-pull coil split for humbucker), 5-way selector
FACTORY STRINGS 010-.046
WEIGHT 8.14 lbs
BUILT Canada
KUDOS A fine guitar with a wide range of tones.
CONCERNS None
Ibanez Steve Vai JEM Jr.
Modeled after the popular Steve Vai Signature JEM, the JEM Jr. is a way more affordable model that doesn't really cut corners on functionality or artistry. Aesthetically, the JEM Jr. features the iconic tree-of-life inlay, the lion claw rout that sits behind the whammy, and the instantly recognizable monkey-grip handle. Before you even plug in to the reversed jack input, it's already a cool-looking guitar that effectively captures the same vibe of the much pricier JEMs.
The Wizard III maple neck on the JEM Jr. is slim, fast, and plays like butter – encouraging a totally relaxing and comfortable playing experience, and providing hours of fun without a hint of fatigue. The standard double-locking tremolo bridge stays in tune, even with extreme dives.
Overall, the Quantum single-coil and humbucker pickups sounded fine, although I generally preferred the humbuckers to the single-coil, which sounded a bit too thin for my taste. I would most likely want to try swapping out the factory units for a set of DiMarzio Evolution pickups to cop the tone of the JEM 7V if I wanted to get serious about my Vai obsession. It wouldn't be a necessary expense, however, as the Jr. is still capable of awesome sounds. Bottom line: The JEM Jr. looks good, plays fast, and is by far the most affordable guitar in the Vai Signature series. It really is an exceptional value for the working-class JEM fan. – Joyce Kuo

CONTACT ibanez.co.jp
STREET PRICE $499
NUT WIDTH 1.693"
NECK Maple, bolt-on
FRETBOARD Rosewood, 25.5" scale with tree-of-life inlay
FRETS 24 jumbo
TUNERS Ibanez
BODY Mahogany
BRIDGE Standard DL Double-Locking Tremolo
PICKUPS Two Quantum humbuckers (bridge and neck), one Quantum single-coil (middle)
CONTROLS Master Volume, Master Tone, 5-way selector
FACTORY STRINGS Ibanez, .009-.042
WEIGHT 8.5 lbs
BUILT Indonesia
KUDOS Looks cool. Thin and fast neck. Big trem range. Great value.
CONCERNS Single-coil pickup sounds a bit thin
Peavey Riptide
With a Dali-esque "melted sideways" take on the Tele body and a raptor-like beak on its headstock, the Riptide lends an edge of contemporary shred attitude to the traditional picker's plank, and wraps it all in some nifty retro-modern styling with a metallic blue finish and white pearloid pickguard. High-performance elements continue in the fairly thin profile on the five-bolt maple neck, the extremely deep cutaway, and the contoured heel, the latter two combining for an easy reach right up to the 22nd jumbo fret. The two Peavey T-style pickups have alnico magnets and readings in the ballpark for medium-hot-leaning vintage single-coils, and are routed through the traditional control setup. Access to trussrod adjustment is conveniently at the headstock, which carries two roller string trees to aid the steep drop off from nut to the tuners. The bridge is a standard chromed steel Tele dish with three chromed saddles on an unspecified alloy, with through-body stringing.
Despite having a thinner profile than I'd select for myself, the Riptide's neck sat easily in the hand. The guitar played well right out of the box, and after just a little tuning instability early on it settled down fine once I'd played it for a while. Fret dress was good, everything functioned just fine, and overall the guitar displayed admirable quality for its price range. Tested through a Tone King Imperial Mk II and a custom JTM45/plexi-style rig, the Riptide's bridge pickup presented a good blend of twang and growl, with archetypal spanky and scooped tones in the middle position. Both translated well to overdriven rock and pop riffs with an Analogman Prince of Tone OD engaged, with some meaty snarl from the bridge pickup in particular. The neck position was warm and round, with decent snap to it, and worked well for bluesier riffs both semi-clean and with the overdrive pedal.
All in all, this Peavey delivered very respectable tones that would be recognizable to any Tele fan, and proved a good-value player and performer in its bracket, making it a must-check on the shortlist of any player who digs the Tele simplicity and versatility but wants those fundamentals with some stylistic shake-ups. – Dave Hunter

CONTACT peavey.com
STREET PRICE $399
NUT WIDTH 1 5/8"
NECK Canadian hard rock maple, 25.5" scale
FRETBOARD Rosewood
FRETS 22 jumbo
TUNERS Diecast Mini Grovers
BODY Alder
BRIDGE Peavey T-style bridge, through-body stringing
PICKUPS Two Peavey single-coil T-style pickups
CONTROLS Master Volume and Tone, 3-way switch
FACTORY STRINGS Peavey, .009-.042
WEIGHT 7.65 lbs
BUILT Indonesia
KUDOS Solid build quality, subtly alternative looks, respectable Tele-inspired tones.
CONCERNS None
Squier J Mascis Jazzmaster
As my first "real" guitar was a 1966 Fender Jaguar, I've always had a soft spot for that body style and that part of Fender's line, which also included the Jazzmaster. (I also love the fact that fewer people have played jazz on a Jazzmaster than have played bass through a Bassman). One of the greatest proponents of the Jazzmaster is Dinosaur Jr. frontman and purveyor of heavy-ass loudness J Mascis. This Squier signature model looks totally cool with its vintage white finish and gold anodized pickguard. It feels very comfy, thanks to the contoured body and the sturdy, substantial neck. It's very similar to the Jazzmasters of yore, but the Adjusto-Matic bridge puts a more modern spin on things.
Plugged in, the Jazzmaster just instantly has its own thing going. The single-coil pickups have a great personality that isn't Stratty but isn't exactly P-90-ish either. The tones have vibe and depth with a nice clang, and they're a blast to play either clean or dirty. With the cool whammy system, this guitar excels at surfy textures when you pour on the reverb, but I loved what it could do for blues, pop, and all but the heaviest rock parts.
All of the above tones were achieved in the Jazzmaster's "Lead" mode. Kicking the cute little slider switch over gets you into "Rhythm" mode, which is, by design, a darker sound with rolled off treble on the neck pickup only. Level and further treble rolloff are governed by the awesome roller-style thumbwheels. This allows you to have a drastically different tone available at the flick of a switch, but I found this sound to be overly dark, and I would probably only kick it in for wooly-mammoth-style fuzz sounds.
That small quibble aside, this guitar simply reeks of vibe and inspiration. Play a couple of riffs on it and you will definitely see why so many iconic – and iconoclastic– players have done great work on a Jazzmaster. So cool! – Matt Blackett

CONTACT fender.com
RETAIL PRICE $399
NUT WIDTH 1.675"
NECK Maple
FRETBOARD Rosewood 25 1/2" scale with 9 1/2" radius
FRETS 21
TUNERS Vintage style
BODY Basswood
BRIDGE Adjusto-Matic with vintage-style floating tremolo
PICKUPS Two Jazzmaster single-coils
CONTROLS Lead Volume, Tone, 3-way toggle, RhythmVolume, Tone
FACTORY STRINGS Fender, .010-.046
WEIGHT 8.5 lbs
BUILT China
KUDOS Classic design. Great tones. Instant personality.
CONCERNS Rhythm circuit might sound too dark for some players
Sterling JP60 John Petrucci Signature Series
With a high-quality chameleon finish, the glittering mystic green Sterling JP60 is a show stopper on looks alone. The sleek paint appears to change colors at different angles, creating a visually mesmerizing effect under stage lights.
Although it was designed as a cost-effective alternative for John Petrucci fans on a budget, this guitar shares many of the same attributes as its more affluent brothers, and spares no expense on functionality and playability.
Right out of the box, the guitar was set up fantastically well, and it was ready to plug in and play with accurate intonation in all positions of the neck. The action is unbelievably low without the slightest hint of fret buzz, making it instantly fun and easy to play. The maple neck is slim and smooth, inspiring fast lead lines, sweep-picking excursions, and clean legato playing. The custom-contoured body also includes a super cozy forearm scoop. Like the other Petrucci guitars in the signature series, the JP60 features the JP shield inlay on a rosewood fretboard, high-quality locking tuners, and a floating tremolo bridge that was remarkably stable, and could withstand massive pitch shifts in either direction without going horribly out of tune.
The pickups are quite versatile. At the bridge position, the JP60 can deliver squealing pinch harmonics and bright lead tones that sing, sustain, and cut through a mix. The neck pickup offers plenty of power and meaty crunch. Combined with distortion, the guitar is as fierce as it is glittery, and I was pleased to find that the clean tones were clear and full – not at all thin or overly twangy. Of course, the DiMarzio John Petrucci pickups are always an optional add-on, but the factory Sterling pickups definitely pack plenty of sonic value. – Joyce Kuo

CONTACT sterlingbymusicman.com
STREET PRICE $649
NUT 42mm
NECK Maple, bolt-on
FRETBOARD Rosewood, 25.5" scale
FRETS 24
TUNERS SBMM Locking
BODY Basswood
BRIDGE SBMM Trem
PICKUPS Two SBMM humbuckers
CONTROLS Master Volume, Master Tone, 3-way selector
FACTORY STRINGS Ernie Ball Regular Slinky, .010-.046
WEIGHT 7.27 lbs
BUILT Indonesia
KUDOS Well-built. Gorgeous finish. Excellent comfort and playability. Wide range of tonal possibilities.
CONCERNS None
Washburn PX-Solar V160CK
A new addition to Washburn's Parallaxe-based Ola Englund Signature Series, the PX-Solar V160CK is broadly inspired by the Flying V, although it shrinks the classic body dimensions and adds comfort with a steep forearm bevel, while making things seamlessly integral across the back with a sculpted and virtually invisible heel at the neck joint. The Duncan Solar humbuckers feed through master Volume and Tone controls with push-pull coil splitting on the latter, and a 3-way switch.
I like the recessed Strat-style jack hidden on the back of the lower point in theory, but it leaves the plug rubbing against your lower thigh when the guitar's strapped on (you won't play this thing sitting down, and shouldn't try), and makes it hard to tuck under the strap for safety, too. Otherwise, the feature maintains the sleek lines, as do the matte-black finish, black-chrome hardware, and ebony 'board with lone "Ola Englund" inlay at the 12th fret. Through-body stringing via a Tune-o-matic and Mini Grover tuners up past the black graphite Buzz Feiten Tuning System nut complete the feature set. No surprise finding a super-slim neck here, and playability was excellent right up to the 24th jumbo fret.
Tested through a custom JTM45/plexi-style amp with a Z.Vex Box of Rock and an EarthQuaker Devices Musket Fuzz to ramp up the fun factor, the PX-Solar V160CK exuded precisely the slash-and-burn rhetoric you'd expect from a guitar of this styling. Through the amp set just to the edge of natural breakup, the bridge pickup had a nasal, midrangey squawk that was begging me to crank the gain or step on a drive pedal. Once I had succumbed, this position elicited sledgehammer crunch with a tactile dimension that worked great for classic rock at lower gain levels, with easy thrash and metal lead tones when set to scorch.
The neck pickup delivered chewy, rich tones that worked better than the bridge clean, inspiring sweet slow-burn ballad leads and easy blues-rock, while going all thick and menacing through fuzz or distortion. Popping up the tone knob introduced a spanky, percussive split-coil tone that was thinner than a good traditional single-coil, but useful nonetheless. The PX-Solar V160CK is a rock machine through and through, and it does its job with pride. – Dave Hunter

CONTACT washburn.com
STREET PRICE $649
NUT WIDTH 1 11/16"
NECK Maple, 25.5" scale
FRETBOARD Ebony
FRETS 24 super jumbo
TUNERS Mini Grover
BODY Mahogany
BRIDGE Tune-o-matic with through-body stringing
PICKUPS Seymour Duncan Solar HB114N & HB114B humbuckers
CONTROLS Master Volume and Tone controls, push-pull coil splitting, 3-way switch
FACTORY STRINGS D'Addario XL-120, .009-.042
WEIGHT 7.2 lbs
BUILT Indonesia
KUDOS Looks and tones that are equally eviscerating in a well-constructed and fluidly thought-out rock machine.
CONCERNS Recessed rear jack maintains styling but might be awkward for some playing positions
All the latest guitar news, interviews, lessons, reviews, deals and more, direct to your inbox!
Guitar Player is the world's most comprehensive, trusted and insightful guitar publication for passionate guitarists and active musicians of all ages. Guitar Player magazine is published 13 times a year in print and digital formats. The magazine was established in 1967 and is the world's oldest guitar magazine.
When "Guitar Player Staff" is credited as the author, it's usually because more than one author on the team has created the story.