How Eric Johnson Wrote "Cliffs of Dover"
Johnson's 1990 signature guitar instrumental was "a gift from the universe."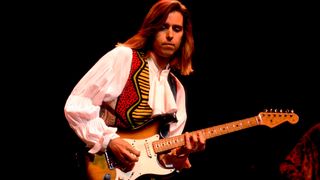 (Image credit: Paul Natkin/Getty Images)
"Some songs take forever to write. You labor over them for so long, and you start to wonder if there's a point to continuing," Eric Johnson explains. "Then there are those other songs that just come to you like magic. When that happens, it's like you've just been sent a sort of gift from the universe."
The Texas virtuoso puts "Cliffs of Dover" in the latter category. As guitar instrumentals go, it's hard to beat – four minutes of cascading melodies that flood the senses and impart a sensation of total joy.
It became Johnson's signature song after propelling his second solo album, 1990's Ah Via Musicom, to multi-Platinum status and a Grammy win for Best Rock Instrumental Performance.
But "Cliffs of Dover" almost didn't see the light of day. As Johnson recalls, "I wrote it quite a few years before I recorded it, and I wanted to put it on my first album, Tones. But some of the people who were presiding over that record thought the song sounded like a game show theme. I was like, Okay, whatever. I'll just keep it in my arsenal."
Mother Knows Best
Before signing his first major-label deal, with Reprise Records, Johnson supported himself as a session and touring guitarist. In 1983, after coming off the road from backing up Carole King, he was between homes and moved in with his parents.
"They had a music room, so I would use that to practice," he says. "One day, I started playing this descending-arpeggio pattern. It just came to me – right place, right time. I didn't have to overthink it. My mom popped her head in and said, 'That's a good song. I really like that one.'"
The rest of the song came easily. "I was just having fun connecting the dots," Johnson says. "In five minutes, I had the whole song down. If there was any craft involved, it came from this ethos of mine that I don't want to play a bunch of notes; I want to play music. And this music was pure enjoyment."
Calling his new song "Cliffs of Dover," Johnson made a quick four-track demo and started playing it live. "It kind of stayed in my back pocket for a few years," he says. "Audiences liked it, but I didn't know if I would ever do anything with it."
"The Spirit is There"
After signing with Capitol Records in 1989, Johnson decided to finally record "Cliffs of Dover" in a studio. Before the main song, he included a freeform improv section that he had always played live.
"It varied every time I played it live," he says. "In the studio, I tried a few versions until I got something that sounded right." His band blazed through two or three takes of the track before arriving at a keeper, but Johnson was unhappy with his guitar sound.
As he explains, "I played it all the way through with my Strat, but the solo didn't sound as clear and elegant as I wanted, so I punched in an ES-335 for the main solo. Then it goes back to the Strat for the end. You can hear the tone difference, but that's okay – the spirit is there."
Guitar effects were minimal: "It's just an Echoplex into a Tube Driver, and that went into a 100-watt Marshall with a 4x12 cabinet."
Johnson was ecstatic with the job mastering engineer Bernie Grundman did on the EQ ("He really got the track to sound perfect"), but he was dismayed at Capitol's initial reaction.
"They were like, 'Whatever,'" he remembers. "They didn't think the record would do anything." However, one of the label's promo men, Jeffrey Shane, loved Ah Via Musicom and thought "Cliffs of Dover" was a single. "Jeff worked it tirelessly. He wanted people to hear the song, and he did everything he could to make it a hit."
"They Really Like Me"
Shane's work paid off when "Cliffs of Dover" became one of the most-played rock instrumentals of its day, hitting No. 5 on Billboard's Mainstream Rock Chart. Johnson took his newfound fame and Grammy nomination in stride.
"I had been nominated a few times before and never won," he says, "so when 'Cliffs of Dover' was nominated, I didn't go to the show. I figured, All these other people are better known than me. I'm not going to win." He laughs. "And wouldn't you know it – that's the only time I won! It's kind of funny. That's always the way, isn't it?"
All the latest guitar news, interviews, lessons, reviews, deals and more, direct to your inbox!
Joe is a freelance journalist who has, over the past few decades, interviewed hundreds of guitarists for Guitar World, Guitar Player, MusicRadar and Classic Rock. He is also a former editor of Guitar World, contributing writer for Guitar Aficionado and VP of A&R for Island Records. He's an enthusiastic guitarist, but he's nowhere near the likes of the people he interviews. Surprisingly, his skills are more suited to the drums. If you need a drummer for your Beatles tribute band, look him up.