Featuring John McLaughlin on Guitar Miles Davis Broke Every Jazz Police Law with 'On the Corner'
This street-savvy album was a precursor of post-punk, electronica and hip-hop.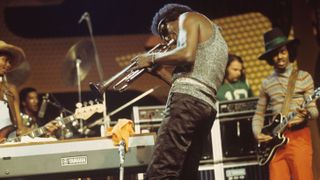 (Image credit: David Warner Ellis/Redferns)
TV cops are usually dudes who listen to jazz – y'know… the kind of jazz Ken Burns enjoys. Typically, after a long day of combatting their superiors and being removed from their latest case (while failing to quit smoking), they go home and listen to cool jazz, a preference meant to indicate an intellectual sensitivity to the arts and hidden creative depths.
But in actuality, the sultry elegance of jazz doesn't seem compatible with the usual TV cop clichés, like misogyny, stereotyping, failing to connect with their daughters in the stranglehold of unjust custody restrictions, and serving vigilante lone justice.
Wouldn't something a little more rocking, chaotic and energizing be more appropriate for the typical TV cop during a 70-hour work week? To them – and to you, dear reader – we might suggest investigating the third phase of Miles Davis's brilliant career via his 1972 Columbia Records release, On the Corner.
Miles' band of geniuses includes John McLaughlin, Michael Henderson, Jack DeJohnette, Herbie Hancock, Chick Corea and many others, all of whom contribute significantly.
After defining bop alongside Charlie Parker, and creating cool jazz with Bill Evans and John Coltrane, Davis created another equally important genre that we are at a loss to name other than "'70s Miles." It's raw, organic, powerful, challenging and grooving, and although it doesn't get the Wynton Marsalis/Ken Burns seal of approval, it's our favorite era of Miles' music.
On the Corner sits firmly at its apex. Side one begins with the title track, which slams the listener with an amalgamation of Sly Stone, James Brown and free jazz. The first four tunes are listed as track one and seamlessly segue from "On the Corner" into "New York Girl," "Thinkin' One Thing and Doin' Another" and "Vote for Miles."
Davis's horn is the centerpiece, playing interstellar melodies that orchestrate and guide the way. "Black Satin" begins with a heavy percussion that separates itself from the prior sounds, but in the City of Miles, this is only a few blocks away.
Throughout this great album, McLaughlin rips and testifies, making electric guitar an instrument more about emotion than mere scales. He is a must-hear.
Side two opens with "One and One," its wah bass and percussion evoking the feel of a galactic jungle, while Miles' trumpet sounds like a melodic struggle. "Helen Butte" starts with a great trumpet hook as drummer Jack DeJohnette and company lay it down. "Mr. Freedom X" continues the endless groove that never feels tedious, making On the Corner an almost perfect masterpiece to our ears.
It should be noted that jazz critics, fans and even Miles' contemporaries reviled On the Corner, and it became one of his worst-selling albums. Its status has improved considerably over the decades, and many listeners now hear in its rhythms and sounds the precursors of post-punk, electronica and hip-hop.
If you're unfamiliar with this phase of Miles Davis, we might suggest watching his 1970 Isle of Wight concert on YouTube (above). It's an incredible performance. That said, we think acceptance is mandatory when putting on a '70s Miles record. It's not an easy read for those who have narrow definitions of music. We, however, love On the Corner, and, again, it replicates the sound of the city.
In that sense, '70s Miles might be a consoling style of music at the end of the day for TV cops who feel underappreciated and somehow always get the wrong end of the stick. It imitates the sound of their workplace, an urban center bustling with energy, awareness, struggle and community. The music of On the Corner beckons revelation, while it churns and speaks an unspeakable universal language.
Meanwhile, Tony Soprano listens to classic rock…
Purchase On the Corner by Miles Davis here.
All the latest guitar news, interviews, lessons, reviews, deals and more, direct to your inbox!
Jim Campilongo has 14 critically acclaimed instrumental records available on vinyl, CD and digital download here.