Al Di Meola: How I Wrote "Race with Devil on Spanish Highway"
Hearing congas, Leslie West's tone and recording live - Al Di Meola recalls creating his 1977 "shred" masterpiece.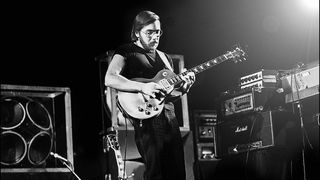 (Image credit: Dick Barnatt/Redferns/Getty Images)
"It's a very funny song in a way," Al Di Meola says of "Race with Devil on Spanish Highway," the jazz-rock masterpiece from his landmark 1977 album, Elegant Gypsy. "By that I mean the way it's been perceived and written about is a little strange."
As Di Meola explains, he's read articles in which the song has been labeled proto-shred, a term that rubs him the wrong way.
"It's that word shred that I'm not crazy about," he explains. "It just feels so limiting and certainly not a good way to describe what I do, because a lot of shredders aren't known as good songwriters - they're just going off on the guitar. I come from a compositional background.
"Even when I played with Return to Forever, we emphasized writing, although we were certainly known for technique. So this song is interesting to me, but not always in the ways that people like to talk about it."
Getting the Kinks Out
No matter how you define the song, you probably wouldn't expect that it was inspired by a garage-rock classic. Di Meola explains, "This might surprise some people, but when I wrote this song, I was thinking of the Kinks' 'You Really Got Me.' That was the first song I ever attempted to play, when I was eight or nine years old.
"I played it with my thumb. Imagine playing an open E, but with the thumb of your left hand you reach over the neck and play the F sharp. That's what popped into my mind when I started to write this one.
"It was very simplistic compared to my later compositions. But really, the whole basis of the song is that riff, which was inspired by the Kinks. At the same time, I was hearing congas in my head, so now we're taking it out of the Kinks' world. I'm very percussion-oriented, so I heard congas and drums that just explode like fire. There were a lot of different stylistic elements going on.
"I might have made a demo. I was still living with my parents at the time, and I was making demos on a TEAC four-channel reel-to-reel. But I do know that I made charts for the guys. So the structure of the tune was plotted out, but there was room for improvisation. The sections where I'm accused of being a shredder were all improvised."
Everything Was Live
Di Meola recalls that he cut the track at New York City's Electric Lady Studios with bassist Anthony Jackson, keyboardist Barry Miles and drummer Lenny White.
"We rehearsed the song a few times, and then we hit Electric Lady," he continues. "I didn't really have to explain much to the guys. Their level of musicianship was so high that they could just look at a chart and know what they had to do to enhance the tune.
"I was using my '71 Les Paul Custom and a Marshall 50-watt half stack. I didn't use any effects - you lose so much punch that way. On my amp, I just turned the bass and midrange to 10, and I dialed the treble down to zero. I remember Larry DiMarzio came to the studio. He looked at my amp and said, 'It's funny that you use that setting. That's how Leslie West sets his amp.'
"Everything was live, even my solos. I was standing in the middle of the room, surrounded by the other guys. There was some bleed from the other players, but what are you gonna do? It's a bunch of guys playing together."
Legacy
"I was really pleased at how well Elegant Gypsy and certain songs from it were accepted," Di Meola says. "In Germany, the album was a big hit. This track and 'Mediterranean Sundance' were played on the radio all the time. Because of those two songs, it sold in the millions.
"People love it when I play 'Race with Devil on Spanish Highway' live. Occasionally, I'll watch videos of people playing it. I've even commented on them and given a thumbs-up to a few. I think the players are surprised: 'Hey, cool! Al checked me out!'"
All the latest guitar news, interviews, lessons, reviews, deals and more, direct to your inbox!
Joe is a freelance journalist who has, over the past few decades, interviewed hundreds of guitarists for Guitar World, Guitar Player, MusicRadar and Classic Rock. He is also a former editor of Guitar World, contributing writer for Guitar Aficionado and VP of A&R for Island Records. He's an enthusiastic guitarist, but he's nowhere near the likes of the people he interviews. Surprisingly, his skills are more suited to the drums. If you need a drummer for your Beatles tribute band, look him up.