Five Reasons Why Allan Holdsworth is a Guitar Legend
From John Coltrane to the SynthAxe, here's why the jazz fusion savant remains one of the most influential guitarists of all time.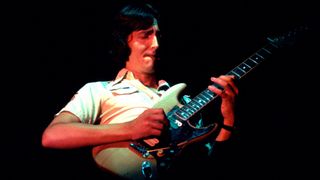 (Image credit: Paul Natkin/Getty Images)
Hailed by Robben Ford as the "John Coltrane of the guitar," Allan Holdsworth (1946-2017) will forever hold a seat in the pantheon of the guitar world's most influential players. The ultimate guitarist's guitarist, his matchless musical insight and astounding technique set him apart from his peers, placing him in the upper echelons of guitar wizardry while inspiring generations of musicians.
Here are five reasons why he will always be hailed as an innovator and virtuoso of the electric guitar…
1. John Coltrane
Drawn to the sound of John Coltrane's saxophone, Allan Holdsworth was compelled to create equally fluid legato lines on the guitar, which he adopted at age 17 after a sax proved too expensive. A self-taught guitarist, the English-born musician received his initial training from his grandfather, a jazz pianist, who, with his wife, raised the youngster.
2. Music Theory
Holdsworth developed his signature "outside" sound by exploring a wealth of scale forms in his solos and building a vocabulary of unorthodox chord progressions. Lauded by Frank Zappa as "one of the most interesting guys on the planet," Holdsworth influenced Eddie Van Halen, Alex Lifeson and Joe Satriani, among many other guitarists.
3. Eddie Van Halen
After spending years supporting prog-rock and fusion acts like Soft Machine, the New Tony Williams Lifetime and the supergroup U.K., Holdsworth had a breakthrough in 1982 when Van Halen helped sign him to Warner Bros. The resulting Road Games EP from 1983 was nominated for Best Rock Instrumental Performance at the 1984 Grammy Awards.
4. Guitar Synthesizers
In 1986, Holdsworth became the most visible proponent of the SynthAxe, a guitarlike MIDI controller. He featured the instrument on that year's Atavachron album and continued to use it for the remainder of his long musical career.
5. Perseverance
A guitarist's guitarist, Holdsworth followed his muse with a singularly pure vision up until his death from a heart attack in April 2017 at the age of 70. Said his longtime drummer Gary Husband, "He chased simply what he heard and what he loved."
Discover more about Allan Holdsworth and his music here.
All the latest guitar news, interviews, lessons, reviews, deals and more, direct to your inbox!
Guitar Player is the world's most comprehensive, trusted and insightful guitar publication for passionate guitarists and active musicians of all ages. Guitar Player magazine is published 13 times a year in print and digital formats. The magazine was established in 1967 and is the world's oldest guitar magazine.
When "Guitar Player Staff" is credited as the author, it's usually because more than one author on the team has created the story.