Dweezil Zappa on Frank Zappa's Guitar Legacy and Why He Sees His Father as More Classical Than Prog
The quicksilver genius of Frank Zappa's playing defied categorization, but it alerted a generation of progressive guitarists to push the boundaries of their instrument.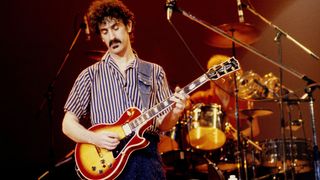 (Image credit: Larry Hulst/Michael Ochs Archives)
"When I think of 'progressive' music, I think of music that's intended to specifically put musicians' skills on display in a particular genre," Dweezil Zappa says.
"I like all the different approaches that come from bands that showcase good playing. Van Halen could be considered a progressive band just because of the musicianship. But I think that, in terms of musicality, my dad's music is in its own category. There's nothing that compares to it."
Frank Zappa was arguably the most progressive and forward-thinking musician in rock history. The incredible variety of music he created on the 60 albums he released make it obvious that he didn't concern himself with the constraints many progressive artists faced when attempting to push rock's boundaries while creating commercially viable music.
Zappa was probably the ultimate nonconformist in that regard. As Dweezil explains, "If you're looking at other progressive bands, whether it's the Mahavishnu Orchestra or Yes, there's a certain amount of variety in that music, yet so much of it feels like it's all connected to a similar source.
"Whereas, my dad's music doesn't feel that way to me. It was always about, How can I take these same 12 tones that everybody else has, and rearrange them in different ways and not repeat myself? There wasn't a formula to it. He approached each piece of music as its own thing."
As to how Frank created his multifaceted sonic vision, it started when he became interested in music. "As an 11-year-old kid, he used to draw music on paper, but he didn't really know what he was making," Dweezil explains.
"He just liked the way it looked and wanted to know what it sounded like. So he went to the library and taught himself music notation, and he learned about how to become a composer and use an orchestra and create music for all the instruments.
"That's quite a challenge, but once he had the skills he needed, my dad did everything in his own way. Every element of what he composed was a total vision. He knew exactly what he wanted, and he orchestrated it and he wrote all the parts.
"There were maybe a handful of times where he had some collaborations with people, which were always right on the spot, but the majority of what he did was fully through-composed by him.
"So I think of him mostly as a classical composer who used a rock band as an orchestra. If you listen to The Yellow Shark, which is a German ensemble playing my dad's orchestral music, they have versions of 'G Spot Tornado' and 'Dog Meat,' and you hear what it took for top-quality musicians to be able to play this music and create all these colors.
"Now, if you want to talk about something that shows off his ability as an improvisational musician, there are other songs to consider, like 'Watermelon in Easter Hay' [from Joe's Garage Acts II & III], which is one of the most amazing guitar solos ever performed. Who plays like that, and who phrases like that?
"He's playing over a relatively simple ostinato, and he creates this complex thematic solo with melodies that, even if you sat down to write them, you still wouldn't be able to write like he improvised them. Some people can magically just do something like that. He was one of those guys who could play something from top to bottom and it was a spontaneous composition that took you on a journey."
All the latest guitar news, interviews, lessons, reviews, deals and more, direct to your inbox!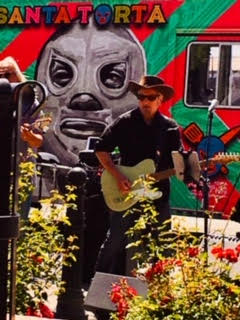 Art Thompson is Senior Editor of Guitar Player magazine. He has authored stories with numerous guitar greats including B.B. King, Prince and Scotty Moore and interviewed gear innovators such as Paul Reed Smith, Randall Smith and Gary Kramer. He also wrote the first book on vintage effects pedals, Stompbox. Art's busy performance schedule with three stylistically diverse groups provides ample opportunity to test-drive new guitars, amps and effects, many of which are featured in the pages of GP.