"It Just Didn't Sound Right No Matter What We Did": Robben Ford on Abandoning His Treasured Dumble Overdrive Special
When a six-figure amp just doesn't cut it.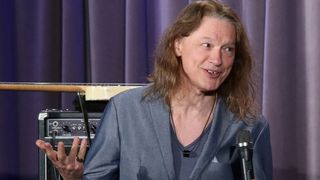 (Image credit: Rebecca Sapp/WireImage)
Robben Ford began as a blues guitar prodigy, playing with legendary artists Jimmy Witherspoon and Charlie Musselwhite, and transitioned into a fusion master as a member of bands like the Yellowjackets and Tom Scott's L.A. Express.
The Inside Story, his 1979 release, reflected his jazz-rock abilities, and his brief tenure with Miles Davis in 1986 certified his credentials as a modern jazz player.
Many of Ford's fans would have been happy to see him continue playing distorted guitar over complex changes for the rest of his life. But for this guitarist, artistic evolution is a burning issue, and his approach to his musical growth explains many things.
This approach also extends to Ford's studio gear. Though he has regularly played a Dumble Overdrive Special amp since the early '80s (his is serial number 002 while 001 belongs to the amp's creator, Alexander Dumble) he set it aside for the recording of his 2018 album Purple House in order to explore new sonic territory.
"There is no Dumble on the entire album," Ford told GP back in 2019. "All of the solos on the record, save one, were done with a 64 [Gibson] SG and a Fender Vibrolux Reverb reissue with the white knobs. That is a big-time first for me.
"I brought my Dumble and, naturally, expected it to work, but for some reason it just didn't sound right no matter what we did. I stopped using it for tracking and used an early '60s Fender Pro Reverb that I borrowed from a guitar store in Nashville. I tried using the Dumble again for overdubs and guitar solos, but it didn't fit, so we cut the record on small amps. It was a big lesson. It was a little scary, but we saw it through, and I'm absolutely delighted with how it turned out."
All the latest guitar news, interviews, lessons, reviews, deals and more, direct to your inbox!