This 5 Star-Rated T-Rex Overdrive Is A Monster Black Friday Deal At 50% Off
By Scott Rowley published
A rare chance to snap up the T-Rex Diva Drive Overdrive, one of the best and most versatile overdrives we've heard in ages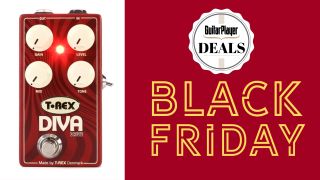 (Image credit: Future)
Like their countrymen at TC Electronic, the engineer at Denmark's T-Rex's are dedicated to improving guitar tones across the globe. Founded in 1996, they developed a range of stompboxes that cram T-Rex's decades of tonal know-how into compact MXR-sized enclosures, with the company's FET buffered bypass switching for pop-free operation. Players like David Gilmour, John Mayer, Mark Tremonti, and Steve Morse are fans.
The T-Rex Diva Drive overdrive pedal delivers tube-screaming overdrive effects that won't dramatically alter your core guitar tone. There are three low-end boost options to tailor the Diva Drive for any of your guitars, whether equipped with humbuckers or single-coil pickups.
The original price was the only negative we could find with the Diva Drive. But at 50% off at Sweetwater (opens in new tab), it's a deal to make all other overdrives extinct.
T-Rex Diva Drive Overdrive: Was $129.00, now $63.99 (opens in new tab)
One of the best and most versatile TS-style overdrives we've heard in ages. As well as packing the legendary JRC4558 op-amp – as found in vintage TS pedals – for juicy, mid-boosted gain, the Diva Drive boasts a mix control for blending the overdriven signal with your clean tone, while a three-way low-end boost control tailors the bass response to your guitar. The mix is handy for retaining clarity with extended chords, while the low-end switch is an easy win for filling in the gaps in your sound. It was expensive, but now?
If you're looking for more great deals like this check out our Black Friday Guitar Deals page where you can browse hot bargains on all kinds of guitar-related products.
Scott is the Content Director of Music at Future plc, which means he's responsible for the editorial strategy on online and print brands like Guitar Player, Guitar World, Total Guitar, Louder, Classic Rock, Metal Hammer, Prog, Guitarist and more. He was Editor in Chief of Classic Rock for 10 years and Editor of Total Guitar for 4 years. Scott regularly appears on Classic Rock's podcast, The 20 Million Club (opens in new tab), and was the writer/researcher on 2017's Mick Ronson documentary Beside Bowie (opens in new tab).
Over the years Scott has interviewed players like Jimmy Page, Slash, Brian May, Poison ivy (the Cramps), Lemmy, Johnny Depp (Hollywood Vampires), Mark Knopfler, Robin Guthrie (Cocteau Twins), Will Sergeant (Echo & The Bunnymen), Robert Smith (The Cure), Robbie Robertson (The Band), Jonny Greenwood (Radiohead), Joe Bonamassa, Scotty Moore (Elvis Presley), J Mascis (Dinosaur Jr), Mick Jones and Paul Simonon (The Clash), Pete Shelley (Buzzcocks) and more.
Get the latest news, reviews and product advice straight to your inbox.
Thank you for signing up to The Pick. You will receive a verification email shortly.
There was a problem. Please refresh the page and try again.