"One of the Greatest Times of My Life": Steve Lukather Recalls Six Magical Weeks in the Studio With Jeff Beck
"Jeff probably has 10 or 11 unfinished albums hidden somewhere," says the Grammy-winning Toto guitarist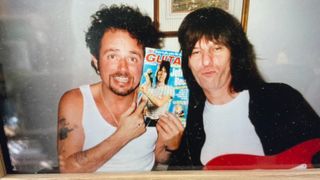 (Image credit: Steve Lukather)
Steve Lukather will never forget the first time he played with Jeff Beck. It was at a huge outdoor concert in Japan in 1986 featuring sets from Beck and Carlos Santana, with a young Lukather guesting in both bands.
"I was ecstatic," the guitarist says. "I mean, Carlos and Jeff – these were my heroes. I love Carlos, but Jeff's playing hit me hard, just as much as Hendrix's or anyone else's from the post-Beatles era. I'm up there with Beck, having the time of my life, and so honored to be there, but I'm also super nervous. I'm just 26 or 27, in awe, going, 'This is like some wet dream I had when I was a kid. How am I supposed to play with Jeff Beck?'"
Nor will Lukather forget the final time he shared a bill with Beck, last summer at a festival in France.
"Fucking Jeff," remembers Lukather, who was playing with Toto that night. "He's about to go onstage and says to me, 'Don't expect too much. I haven't been playing much lately.' And then he walks out and just eviscerates the venue and rips the place apart.
"Everybody was screaming after everything he played. I'm at the monitor board just dancing, hands in the air, going, 'Jeff!'"
But Lukather's most memorable time spent with Beck may have been the autumn of 1997, when Beck hired him as a producer.
"We did about six weeks at David Gilmour's studio on the Thames, starting about three days after Princess Diana died," Lukather recalls. "I got to see it all up close – the whole process of how Jeff liked to do things.
"He'd have a Marshall miked up in the live room, but he liked to play in the control room, with a little delay and reverb going in the monitors, and with a Fender Champ at his feet, facing up at his guitar.
"Jeff was so magical. I don't think I ever saw him tune a guitar. He would pick up a guitar that was like rotted and out of tune. I'd go, 'Jesus, Jeff, these strings are like 20 years old. Is this a B string where the high E should be?' and he'd go, 'Whatever,' and play it, and it would be perfect.
"He had perfect pitch, and he didn't know it, because he didn't understand what that might be. 'F#13' meant nothing to him, because he was completely unschooled. But if you played it for him, he'd figure it out – and probably make it weirder!
"He was playing modal stuff back with the Yardbirds and didn't even know it. The worst thing that could have ever happened to Jeff Beck would be for him to take lessons and learn how to do things properly. If that had happened, there would be no Jeff Beck.
"When we started recording, Jeff said to me, 'No matter what it is, I don't want it to sound normal, or like anyone else. If it's one note, I want to find a really weird way to play that one note.' So he'd do the note as a false harmonic or faux slide or something. He was always looking for sounds that were new and different.
"It was actually hard to record him, because, as a fan, I loved everything he did, but as a producer it would be difficult to say, 'What happens if you try this another way, or do another take?' I asked him to double something once and he goes, 'Oh, okay, you want me to be "studio guy,"' even though he had doubled things before on earlier records. To him, stuff like that was studio trickery.
"One time, I put a 50 or 60 millisecond delay to the left, getting a sound kind of like that beautiful stereo wah sound he had on 'Ain't Superstitious,' and he says, 'I don't know, man, I did that 30 years ago.'"
Lukather is proud of the tracks he did with Beck, but the memory may be a tad bittersweet.
"We had about eight songs done, and he played amazing stuff on there," Lukather says. "But one day he heard the band Prodigy and suddenly caught techno fever. He wanted to make a record like that, so we never got a chance to finish. "Jeff probably has 10 or 11 unfinished albums hidden somewhere. Still, recording him was one of the greatest times of my life.
"Jeff was like Pavarotti or Jaco or Holdsworth – a guy who took things to another level. His playing has that thing that you can't learn. It's extra. Some people get a little extra, some don't.
"He was the only cat who could play one note and everybody else would put their guitars back in their cases and go, 'I'm outta here.'
"He had the fattest live guitar sound I've ever heard – two Plexis dimed behind the stage, old-school – but you can't re-create it. It was in his heart and in his hands. It was his voice. The fact that I'll never be able to stand on the side of the stage and watch him play live again, well, I'm busted up over it."
All the latest guitar news, interviews, lessons, reviews, deals and more, direct to your inbox!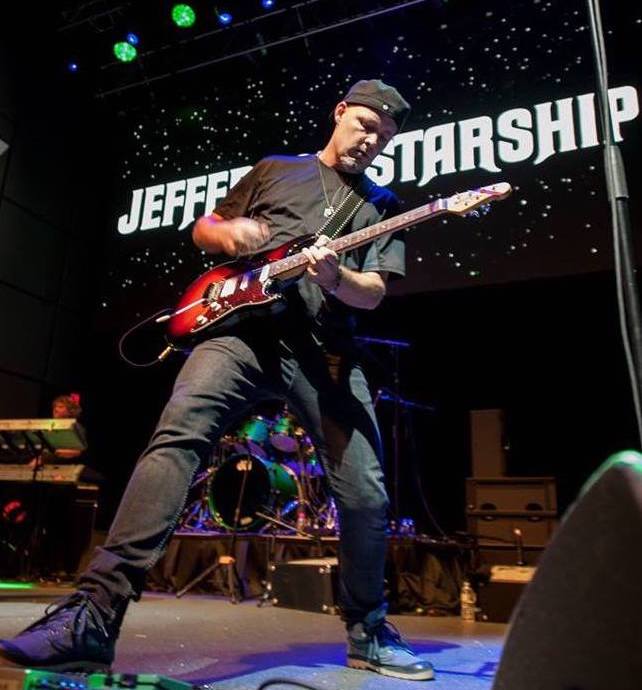 Los Angeles Editor, Guitar Player
Whether he's interviewing great guitarists for Guitar Player magazine or on his respected podcast, No Guitar Is Safe – "The guitar show where guitar heroes plug in" – Jude Gold has been a passionate guitar journalist since 2001, when he became a full-time Guitar Player staff editor. In 2012, Jude became lead guitarist for iconic rock band Jefferson Starship, yet still has, in his role as Los Angeles Editor, continued to contribute regularly to all things Guitar Player.
Watch Jude play guitar here.