Steve Lukather's 12-Tone Secrets
Learn how Luke puts chromatic phrasing to impeccable use in his licks and solos.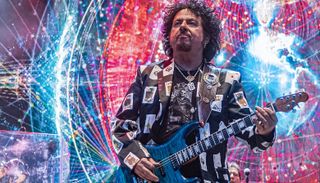 (Image credit: Per Ole Hagen/Redferns/Getty Images)
Throughout the history of recorded music, many guitarists have created magic from the dimly lit booths of the studio, from legends like Tommy Tedesco, Jimmy Page, Larry Carlton, and Michael Landau to session master Steve Lukather, whose slick licks and smooth riffs have graced many recordings over the past several decades.
Luke has hundreds of sessions and recording credits on his résumé, which also includes being a founding member of the Grammy award-winning rock supergroup Toto. He has also released numerous inspired solo albums, each met with mass acclaim and celebration from his loyal fans all over the world.
There are many things you can learn from a player as talented and creative as Steve Lukather, and this lesson will focus on an area of his playing that has become a popular topic of discussion among guitarists for decades – his use of chromatic phrasing in his licks and solos, meaning notes that are a half step, or a semitone (one fret), apart and fall "in the cracks" between the notes of identifiable scales or arpeggios.
The majority of Luke's ideas are blues-and rock-based, but he often reaches for jazzy sounds and uses chromatic ideas to help achieve them in creative and appealing ways.
To begin, play through Examples 1a and 1b, which will help you get a feel for a chromatic legato lick that Lukather likes to use. This phrase creates an interesting slur of chromatic notes on a single string.
Perform the pull-offs using a single, fluid motion, emulating the smooth, legato phrasing of a saxophone or violin, and be sure to pull the string in toward your palm as you release it (as opposed to simply lifting the fretting finger up off the string) in order to keep the string vibrating and maintain an even volume level note to note.
Our next example will give you a chance to hear this lick in action, featuring the same type of slippery chromatic phrases heard during Lukather's "Never Walk Alone" solo, from the guitarist's acclaimed solo album Candyman.
Ex.2 is a slight variation on this lick and showcases the chromatic idea from Ex.1b in the second bar. The numerous passing tones in this phrase blur the key center and give it a jazzy, "outside" flavor.
Ex.3 is similar to a standout lick from the Toto classic "Rosanna," which perked up more than a few ears when it hit the FM airwaves and topped the charts in the early 1980's.
This idea features some slick moves, including a few well-timed chromatic slides and plenty of jazz-flavored melodic-harmonic extensions, including strategically targeting the 9th and 11th, as it shifts and slides along and across the fretboard in tenth position.
The next idea, Ex.4, reveals a Lukather-approved "fill-in-the-blanks" chromatic lick in E7, including a number of grace-note slides and busy twists until you reach the climactic whole-step bend and vibrato at the end.
This example is similar to a number of licks Lukather has played in his solos. Chromatic runs like these create a flurry of fast-paced movement, helping to give a solo an exciting and unpredictable sound.
Ex.5 is another fill-in-the-blanks chromatic lick that's performed in the same key but in a different position and should help you see how to move these kinds of ideas around the neck. The phrase also features a sustained bluesy finger slide at the end, typical of what you'll hear in Lukather's improvising style.
Our next example, Ex.6, insightfully reveals an interesting area of Luke's mastery of chord-scale relationships.
The phrase features an anticipation of the D9 chord in bar 2 by foreshadowing it a half step higher before the chord change occurs. The harmonic tension is then resolved in bar 2 via a return to the "correct" key and an ending phrase that elegantly describes a D9 sound.
Finally, Ex.7 is similar to a slippery lick found in the Boz Scaggs classic "Breakdown Dead Ahead," where Lukather takes a great solo and sprinkles plenty of choice licks over the catchy shuffle groove.
If it has been a while, refresh your ears by giving this track a listen, and then give the lick a test drive. Be sure to maintain the same index-ring fingering as you chromatically walk down the top strings in bar 1, and also for all of the long slides in bar 2.
Play through these licks and absorb as many ideas from them as you can. Use them as inspiration as you strive to create your own original chromatic licks and phrases.
If you're interested in learning more about this approach to lead playing, continue studying and borrowing licks from Luke, and find additional input from other chromatic-minded players, such as Larry Carlton, Robben Ford, Jeff Beck, Pat Metheny, Steve Morse, and John Petrucci.
Open your mind and fingers to new sounds, movements, and ideas, and you'll open your playing and fretboard to a new world of possibilities. Good luck! (All musical examples copyright 2016 BrewhaMusicInc.)
All the latest guitar news, interviews, lessons, reviews, deals and more, direct to your inbox!