"I Haphazardly Try Things out, Embrace the Things That Make Me Smile, Cast Away the Things That Make Me Cringe": Dan "Lebo" Lebowitz Reveals His Secrets to Achieving Glorious Amplified Acoustic Tone
"An artist's job is to lean into what inspires you," says the ALO maestro as the band drops their first studio album in eight years, 'Silver Saturdays'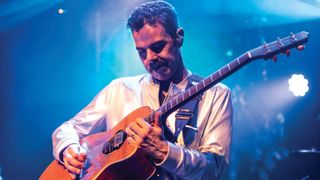 (Image credit: JAY BLAKESBERG)
The lines between acoustic and electric become more blurred every day, and one cat that's had a hybrid vision for a cool quarter century now is ALO's Dan "Lebo" Lebowitz. He essentially turns a grand auditorium cutaway into a hollow-body electric by using a sound-hole pickup through a tube amp, and he can make it sound like Trey Anastasio meets Wes Montgomery.
Lebowitz is a regular call for Bob Weir, Phil Lesh and other festival scene luminaries, including Jack Johnson. He'll be an artist-at-large again this year at the High Sierra Music Festival, where he's liable to play a dozen or so sets with numerous acts. You'd be hard-pressed to name another guitarist on the NorCal scene over this past quarter century that's played a more unifying, Jerry Garcia-like role as a player and person.
We headed to the Fillmore to catch a sold-out show in support of ALO's first new studio album in eight years, Silver Saturdays, which was just released on Johnson's Brushfire Records, and what a silver jubilee celebration! It was a gas to watch folks decked out in silver duds and Lebo T-shirts descend on the historic venue.
Band members that have been besties since middle school include Lebowitz, Steve Adams on bass and Zach Gill on keyboards and vocals. The relatively new kid on the drum kit is Ezra Lipp. On and offstage, they exemplify togetherness. Jazz trained, they improvise as naturally as breathing. Lebo is the most gregarious, leaping around and rocking out from atop the PA speakers while ripping lead licks laced with copious effects, from Whammy to wah, that no one would imagine were coming from an acoustic.
Silver Saturdays beams with infectious tunes that are loaded with inspired playing and tons of ear candy courtesy of the electric-acoustic guitarist. The very first tone on the kickoff cut, "Make it Back Home," swells in with a Hendrix vibe and an Oz Noy-approved stutter effect. ALO's fathoms-deep pocket pulsates on the irresistible first single, "Hot Damn," and on the second single, "Sparrow," Lebowitz leads his flock headlong into a mystical outro. His tones always pop, whether they be squeaky clean or warm and fuzzy.
To those in the know, it all sounds exactly like Lebo. For the unfamiliar, it's high time to get acquainted…
How did you wind up electrifying the acoustic?
I never set out to do this electrified acoustic thing. It came to me. My first guitar was a Les Paul copy. I didn't get a proper acoustic until a few years into my journey. I have always been a tone-chaser type, so that frames my whole sense of guitar.
I started playing with some drummer-less folk-style groups, so I got an acoustic, but I was never happy plugging directly into a PA. I missed my lush tube amps, so I started plugging into them. That only sounded so-so, but it was better.
The piezo pickup stopped working and I tried a few things but again wasn't truly digging the sound. Then, right before a gig, when I needed a quick fix, my buddy and great luthier Keith Holland [Keith Holland Guitars] turned me on to the Sunrise [magnetic sound-hole] pickup. I plugged into my 1966 Pro Reverb and realized, Ah, this is something I can work with!
How did you come to play Takamine?
The first acoustic I got was a '92 Takamine LTD, and I was happy with it once I'd tweaked it to my needs. But then that guitar got smashed in a van wreck. The closest thing I could find at the time was an EAN40C [cedar top, mahogany back and sides], and it's been my main guitar ever since. So dependable and inspiring.
Was there an epiphany where you realized that was the only guitar you needed?
Yeah, it was on a gig in Utah on a snowy, icy night. Back then I was still using electric guitars for "electric" gigs and an acoustic on "acoustic" gigs. This was a particularly rocking band, and right before the encore I broke a string. I reached for my backup, a Gibson L4 hollowbody, but someone had mistakenly brought in my acoustic from the truck instead.
I just went with it, and within moments of the song starting I thought, Yes! This is where it's at for me. There's so much sound when you run a flattop through an amp. In a weird way, you can almost liken it to sculpture versus painting. It's all there – you just have to uncover it.
What have you found to be some of the keys?
Most of that is in your hands, but the instrument is what draws it out of you. I was fortunate to apprentice with Keith Holland before I started touring, so I'm really comfortable with a guitar on a bench. If I have an idea, I go for it. I've literally sliced, diced, rewired, drilled, practically destroyed and resurrected this guitar several times per year since I got it 20 years ago.
A dreadnought and a Strat sound completely different, but fundamentally all guitars do the same thing with vibrating strings. Once you amplify an acoustic guitar, it's no longer acoustic – it's electric. There are many options that will give you an "acoustic like" tone, but if it's being amplified, it's no longer a pure acoustic sound. It's getting some sort of electric translation, be it a piezo or magnetic pickup or a microphone.
The acoustic guitar is microphonic by nature when plugged in, meaning the guitar is not only picking up string vibrations; amp sounds vibrate the guitar as well. It's very interactive and can get out of control. Perhaps that's why most people shy away from such a setup. But if you can tame it, there is an incomparable beauty in all of that microphonic energy that yields some really unique and complex sounds.
I love observing the inconsistencies, and first and foremost, you have to love the sound you make or it will not be convincing. An artist's job is to lean into what inspires you.
How does your guitar inspire you to play a certain way?
My guitar feels different to me than other guitars, with the heavy strings and all, and my playing has evolved alongside it. Using a .012-to-.054 string set, with a wound third, is normal on an acoustic, but not so normal for the way I play. I'm used to having to muscle it to bend strings. If I pick up a Tele, I've got to be very careful not to over-bend.
The way your fretting hand clamps onto and releases off a note is very dramatic, with a wide range of motion. Why this technique?
Tone-feel is the most important thing to me, and I refer to them as one thing because I'm talking about finger tone, which comes from the attack and release of your fingers. I've come to realize that I evolved that fretting-hand technique to address note length. The ending of a note is equally as important as the beginning, and the space in between is everything.
That dramatic approach with my fretting hand is integral to my tone-feel, and I want it to feel really damn good. It's why I play with a mixture of picked notes and legato notes. It makes for a much more interesting and artistic shape than pure picking or pure legato.
How you release with your fretting hand is as important as the attack. The way you come off a note with your left hand is very much felt and heard, not just in note length but also in terms of tone.
What pickups are you using to get your tone these days?
I've been using a TV Jones "TV Classic" for a number of years now. It's basically a really nice vintage style Filter'Tron. It has a pretty low output, so you get a lot of chime that you don't typically get from a humbucker, yet it still has some heft. It's way less compressed and more open than, say, a PAF.
In recent years I've also put a Lindy Fralin Split Blade Strat single-coil towards the back of the sound hole. It almost functions like a middle pickup on a Strat. I wired the whole thing up with a three-way toggle switch on the body near the heel of the neck. It's like a Gibson system, but instead of a neck/bridge combination, it's more like neck/middle.
What's your assessment of magnetic versus piezo pickups?
They are completely different beasts, almost like a pickup truck versus a small sports car. They're simply different tools for different jobs. I spend 99.99 percent of my time magnetic. On rare occasion, I'll use a piezo, but always through my amp. In fact, I always play through an amp, and I never get my guitar in the monitor, because an amp is a monitor. Sound coming at you from different directions leads to crazy feedback in some frequencies, and notes disappearing through phase cancellation in others.
I joke that I'm basically monogamous with my guitar, but not so with my amps. I have several amps that I use for different occasions, including a stock 1966 Fender Pro Reverb and a Victoria Golden Melody, which sounds like sweet honey heaven.
For smaller places, I have a 1966 Fender Deluxe Reverb that gets to that sweet spot at a lower volume. I also have a Victoria 20112 that I use for recording. It's a low-wattage beast. I use Celestion G12-65s in most of my rigs. I always use 12-inch speakers for a midrange focus. It's important for a guitarist to know where to sit in a band mix.
Your tones fit wonderfully on Silver Saturdays, and there's such a wide variety. How'd you get the vibey sound heralding "Make It Back Home"?
I played through a Klon Centaur overdrive into my Victoria Reverberato. It's the greasiest, drippiest tube vibrato ever, and I use it a lot throughout the album. I modded mine so it runs down to half speed. Set it slow with the intensity low and it's nicely subtle, adding just a bit of breath. You can hear it very well on this intro, but still, I don't have it turned up too high, as when I do it becomes more of a traditional pulsing vibrato.
For the end solo, I pushed the Klon harder and kicked on a Paul Trombetta Design Rotobone [gain/octave]. I used my '66 Pro, and I love how the guitar sounds like it's trying to escape from the amp, like its life depends on it!
How did you cop the ethereal tones that take "Sparrow" home?
The outro for "Sparrow" has a soundscape kind of approach. There are a few layers of guitar. Two are bottleneck, and I always use glass slides. I actually just did a couple of passes with the intention of picking one, but they sounded cool together so we left it that way. They almost make one sound.
I also messed around with some delays on another pass. I use the Strymon TimeLine and love it because there is so much possibility under the hood. I appreciate that it has analog pass-through, so your main sound doesn't get altered or digitized in any way, while the delay layers can be manipulated extensively.
How did the octave tones come together on the "Hot Damn" riff?
I played the riff live on the main take with my main guitar. We decided we wanted more girth, so we doubled it down an octave with a Danelectro baritone. There happened to be an old 12-string acoustic lying around the studio, so I doubled it on that too, creating a cool and unusual orchestration.
When you do go with a mic, what's the setup?
When I want a traditional acoustic sound, I tend to use my Santa Cruz Custom VJ [Vintage Jumbo]. It's a gorgeous-sounding guitar that makes some appearances throughout the album. I usually mic it up with a large-diaphragm condenser about six to 12 inches off the body in-between the sound hole and the 12th fret, but aimed at the 12th fret. It's a simple mono sound, but I like how it sits in a mix.
Do you have a favorite solo on Silver Saturdays?
The solo on "Rewind" represents my core sound, phrasing and touch. It's a simple setup, with my trusty Takamine through the Klon into the Pro Reverb. I didn't put much thought into that solo, it's just what I played while the tape was running, but it really captures what I'm after.
What's on the horizon for you in terms of performance and recording?
My year is full of touring and studio projects, including more ALO and Lebo & Friends at summer festivals, some solo touring at home and abroad, special shows with legendary artists and completing a solo album, which I am really excited to share!
How would you sum up your feelings about where you're at as a player?
People listen to music for inspiration, and so you are essentially trying to communicate your inspiration to others through your sound. Hopefully it lands, and they get some inspirado of their own.
Clearly the meat and potatoes of what I'm most moved by is an electric sound; I just make it with a flattop acoustic guitar. You could say that I'm an electric player at heart – but I dig how the acoustic doesn't sound like a Les Paul or a Strat. It has its own lane, and that's one of the things that keeps me coming back.
I'm still truly curious about the sound that comes out. Where I've wound up comes from following my bliss. I haphazardly try things out, embrace the things that make me smile, cast away the things that make me cringe, and now some decades later, here I am.
All the latest guitar news, interviews, lessons, reviews, deals and more, direct to your inbox!
Jimmy Leslie has been Frets editor since 2016. See many Guitar Player- and Frets-related videos on his YouTube channel, and learn about his acoustic/electric rock group at spirithustler.com.