"I Loved That Feeling of Trying to Improve as a Player": Jack Johnson Dives Deep Into His Enchanting New Record, 'Meet the Moonlight'
The oft-imitated Hawaiian with the hallmark rhythm hand talks signature style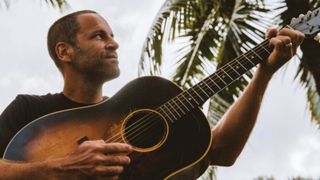 (Image credit: KIZZY O'NEAL)
Jack Johnson may not have the most advanced guitar technique, but the hugely popular acoustic influencer has a treasure that precious few other strummers possess: a signature rhythm style.
The Hawaiian with the hallmark rhythm hand planted his flag with Brushfire Fairytales, his 2001 debut that featured such breakout hits as "Flake" and "Bubble Toes," which incorporated a snare-like muted "whap" on the two and four into a few go-to strumming patterns.
The former professional surfer and accomplished surf moviemaker delivers his grooves with an infectious laid-back, hang-loose feel.
Often imitated, Johnson's original approach remains so instantly recognizable that he purposely mixes things up in the studio.
Meet the Moonlight (Brushfire), his first album in five years, marks a bit of a departure from past efforts.
The record is textural and takes a slinky, nuanced approach to contemplative, spiritual material.
Several cuts feature his longtime bandmates, who include keyboardist Zach Gill, bassist Merlo Podlewski and drummer Adam Topal. But the primary difference is producer and multi-instrumentalist Blake Mills, who is known for his work with Alabama Shakes and My Morning Jacket's Jim James.
Mills is an accomplished guitar player who brings a slew of interesting things to Johnson's table, including a fretless guitar that he reportedly picked up from Ry Cooder.
Mills and Johnson developed the material player to player, and his influence pervades the 10-song affair.
Check out the ethereal title track to hear the significance of Mills' presence...
Their languid slide interaction on "Calm Down" is simply lovely. On "3AM Radio," Mills holds down the groove while Johnson steps out for a few melodic acoustic lead flourishes.
Johnson is clearly in a guitar-centric mode. He invited ALO's acoustic-electric whiz Dan Lebowitz to step in and lend a leading hand on a few recent tour appearances.
Fellow Hawaiian Ron Artis II is also supporting on select upcoming dates, and he's an electric guitar ripper that players will appreciate.
But no matter what hot guitarist is in Johnson's camp at any given event, his own acoustic groove is always the heart of the show, and he's quite capable of holding an audience's attention all on his own.
How did you develop your signature rhythm style?
The most solid aspect of my guitar playing is the rhythm, and I think that percussive style came from playing alone for so long, not necessarily wanting to be a folk musician, but not having a band.
When I was writing songs, I would hear bass and drums in my head, and I'd do my best to create it all with the guitar alone. I'd try to make a snare drum sound by muting the strings with the fingers of my left hand – my chord hand – so that I could still keep the rhythm going with my strumming hand. I would mess around trying to hit where the kick drum would be with my right hand too.
I didn't wind up writing or recording that way, but I still play around with it sometimes on my own. When I wound up having a bass player and a drummer, I actually had to unlearn a little of what I was doing, because I was trying to cover too much. Once somebody is helping you, it gets sort of redundant.
Do you ever avoid applying your own signature style to some material to steer clear of redundancy from song to song, album to album?
Yeah, I probably do a little bit, because there are times when I hear that in my own stuff. But it's what I love to do, and when I'm sitting on the front porch, I have a version of all the songs in just that style.
It's like when a blues player does just guitar and vocal – it's got a certain thing. I don't mind going to it as my default when I'm alone or playing with friends in the living room, but there are times when I'm recording that I avoid it.
Where does it come from?
I think that a lot of it comes from listening to reggae, and there are actually two different versions.
The first one is that muted thing we first talked about, where there's no note. The second one is a reggae skank, where you hear a little bit of the chord before muting it; you strum on the backbeat with the fretting hand holding the chord, and then release quickly to mute it. So you hear a little bit of the chord, but it also acts as a percussive moment.
They are both different styles of percussive acoustic strumming. The reggae skank is done more on electric guitar, but I tend to play a lot of acoustic because it's always around and doesn't require electricity.
Especially when we were making surf movies, we were always traveling and there was always a guitar around, but there wasn't an amp very often.
What exactly is going on with the pick and fingers as you execute that skank rhythm?
It's funny, because I would almost always play with a medium-gauge pick, and I think that's partly because my fingernail gets worn down from all that percussive strumming on the heavier-gauge acoustic strings when I'm on tour.
But for the new album, I worked closely with producer Blake Mills, and every time I would give him the option of playing a track with or without the pick, he'd always choose the one without the pick because he preferred the tone.
I wore my fingernail down quite a bit. Then when I went back out on tour, I'd play kind of using a bit of both the pick and the finger.
It all depends on how much definition you want in the top end. Adding in some skin from the finger provides a bit of a fuller sound. So I adjust the blend according to the song. I haven't gone to fake nails yet, but it seems like a good idea. I probably will.
Was it a conscious choice to have less driving rhythm and more slinky lines and textures for Meet the Moonlight?
It was conscious in the sense that the main reason I wanted to work with Blake Mills is because he's an amazing guitar player. I wanted to play with him and learn. I grew up before the internet, learning to play by sharing books and guitar magazines with my friends.
I loved that feeling of trying to improve as a player, and it felt great to get it back during this album by playing with somebody who is so accomplished.
Blake played an electric fretless guitar quite a bit, and he told me that he picked it up from Ry Cooder. It's the one on the soundtrack for the movie, Paris, Texas.
Blake got so into the fretless that he made a whole album with it called Mutable Set. I wasn't so sure when he pulled it out – you know, a fretless guitar? But it had this cool characteristic, and Blake wound up playing it on about half the songs on Meet the Moonlight, including the title track, "Don't Look Now" and the first song, "Open Mind."
Is the fretless involved in the swelling sound that kicks off the album at the top of "Open Mind?"
Yeah, it's that fretless mixed in with a few other things, including a melodica that Zach played and a Brazilian percussion sample that Merlo found. I'm playing a Gibson ES-335 tuned to dropped D through a little Kalamazoo amp on that track, and Blake played a Gibson Les Paul as well.
What was your main instrument on the album?
I have an old Gibson J-45 that I used for most of these songs and a lot on my other albums. Ben Harper helped me pick it out on our first tour. We went to Matt Umanov Guitars in New York and I played a bunch of them while Ben stood in different spots in front of me.
I knew I could trust him. That was the first guitar I ever bought myself. I play Cole Clark acoustics live, and I've used them on albums as well, but mostly it's that dark-colored 1975 J-45 and 1978 Martin dreadnought.
What tuning are you in on the cosmic title track?
I'm playing in a cool version of a Hawaiian slack-key tuning we call Taro Patch, which is like open G but with the lowest string tuned down an additional step, so instead of D, it's C [low to high, C G D G B D].
If you hold the shape of an A minor 7 chord and strum all the way through with the C in the bass, it makes a big, open-sounding C chord.
Kawika Kahiapo is one of the greatest living slack key players and a good friend. He's taught me lots of tunings and licks and tricks over the years.
What are the sources of some other unique guitar tones on this album?
I played one of Blake's Martin acoustic-electric's on "3AM Radio," and we used a synthesizer and some reverse recording tricks to get those weird, ethereal sounds. We both tracked slide parts together on "Calm Down," and I played my part on a resonator.
I overdubbed some nylon-string for the end of "Meet the Moonlight" and also every time I sing "It's funny how blind dreams can be."
Pepe Romero [of the famous classical Spanish luthier family] is a good surfer friend, and he made that nylon-string. He made an amazing ukulele for me as well, and you can hear that at the beginning of "One Step Ahead."
What makes you favor the Cole Clark Fat Lady 2 for live performance.
I like that Cole Clark makes guitars from sustainable, fast-growing woods and how consistent they are in the way they play nice and sound pretty.
They also have great electronics. It's a two-way system with a bridge pickup and mic that works well for our soundman because the tones and levels remain consistent as I switch guitars in different tunings. If we're playing a loud song, I'll favor the pickup. When I'm playing alone doing a little acoustic set at the end of the night, I'll favor the mic.
We split the signal to a direct box and a Fender Twin. I use a feedback buster in the soundhole with the band. I don't need that when it's just me playing solo acoustic.
Can you close by considering an artist who helped set your path and reveal what it's like to see your own influence in the world?
Greg Brown was the one person I loved listening to acoustically. His music helped me make sense of what I wanted to write about.
To go the other direction, one band I've come across that wasn't bullshitting when they said I was an influence is Milky Chance. They're very sweet, younger guys. When we met backstage, they showed me how they knew every riff of mine from different songs over the years. I always appreciate hanging out with them, and it's fun when we get to do a song together now.
Over the years I've met some people that I could tell were a bit influenced by my style, and it's always flattering to know you had an influence on anybody.
Order Jack Johnson's Meet the Moonlight here.
All the latest guitar news, interviews, lessons, reviews, deals and more, direct to your inbox!
Jimmy Leslie has been Frets editor since 2016. See many Guitar Player- and Frets-related videos on his YouTube channel, and learn about his acoustic/electric rock group at spirithustler.com.