Jim James Gives His Top Five Tips for Musicians On How To Survive Life On the Road
My Morning Jacket's frontman dishes out his best advice.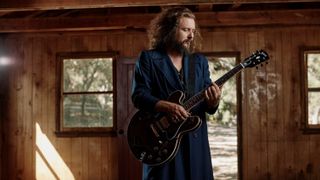 (Image credit: Austin Nelson)
If you follow the latest goings on at Gibson you may have noticed the new Jim James signature ES-335 (pictured above). Decked out in vintage appointments including a retro Walnut finish and witch-hat knobs this classic axe has got killer looks. And with a sound to match it hits all the right spots where it counts.
James' band My Morning Jacket hail from Louisville, Kentucky and were formed in the late '90s. Since then, the psychedelic art-rockers have released nine studio albums, including this year's eponymous long-player.
With over a couple of decades' worth of touring experience behind him we thought we'd get in touch with the man himself to talk surviving life on the road as a musician.
Here are his top five tips…
1. Pick the Right Guitar
Picking the right electric guitar is so important. I use a 335 because it allows me to do everything I need to. But the important thing to remember is you don't really know how it's going to work out until you're on stage with the guitar performing. I've had similar revelations in other areas of my life – where I've needed to separate fantasy from reality. We all build these stories about how something's going to go down, but it might not actually work out the way you think it will.
For example, I was fine using a 3-pickup SG Custom at home on the couch, but as soon as I got on stage with it, it was a completely different story. I kept hitting the middle pickup with my pick and messing up. Suddenly, I was in reality. And it was a much different place to what the fantasy was!
I think it's always best to keep an open mind until you've really put guitars to the test in the real world.
2. Pick the Right Amp
At home or in the recording studio you've got so much more control and if something goes wrong it doesn't matter – you can just press pause and fix it. But if you're playing in front of thousands of people and you've got an amp that's not working for whatever reason you're screwed. I mean you can test it in soundcheck, but the show will prove whether it really works or not.
I feel so grateful to know how important it is to leave room for reality to speak. You just have to accept that it's not always going to be easy and sometimes you'll have to learn the hard way. But that knowledge is always helpful. And it's always good. It'll lead you towards where you're supposed to go.
3. Prayer & Acceptance
I get down on my knees and pray before every show. I pray to the spirits that are there in the air and the dead people I met in my life. And I have to accept the outcome of the show is not in my hands fully. I can try as best I can, and I can be as prepared as I want, but it's that classic fantasy/reality shit again.
You can be super excited about playing a certain show you think is going to be really amazing, and then afterwards feel like it sucked. You know, your voice sounded terrible, or you're sad, or you're just having a bad night.
Or, on the opposite side of the coin, you could be playing some place you think isn't all that and it ends up being one of the best shows of your life. There's no way you can understand it other than it's just the universe and spirits speaking. I mean you could walk into both those situations equally prepared, but you have no control over what else is going to come into the picture.
4. The Show Must Go On
One of the main things about being a touring musician is knowing that things – amps, guitars, pedals – will go wrong. But the show has to go on. Even on this last tour I've had shows where my pedalboard went down. Then my guitar's gone. Like, what do you do? You can fuckin' cry about it and storm offstage or you can keep going.
Touring musicians have to face that constantly, and when you're younger that can be really, really disheartening and really, really tough to deal with. But I think as you gain more experience it almost becomes funny. Like if my guitar goes down in the middle of a show now, I'm like, 'Oh my god!' But you just have to laugh. As I'm the singer, I can just throw down my guitar and keep singing. The audience usually knows when there's some kind of major technical problem, and when you laugh about it, I feel like the audience is on your side.
Not only are those often really fun, memorable moments people can take away, but it can also lead to different avenues for the song. In the past, we've had things go down which have led to different improv moments that end up changing the song. Sometimes, what seems like a bad thing can turn into a really cool opportunity.
5. Communication
Like any other relationship, band relationships are all about communication (and I've only started to get better at it in the last four or five years). You can't communicate too much, and you can't let people know how you feel too much. And if people don't want to hear what you have to say, or they don't want to hear about your feelings then you shouldn't be in a band (or any relationship) with them anyway.
I think it's everybody's duty to make the people around them feel safe enough to tell you how they feel – for them to feel heard. I think I was a terrible communicator for years. I would be sad or angry and would just try to push through it. Everyone was wondering, 'What's wrong with Jim?' because I wasn't talking about it. But as life goes on, you realise if you can just make the space to talk then it can get better and things change. All the guys, including myself, have had some really great breakthroughs on communication.
From the silliest little things to the most serious life-altering decisions, I think we all need to make each other know that you can talk about what you need to talk about. Especially with the people that are close to you.
Buy My Morning Jacket here.
All the latest guitar news, interviews, lessons, reviews, deals and more, direct to your inbox!
Rod Brakes is a music journalist with an expertise in guitars. Having spent many years at the coalface as a guitar dealer and tech, Rod's more recent work as a writer covering artists, industry pros and gear includes contributions for leading publications and websites such as Guitarist, Total Guitar, Guitar World, Guitar Player and MusicRadar in addition to specialist music books, blogs and social media. He is also a lifelong musician.