Five Reasons Why Ry Cooder is a Guitar Legend
From Captain Beefheart to the 'Buena Vista Social Club' and beyond.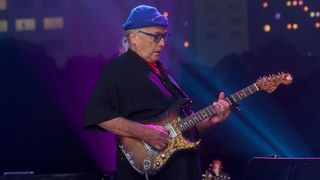 (Image credit: Gary Miller/Getty Images)
One of the most influential and revered electric guitar players since the 1960s, here are five reasons why Ry Cooder is a living legend...
1. Longevity
California-based multi-instrumentalist Ryland Peter Cooder has made his mark as a musician, songwriter, film score composer, record producer and diviner of lost musical traditions. His career spans six decades and includes work with Taj Mahal, Captain Beefheart, the Rolling Stones (that's him playing slide on "Sister Morphine"), Eric Clapton, Neil Young and John Hiatt.
2. Technique
After a failed attempt at playing banjo with Bill Monroe and Doc Watson ("Son, you just ain't ready," Monroe told the teenager), Cooder applied the instrument's tuning and three-finger-roll technique to guitar. Later, he employed alternate tunings, including the five-string open-G variant that Keith Richards adopted following Cooder's late-'60s session work with the Stones.
3. Diversity
In the 1970s, as a solo artist, Cooder released a series of albums that excavated bygone musical genres. It culminated in 1979's Bop Till You Drop, which provided him with his biggest hit, a cover of Elvis Presley's "Little Sister." The 1980s found him extending his career into soundtrack work for films such as Wim Wenders' Paris, Texas and numerous movies by Walter Hill, including The Long Riders. Along with Arlen Roth, Cooder dubbed all the slide and blues guitar parts in the 1986 film Crossroads.
4. 'Buena Vista Social Club'
As producer of the 1997 hit album Buena Vista Social Club, Cooder revived interest in traditional Cuban music from the country's pre-Castro era. A 1999 companion documentary further raised the profiles of the veteran Cuban performers behind the music.
5. Sociopolitical Awareness
More recently, Cooder has worked closer to home, releasing albums with a sociopolitical bent, like 2012's Election Special and 2018's The Prodigal Son, on which he once again revels in songs and sounds from a long-gone era.
Buy Buena Vista Social Club here.
All the latest guitar news, interviews, lessons, reviews, deals and more, direct to your inbox!
Guitar Player is the world's most comprehensive, trusted and insightful guitar publication for passionate guitarists and active musicians of all ages. Guitar Player magazine is published 13 times a year in print and digital formats. The magazine was established in 1967 and is the world's oldest guitar magazine.
When "Guitar Player Staff" is credited as the author, it's usually because more than one author on the team has created the story.