Learn Some Nifty Slide and Blues Guitar Tricks from Jason Isbell
And gaze at his drool-inducing vintage Teles and Strats while you're at it!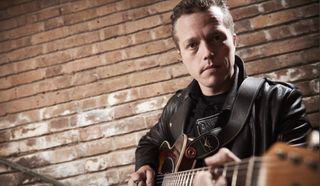 (Image credit: Joby Sessions/Future)
When looking at the ways in which the COVID-19 pandemic has affected the world around us, there are very, very few positive things that come to mind. 
One of those rare positives though, has been the number of guitar heroes - Eric Johnson and Brian May among them - that have taken the opportunity to go on social media to teach their fans a few tricks of the trade. 
A few days back, acclaimed singer/songwriter and highly underrated guitarist Jason Isbell decided to hop on the social media lesson bandwagon with some great, bite-size blues and slide guitar tips of his own. Even better, he did so using a few of his finest vintage guitars.
First, Isbell - gorgeous 1953 Blackguard Tele in hand - demonstrated an absolutely killer slide lick in standard tuning. Coming from a slide specialist, this lick is perfect for anyone looking for a place to start with slide technique.
Next up is another slide lick that Isbell plays with an equally beautiful sunburst Strat. A bit more technical and advanced than the first slide lick, this line is a bit of a "pedal steel imitation," in Isbell's words.
Finally, as an added bonus, we have a non-slide blues triplet in the key of C. For this, Isbell uses a stunning, Bigsby-equipped Les Paul.
For more on Isbell, follow along on his Instagram page.
Get the latest news, reviews and product advice straight to your inbox.
Thank you for signing up to GuitarPlayer. You will receive a verification email shortly.
There was a problem. Please refresh the page and try again.