"We Could Take a Pretty Massive Dose and Hang in There for a While": How LSD Influenced the Grateful Dead's Music
From the Acid Tests and beyond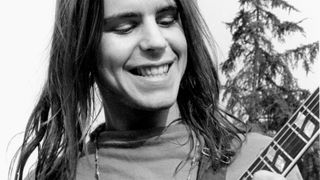 (Image credit: Michael Ochs Archives/Getty Images)
Born in the full glory of the psychedelic era, the Grateful Dead began their journey as Mother McCree's Uptown Jug Champions before morphing into an electric band called the Warlocks, in 1965.
As guitarist Bob Weir told GP senior editor Jas Obrecht in 1997, "We were still the Warlocks when we played the first Kool-Aid Acid Tests (opens in new tab) [a series of multimedia/LSD events hosted by author Ken Kesey (opens in new tab)], and by that time we were taking LSD and playing psychedelicized.
"We began turning up loud pretty quickly. From the start it was faster, looser, louder and hairier. We were going to see what this baby'll do. It helped that we were playing in an uncritical situation.
"What didn't help was that we were completely disoriented, so we had to fend for ourselves and improvise. We got better at it as time went on, so we could take a pretty massive dose and hang in there for a while."
Classic psychedelic-era Dead tunes include the strangely beautiful "Rosemary" (from 1969's Aoxomoxoa (opens in new tab)); "The Eleven" (1969's Live/Dead), a mostly instrumental jam in 11/4 that features wall-to-wall wailing by Garcia; "China Cat Sunflower" (Europe '72 (opens in new tab)), with its interlocking guitar riff creating the counterpoint to one of Robert Hunter's most mesmerizing compositions; and "Viola Lee Blues" (1967's The Grateful Dead (opens in new tab)), of which bassist Phil Lesh said, "To my ear, it's the only track that sounds at all like we did at the time."
Weir also cited a November 1965 version of "Caution (Do Not Stop on Tracks)" as representing the band's truest acid vision.
"That was sort of an ironic name for the tune, because caution was anything but what the tune was about.
"By the first album [1967's The Grateful Dead (opens in new tab)] we had moved past our psychedelic era. We had gotten to a point of diminishing returns after taking acid for a couple of years.
"We'd started going back to the same places, and so it seemed, Okay, we got what we could out of that. Let's move on. We didn't turn our backs on it so much as we started looking in other directions.
"It sure as hell contributed to a willingness to listen to, and try to beg, borrow or steal from, other musical forms."
Browse the Grateful Dead catalog here (opens in new tab).
All the latest guitar news, interviews, lessons, reviews, deals and more, direct to your inbox!