Like this Bob Weir guitar? It could be yours (if you have over $250k to spare)
Do you have a spare quarter of a mill for this gorgeous Dead & Company guitar?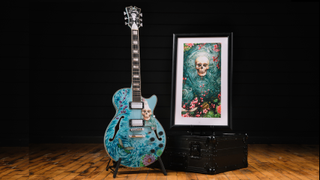 (Image credit: Dead & Co)
An electric guitar played on stage by Dead & Company's Bobby Weir and hand-painted by artist AJ Masthay is currently going for $250,000.
The guitar, a D'Angelico Premier SS in Ocean Turquoise color, commemorates Dead & Co's current tour, and has been part of a charity auction conducted over the entire run. By 13 June, bidding had reached $74,000.
The guitar has been played by Weir twice on the tour – once at the Mountain View, CA (during US Blues) and Chicago, IL shows (during Ramble on Rose) on 25 June. It must have been a good gig. After that performance, bids rose to $250,000.
With 9 dates left on the tour, who know where this could end?
Interested? Then you have to go and see Dead & Company. There is no online auction (although fans unable to make shows on the tour can reach out to HeadCount's Kristina Raines at kristina@headcount.org).
The guitar is being auctioned by HeadCount, a nonprofit voter registration organization that Weir is on the board of directors of. The auction proceeds will be split between HeadCount, the environmental group REVERB, and a dozen other "Dead Family" charities selected by the band.
The design is by artist AJ Masthay, who also designed the tour's official poster, and has produced art rock for the Grateful Dead, Black Sabbath, Foo Fighters, South Park, Queens of the Stone Age, Widespread Panic, Umphrey's McGee and many more.
There are actually two guitars left for auction — the blue D'Angelico Premier SS Guitar and a Custom HeadCount Guitar (pictured below) which is specific to the NYC dates and can be bid on in person at the NYC shows on 15-16 July.
All the latest guitar news, interviews, lessons, reviews, deals and more, direct to your inbox!
Tom Poak has written for the Hull Daily Mail, Esquire, The Big Issue, Total Guitar, Classic Rock, Metal Hammer and more. In a writing career that has spanned decades, he has interviewed Brian May, Brian Cant, and cadged a light off Brian Molko. He has stood on a glacier with Thunder, in a forest by a fjord with Ozzy and Slash, and on the roof of the Houses of Parliament with Thin Lizzy's Scott Gorham (until some nice men with guns came and told them to get down). He has drank with Shane MacGowan, mortally offended Lightning Seed Ian Broudie and been asked if he was homeless by Echo & The Bunnymen's Ian McCulloch.