Chris Shiflett: My Life in Five Riffs
The Foo Fighter's lead guitarist counts down a quintet of tunes that rock his world.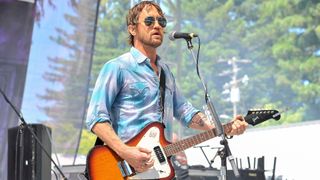 (Image credit: Steve Jennings/WireImage)
Chris Shiflett's long career path has seen him perform in many bands and genres. After starting out with the punk rock bands No Use for a Name and Me First and the Gimme Gimmes, he landed with arena rockers Foo Fighters and pursued a solo career playing twangy country rock.
Through it all, he's tapped into his deep, lifelong love of rock and roll. Although he's often a lead electric guitar player, Shiflett has an ear for a memorable riff. Here are the top five that changed his life…
1. The Rolling Stones, "Shattered" from 'Some Girls (1978)
"This record came out in the late '70s, when I was, like, seven years old, and it was one of those records you couldn't get away from. So many of the Stones' songs can be grasped even when you're just starting out on guitar, and they sound great. "Shattered" hit me in the gut, just like a lot of their music. It's got that cool phaser and slap echo. It just always stuck in my head."
2. Kiss, "Detroit Rock City" from 'Destroyer' (1976)
"Kiss were one of the big reasons I picked up a guitar in the first place. I used to have Kiss posters plastered all over my bedroom walls, and I wore out all their records. Eventually my kids wore out all their records, too. One of the highlights of my rock and roll life was a few years ago at Dave Grohl's birthday party at the L.A. Forum, which is where they recorded Kiss Alive II. Dave called up Paul Stanley and got him to play a couple of Kiss songs with the Foo Fighters. We played "Detroit Rock City" at that show. I even got to play the guitar solo!"
3. Rainbow, "Long Live Rock 'n' Roll" from 'Long Live Rock 'n' Roll' (1978)
"My brother was, and is still, a gigantic fan of Ritchie Blackmore and all the different stuff he's done over the years, including Deep Purple and Rainbow, which introduced the world to Ronnie James Dio, who is still my favorite rock and roll singer of all time. Ritchie had endless riffs. He wrote "Smoke on the Water," so that tells you something about his riffs. My favorite Rainbow song is probably "Kill the King," but this one is more riffy."
4. Bad Religion, "You Are (the Government)" from Suffer (1988)
"Bad Religion literally changed my musical life. It was in 1988 that they put out a record called Suffer, and it totally changed punk rock. I think it also marked the first time that I was listening to what was then current punk rock music. "You Are (the Government)" is from that album, and like most of their riffs, it features power chords played fast and is super melodic. It's all minor key, too. Bad Religion's music had a kind of wordy sadness to it, and it was just aggressive. Punk rock was not something that I was really interested in at that time, but Suffer changed the game."
5. Merle Haggard, "The Bottle Let Me Down" from Swinging Doors and the Bottle Let Me Down (1966)
"I've always loved rockabilly, and I got into the alt-country stuff in the '90s. That, in turn, led me to older, classic honky-tonk-type country music. I had a band called Chris Shiflett and the Dead Peasants for a little while, and we just played old honky-tonk covers for a few years. It was really fun. I'd never tried to play that music before. It sounds so easy, but it's so hard. However, we got down on this one by Merle Haggard."
All the latest guitar news, interviews, lessons, reviews, deals and more, direct to your inbox!
Jim Beaugez has written about music for Rolling Stone, Smithsonian, Guitar World, Guitar Player and many other publications. He created My Life in Five Riffs, a multimedia documentary series for Guitar Player that traces contemporary artists back to their sources of inspiration, and previously spent a decade in the musical instruments industry.