Get a Close Look at Jerry Garcia's Iconic "Alligator" Strat in this Encyclopedic Grateful Dead Guitar Collection
Grateful Guitars Foundation's arsenal includes Garcia's 1955 "Alligator" Fender Stratocaster and 1943 "Jerry's Herringbone" Martin D-28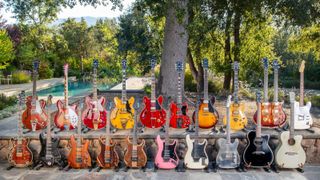 (Image credit: Bob Minkin Photography)
Andy Logan is bringing Dead dreams to life and giving gig-worthy players cause to feel grateful.
The avid collector is putting top-shelf copies of the makes and models Jerry Garcia and Bob Weir played – and sometimes the original articles – in the hands of special talents via the Grateful Guitars Foundation, his 501(c)(3) nonprofit that provides musical instruments for players who help carry the jam band tradition forward.
Logan's arsenal includes many custom builds, as well as two of Garcia's all-time most historic instruments: his 1955 "Alligator" Fender Stratocaster and 1943 "Jerry's Herringbone" Martin D-28.
Recently, Logan acquired a pair of Modulus Blackknife electric guitars and a pair of Alvarez acoustic guitars played onstage by Weir in the '80s and '90s.
Logan is on a mission to have a representative version of all their axes, from their mid-'60s psychedelic years to the group's demise in '95.
After dabbling in psychedelic rock in the 1960s, Garcia, Weir and company spawned the jam band community that thrives to this day, and Logan wants to ensure it stays that way, eternally.
He lends and occasionally gives gifted players incredible instruments that would otherwise be beyond their means, all for the greater good for the scene.
"The Grateful Dead went to great lengths to get the tones they were after," Logan offers. "They wanted the audience to hear exactly what they wanted to express with their instruments. Hearing those tones meant the world to us fans, and as a gear guy, you want to recapture that tone you remember touching you so deeply.
"When you hear it, you feel enriched and fulfilled. The greater good behind arming musicians with this kind of gear is that it's inspiring. Give them top-quality tools, and it elevates their game. They play better and harder. The more fun they have, the more we have in the audience."
Logan made international news in December 2019 when he purchased Alligator and Jerry's Herringbone at a Bonham's auction with winning bids of $420,000 and $175,000, respectively.
Alligator was Garcia's primary electric from spring 1971 to August '73, and the performance debut vehicle for such hallowed tunes as "Tennessee Jed," "One More Saturday Night," "Ramble on Rose" and "Eyes of the World."
As for the Martin D-28, Garcia used it to write and record 1970's folk-rock classic American Beauty, which featured "Friend of the Devil," "Ripple" and "Truckin'."
Inspired by his new acquisitions, Logan launched the Grateful Guitars Foundation in 2021 as a non-profit vehicle to let others share in his passion for authentic Dead tones while giving the instruments in his extensive collection new life.
Logan afforded GP an opportunity to play Garcia's guitars, and they turned out to be way more than mere relics. They are astonishing instruments, and have been well attended to by legendary luthier Rick Turner in the years since Logan acquired them.
The Martin's tone is a dreadnought dream, rich and resonant with abundant bass and an articulate top end.
Alligator is a holy grail-caliber Stratocaster. Its slim neck feels fabulous in hand, and the pickups produced an array of quintessential Strat tones through Logan's silverface 1969 Fender Twin head that was once part of the Grateful Dead's arsenal and came to Logan via longtime roadie Kidd Candelario.
Check out Alligator's flexibility on this Grateful Guitars cover of "Friend of the Devil."
In true Jerry style, the Fender pre-amped a McIntosh 250 power amp and a 1x12 Baltic birch cabinet loaded with a JBL E120.
While the two axes may be the crown jewels in Logan's collection, there's a lot more going on with Grateful Guitars.
Logan has developed relationships with many of the luthiers that designed and built the custom guitars made famous by Garcia and Weir.
He's commissioned Kevin Burkett at Travis Bean Design, former Modulus man Rich Hoeg and Leo Elliot of Scarlet Fire Guitars to build instruments for players including Jeff Mattson and Rob Eaton of the Dark Star Orchestra and Mik Bondy of the Garcia Project.
Logan has also shared his Garcia originals and re-creations with a pair of his heroes: Alex Jordan, who hosts Grateful Thursdays at Club Fox in Redwood City, California, and has a close relationship with highly regarded Gryphon Stringed Instruments in Palo Alto, California, where they help tweak and take care of Alligator and Jerry's Herringbone; and Stu Allen who has played extensively with Grateful Dead bassist Phil Lesh and currently leads Mars Hotel.
Allen and Jordan are uncanny at playing the Garcia and Weir roles, respectively, and their dedication is most evident when they perform recreations of Grateful Dead concerts from specific historic shows.
With Logan's gear and their eager ears, the two delve into the granular details of the dynamic Dead duo's sound and style.
Best of all, anyone can fill out an application to become a Grateful Guitars player or builder at gratefulguitars.org.
"What the builders create is an incredible gift for players and fans," Logan says.
Alligator
"There was speculation it was Franken-Strat with a '57 neck on a '63 body," Logan says, "but we were excited to learn it's a '55 through and through when we took it apart."
Writing inside indicates that the unique one-piece ash body was made in February and the neck in March of '55.
Alex Jordan adds, "The neck sign-off is by 'TG,' meaning Tadeo Gomez, who famously carved the neck for Eric Clapton's 1954 'Slowhand' Strat."
The guitar has been heavily modified with replacement Schaller tuners and lots of brass hardware, including a second string tree for the lower four, a scalloped brass nut and an Alembic U-Channel bridge.
During refurbishing, Rick Turner countersunk the bolts so that they could go down into the brass, lowering the action to a more player-friendly height.
The frets have clearly been replaced and are very wide. "They're quite worn down, especially on the treble side, which makes it rather difficult to play in the first place," Jordan says, "and it was very difficult with the high action before the bridge modification."
Other Garcia mods include a hammered brass pickguard and a vintage Alembic Strat-o-Blaster output jack, gifted from Mike Wald, who makes buffers and modded Twins for Garcia-style players.
"It basically punches up the signal like a guitar with active electronics," Logan says. Adds Jordan, "It buffers the signal and increases the output, which was important to a player running long cords into a few effects pedals. It drives the amp harder, like the humbucking pickups Jerry was using in guitars prior to Alligator.
"The Strat-o-Blaster has its own adjustable tonal characteristic as well."
Alligator has an interesting origin story, and left an influential legacy. Logan says, "Alligator first appeared on December 31st, 1970, and then became the full-time axe in May 1971 and is most famous for being used exclusively during the legendary Europe '72 tour.
"Jerry got it from Graham Nash, who got it from a pawnshop in 1967. At first, we weren't sure if the pickups were original, given the Dead's propensity to modify gear.
"However, Fender has since confirmed that they are the original 1955 pickups. Interestingly, it does appear that they did tweak the pole heights."
As for the famous alligator graphic, Logan informs, "[the Grateful Dead's] Steve Parish told me [roadie] Sonny Heard put on the alligator sticker in June of '72."
Curiously, it's not scratched up at all, appearing perfectly clear as if it were put on yesterday. Jerry was a precise picker! According to Logan, "The last Grateful Dead show Alligator did was [New Jersey's] Roosevelt Stadium on August 1st, 1973. Wake of the Flood was recorded later that month and featured the Doug Irwin–built Wolf.
"Much of what Garcia learned through Alligator went to Wolf and subsequent instruments, including the Fender scale length, scalloped brass nut, active electronics and buffered circuit."
Jordan adds, "Alligator is part of Jerry's legacy of having modified and eventually fully customized instruments that helped create the need for a boutique guitar industry."
Click here for Jimmy Leslie's acoustic guitar lesson on the Grateful Dead classic "Friend of the Devil."
Visit the Grateful Guitars Foundation online here.
All the latest guitar news, interviews, lessons, reviews, deals and more, direct to your inbox!
Jimmy Leslie has been Frets editor since 2016. See many Guitar Player- and Frets-related videos on his YouTube channel, and learn about his acoustic/electric rock group at spirithustler.com.