Fender Unveils Custom Shop Replica of Jerry Garcia's Heavily Modded Alligator Strat
Master Builder Austin MacNutt took a forensic approach to recreating one of the most iconic guitars in Grateful Dead history.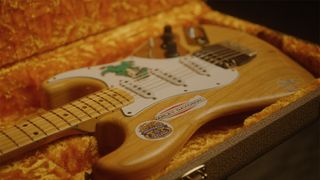 (Image credit: Fender)
The Fender Custom Shop has just launched what just might be the ultimate collector's item for Jerry Garcia superfans – a replica of the late Grateful Dead guitarist's heavily modded Alligator Strat.
Masterbuilt by Austin MacNutt, who will make each of the custom electric guitars to order, the Alligator Strat replicates every detail of Garcia's original, from the eponymous decal on the pickguard down to the hammered-brass control plate and Schaller tuners, and the battle scars from a life on the road.
Graham Nash gave Garcia the original Stratocaster in 1970. It would not stay stock for long, and soon lit up Garcia's imagination when it came to customized electrics. Garcia would regularly hand it over to Rick Turner and Frank Fuller of Alembic for modifications.
There were Raytheon volume knobs to start off. After the merciless cold of an East Coast winter made the control plate frigid, causing it to fracture and spill the guts of the Strat's wiring mid-set, the guitar was then fixed up with Masonite before ultimately being upgraded with a custom brass plate.
More mods would follow. There were Schaller tuners, a brass nut and retainer bar, the brass bridge with rosewood reinforced base plate, a refret job, and of course the stickers – the Harley Davidson and 'Policeman Helper' stickers on the upper horn, and the 'gator on the 'guard.
Garcia's Alligator was a hot-rodded Strat before hot-rodding was officially a thing. The Alligator Strat played a pivotal role in Jerry Garcia revolutionizing the custom guitar industry.
His guitar tech Steve Parish got in on the act too. Fender might have built it in 1955 but Garcia crowdsourced the guitar's evolution throughout its time in service.
"There's a lot I can tell you about this guitar," said Parish. "I'm very lucky because I got to work with Jerry to take care of his guitars… Jerry played a lot of guitars and a lot of Strats but he never had a favorite. Fender, Fender, Fender everything. He played Fender Twin Reverb because he loved it, and we collected every Fender we could buy. But this guitar quickly became his favorite."
MacNutt digitally scanned the original Alligator Strat to profile its Soft V profile neck, comprised of a single piece of rift-sawn maple. It was in doing so that he dated the Strat to 1955, not '57 as was previously thought.
The Alligator Strat ships with medium vintage frets on its 7.25" radius maple fingerboard. It has a swamp ash body housing a trio of custom-wound Josefina '55 style single-coils, with five-way switching and standard vintage Strat wiring and custom replica "Blaster" clean-boost output jack.
Image 1 of 4
As you can see from the pics, the alligator decal has been aged, the collar and cuffs matching on the similarly aged three-ply parchment 'guard. Other details include a custom birdseye maple back plate.
"This guitar is a piece of American history," said MacNutt. "There is so much history behind each alteration and modification made to the guitar; to have the opportunity to have the original for a day, take it apart, look inside and replicate it has been an honor."
It ships in a custom hard-shell case, is made to order, and is priced a cool $20,000. But, as MacNutt says, it is a piece of history. When the original sold at auction in 2019 it fetched over half-a-million dollars, which puts things in perspective a little.
The Jerry Garcia Alligator Strat is available now. See the Fender Custom Shop for more details.
All the latest guitar news, interviews, lessons, reviews, deals and more, direct to your inbox!