Here's the Truth About Jerry Garcia's Misidentified 1943 Martin D-28
Why the Grateful Dead frontman's highly collectible and historic Dreadnought is not a pre-war D-18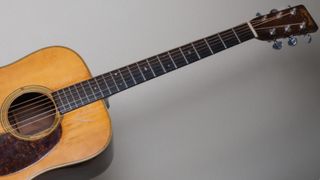 (Image credit: BONHAMS)
Andy Logan's 501(c)(3) nonprofit Grateful Guitars Foundation provides historic Dead-centric axes to worthy keepers of the flame.
Bringing Dead dreams to life and giving gig-worthy players cause to feel grateful, the avid collector is putting top-shelf copies of the makes and models Jerry Garcia and Bob Weir played – and sometimes the original articles – in the hands of special talents who help carry the jam band tradition forward.
Logan's arsenal includes many custom builds, as well as two of Garcia's all-time most historic instruments: his 1955 "Alligator" Fender Stratocaster and this 1943 "Jerry's Herringbone" Martin D-28.
"Although it was listed as a 1941 Martin at auction, the serial number and the ebony truss rod clearly indicate a wartime instrument created in 1943," says Grateful Dead devotee Alex Jordan, who hosts Grateful Thursdays at Club Fox in Redwood City, California, and has a close relationship with highly regarded Gryphon Stringed Instruments in Palo Alto, California, where they help tweak and take care of Alligator and Jerry's Herringbone.
Logan and Jordan conclude that this is the same acoustic long misidentified as a D-18.
"There are no herringbone D-18s," Jordan explains.
This guitar's back and sides are made from very distinguishable streaked Brazilian rosewood, and the top is Adirondack spruce.
The whole guitar has an extra coat of finish sprayed over it. There's also a hole from a primitive sound hole pickup installation and battle scars from where an oddly placed output jack on the lower bout didn't work out very well. Photographs suggests those jobs were from a previous owner.
A defunct dual-element pickup system added much later remains, which Logan feels is likely from recording the 1991 album Jerry Garcia/David Grisman.
A drop-in saddle replaced the original through-cut saddle in order to accommodate an undersaddle piezo. The other element is an interior microphone.
The guitar is surprisingly light, especially considering the remaining pickup elements, although Garcia must have used some sort of external element to power the internal ones.
In addition to the above alterations, a set of Rotomatic tuners replaces the originals, and a piece of Scotch tape is stuck behind the bridge.
"The instrument first appeared on the Festival Express tour in summer 1970," Logan states. "It was onstage for a bunch of the acoustic sets that followed and was played on many firsts, including the debuts of 'Truckin'' and 'Ripple.'"
Logan is unsure when or where Garcia acquired the instrument, but he and Jordan presume he traded in either the Martin 12-fret 00-18 or 000-45 or both that he had been playing to purchase the D-28.
It's quite possible the 00 was traded in for the 000, which was then swapped for the D-28, since, like many players of the time, Garcia was gravitating toward the dreadnoughts that he would then favor for the rest of his career.
The D-28 made the famous trek across Europe in 1972. In the last-known photo of Garcia playing it, he is alongside Bob Weir in what appears to be a church, presumably during an off-day jam session with members of the New Riders of the Purple Sage.
Peter Rowan told Logan that Garcia generously bestowed what he dubbed "Jerry's Herringbone" to him to record Old and In the Way and play it on subsequent tours in 1973.
Click here for Jimmy Leslie's acoustic guitar lesson on the Grateful Dead classic "Friend of the Devil."
Visit the Grateful Guitars Foundation online here.
All the latest guitar news, interviews, lessons, reviews, deals and more, direct to your inbox!
Jimmy Leslie has been Frets editor since 2016. See many Guitar Player- and Frets-related videos on his YouTube channel, and learn about his acoustic/electric rock group at spirithustler.com.