Here's Why Chet Atkins was a Humbucking Pickup Pioneer
Mr Guitar was performing with the Gretsch Filter'Tron before the Gibson PAF appeared on guitars.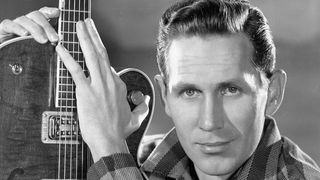 (Image credit: Michael Ochs Archives/Getty Images)
A virtuoso performer and one of the first genuine stars of the electric guitar, Chet Atkins also embraced innovation, and drove it by encouraging new inventions that could help him move ever closer to his sonic ideals for the instrument.
Atkins had long been aware of the importance of the right pickup, and he matched various units to his Silvertone, Gibson and D'Angelico guitars before Gretsch courted him in 1954 to endorse the 6120 Hollowbody and 6121 Solidbody models.
The trouble was, Atkins didn't much like the DeArmond model 2000 single-coils on his namesake guitars.
"I hated the sound of the pickups," he told author Tony Bacon in 1995 for The Gretsch Book, "because the magnets were so strong on the string, you pluck a string and there was no sustain there, 'specially on bass strings. I was tortured pretty good until Ray Butts built that Filter'Tron pickup."
An electronics whiz and music store owner from Cairo, Illinois, Butts designed the EchoSonic amplifier with built-in tape echo, which Atkins had previously embraced, in 1954.
When the guitarist griped about his DeArmonds, Butts knew just what to do: He designed a hum-canceling, dual-coil pickup, which he dubbed the Filter'Tron because it filtered out electronic hum.
Atkins whole-heartedly embraced it and urged Gretsch to adopt the pickup for its entire upmarket line.
Butts' development of the Filter'Tron ran neck and neck with Gibson's PAF humbucker, and while the latter beat Gretsch to the market by a nose, Chet was performing with the Filter'Trons one year earlier.
The Filter'Tron's narrower dimensions and more sparsely wound coils contributed to a brighter, clearer sound than the broader humbuckers.
It established the classic rockabilly tone of the late '50s, revived in the late '70s by Stray Cat Brian Setzer, that has remained the benchmark to this day, and it proved powerful enough for heavy rockers like AC/DC's Malcolm Young and the Cult's Billy Duffy, too.
All the latest guitar news, interviews, lessons, reviews, deals and more, direct to your inbox!
Dave Hunter is a writer and consulting editor for Guitar Player magazine. His prolific output as author includes Fender 75 Years, The Guitar Amp Handbook, The British Amp Invasion, Ultimate Star Guitars, Guitar Effects Pedals, The Guitar Pickup Handbook, The Fender Telecaster and several other titles. Hunter is a former editor of The Guitar Magazine (UK), and a contributor to Vintage Guitar, Premier Guitar, The Connoisseur and other publications. A contributing essayist to the United States Library of Congress National Recording Preservation Board's Permanent Archive, he lives in Kittery, ME, with his wife and their two children and fronts the bands A Different Engine and The Stereo Field.