Brian Setzer: My Career in Five Songs
Rockabilly's most effectual top cat takes a trip down memory alley and discusses his discography's most significant cuts.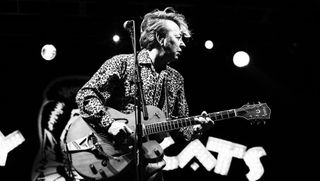 (Image credit: Suzie Kaplan)
For more than 40 years, Brian Setzer has been the torchbearer for all things rockabilly since finding success with Stray Cats in the U.K. The Long Island trio relocated to England after hearing about the booming U.K. rock and roll scene there, thinking they might capitalize on it with their own incendiary take on the genre.
Sure enough, within months of arriving in England, they had secured a record deal and started a run of hit singles that carried them through two albums before they finally broke big in America with the help of MTV.
The video channel was a godsend for any band with the visuals to back up their music. Little wonder that Stray Cats cleaned up, given their unique punk-rockabilly image and the strength of their songs. Since then, they've split and reformed a number of times.
They regrouped in 2019 to make 40, an album of all-new original songs, and launched a world tour to celebrate their 40th anniversary. Setzer is currently promoting the new Stray Cats live album, Rocked This Town, which captures highlights from that tour.
But of course, there is more to Setzer than rockabilly. In addition to his numerous releases under the Brian Setzer Orchestra banner, he's issued solo albums that have ranged from the Springsteen-like roots rock of 1986's The Knife Feels Like Justice to swing-injected versions of classical music on 2007's Wolfgang's Big Night Out. Fortunately for Setzer, lockdown didn't force him to change his plans.
"It coincided with a period where I'd been recovering from a bad bout of tinnitus," he explains, "so I didn't actually have any live shows booked. I had already canceled a few projected shows for that reason, so I needed time to heal. It's improved quite a bit over the last year.
"I've been holed up, like a lot of us have, and I've been writing some tunes. It's given me a good excuse to stay in one spot and do some work. I never know which way I'm going to go with the new songs, but I've got about six at the moment." As always, he works out those tunes on a Gretsch guitar. The brand continues to hold an allure for him.
"I love restoring an old '59 Gretsch, if I can get one," he says. "They still have that magic. There is a certain indescribable aura to the old guitars. I think part of it is that they were there at the incarnation of the first rock and roll songs. While all that music was being created, those guitars were there.
"Maybe a lot of that is just in your head, like with anything vintage, you know? You can't re-create that. As [Stray Cats producer] Dave Edmunds used to say, it was just 'in the air' back then — a special moment in time. You can get close using the old stuff that they used, but it's never quite the same."
---
1. "Stray Cat Strut" Stray Cats (Stray Cats, 1981)
"This was a deliberate attempt to change the feel from the rest of the things that we were playing. After you've written a few songs, you look for ways to shake things up. You might try writing in different keys or whatever, but in this case I did it by pulling the tempo down.
"The solo on this one is fairly set, and people know it and can sing it, so it is something that would probably cause disappointment if I didn't reproduce it live. That crazy diminished lick is part of the song's signature. I'll usually start with an idea for a riff or a phrase, and then I might play around with it and find somewhere to plug that into something.
"That riff was a case where I'd be sitting around experimenting with ideas, lock onto something that has a unique feel to it, and then store it in the arsenal to be brought out when I'm casting around for a missing piece. That might even be a subconscious thing, where I'm instinctively picking something from my stockpile of ideas and then realizing where it's the perfect fit."
---
2. "Hell Bent" Brian Setzer '68 Comeback Special (Ignition, 2001)
"This was one of my favorite tracks on Ignition. I did it on a few TV shows at the time, and I've returned to it over the years during my Orchestra shows, when I do the three-piece middle section using just bass and drums. 'Hell Bent' was inspired by the detuning that I'd been playing around with, where I'd dropped my low E string to D.
"I started figuring out what to do with that, as I always like to try something different within the rockabilly style, and there is that easy D octave thing you can do with the two D strings that the tuning gives you. This song is more like a flat-picking bluegrass piece in a way — a minor-key feel that catches your ear.
"I came up with the guitar riff first, as I usually do, and that gave me the song. It's nice to build up the tension with just the guitar and voice so that when the bass and drums jump in, it really kicks everything up a level.
"People have suggested to me that it has elements of surf, rockabilly, punk and country, and I guess that it does have a feel that is open to those interpretations. That probably validates my desire to create music that expands the rockabilly sound beyond what people are used to hearing."
---
3. "Blue Moon of Kentucky" Brian Setzer (Setzer Goes Instru-Mental! 2011)
"This is a song I've been playing one way or another for over 40 years. I covered it in my early years playing rockabilly, when I was obviously influenced by Elvis's take on it. With an old classic like this, you need to do something original. When Elvis recorded it in the '50s, he completely changed it from the way that Bill Monroe had played it.
"I wasn't really thinking of channeling anyone like Scotty Moore, Les Paul or even Duane Eddy, who are names that have been suggested that may have influenced my version. I guess a lot of their music is in my DNA, but it was just how I heard it in my head. I envisioned it as a melody-chord version, and that's a style of music that I really like.
"It's kind of like a lost art, right? Nobody does that anymore, and it was always mostly jazz guitarists who played in that style. A lot of things come out of boredom for me. I must have some kind of attention deficit, because if I'm playing the same style for too long, I almost immediately change up my playing.
"When I'd worked out the instrumental version, it sparked the idea for the Instru-mental! album. It got me thinking about creating a set of songs that didn't need a vocal and that stood up on their own as musical statements."
---
4. "Sleepwalk" Brian Setzer Orchestra – (Dirty Boogie, 1998)
"This is another piece of music that I've played for many years and that has changed and evolved to become a featured piece in most shows that I do now, whether it be with the Orchestra or Stray Cats. I first recorded it on Choo Choo Hot Fish [1992], which was one of the later Cats albums, and then I revisited it on Dirty Boogie with the Brian Setzer Orchestra.
"I usually play it by myself now and let the boys take a break. It has such a great melody and mood; it pulls the tempo down and changes the atmosphere. You can't just duplicate the original, because that's the way that Santo & Johnny did it. I needed to change it up, and it's never quite the same each time I play it. The various live versions that you can see on YouTube are good examples of where it has evolved to now.
"Again, the melody-chord style is central to my thinking, creating those harmonies and adding colors to the sound. I've got quite a few songs that I've worked out in that style that I haven't recorded yet, including 'Georgia on My Mind.' You know, that might just be the next thing that I do when all this pandemic trouble blows over — maybe play these songs on my own that I've never recorded."
---
5. "Dirty Boogie" Brian Setzer Orchestra – (Dirty Boogie, 1998)
"This is my favorite BSO record. We really got it right on that one. It was such a difficult thing: How do you get 17 musicians into the arrangement? We had to work out where to put all the instruments. We also added slap bass, rather than standard stand-up bass, which really changed the sound away from the traditional big-band approach.
"Actually, just as [the Stray Cats'] 'Runaway Boys' was my idea of updating rockabilly, this was another deliberate attempt to change what you would expect to hear in either rockabilly or swing. There was no way you would have heard a song like 'Dirty Boogie' back in the big-band era, with the guitar out front playing those kinds of licks. I really like the tone of my guitar on this particular cut as well. There's something a little different about it.
"I particularly like the chord changes and the solo that I came up with. This is another one where I think I have to play it pretty much the same live. There's a chord change from G minor to Eb9 that really isn't the normal progression you'd expect to hear. Something about it really twists your ear, and that's what I'm always trying to do in everything that I play."
All the latest guitar news, interviews, lessons, reviews, deals and more, direct to your inbox!
Mark is a freelance writer with particular expertise in the fields of '70s glam, punk, rockabilly and classic '50s rock and roll. He sings and plays guitar in his own musical project, Star Studded Sham, which has been described as sounding like the hits of T. Rex and Slade as played by Johnny Thunders. He had several indie hits with his band, Private Sector and has worked with a host of UK punk luminaries. Mark also presents themed radio shows for Generating Steam Heat. He has just completed his first novel, The Bulletproof Truth, and is currently working on the sequel.