Save $500 – yes, $500 – on a Gibson Les Paul Traditional Pro V in This Amazing Pre-Black Friday Bargain
By Scott Rowley published
It's Black Friday week and Guitar Centre have slashed 24% off this Mahogany topped beauty.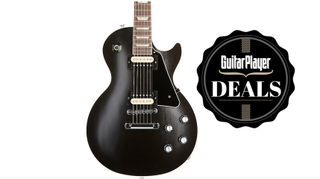 (Image credit: Guitar Center)
Black Friday? "Why wait?" says Guitar Center. The deals have started already and they don't come chunkier than $500 off this Gibson Les Paul Traditional Pro V (opens in new tab).
Available in both Cherry Satin (red) and Satin Ebony (black), this is a serious guitar at a discount price. With a weight-relieved mahogany body with mahogany top, a 24.75"-scale mahogany neck with a 22-fret compound-radius rosewood fingerboard, dual Gibson Tradbucker pickups with coil-split, coil-tap and phase, a Nashville bridge, aluminium tailpiece and locking Grover tuners, it's a classic guitar with 21st century appointments.
Great tonal choice and the classic Les Paul look and sound. If the $2k+ price was putting you off, now is your chance to pick one up.
The Les Paul is a tonal powerhouse, offering players infinite sustain, a powerful mid-range bark, and a creamy warm tone not found in other guitars. It's no surprise then that so many aspire to own a Gibson Les Paul one day. The rather sizable price tag can make them unobtainable, so this is a rare chance to snap one up at around the $1500 mark.
Want a Les Paul but the price is still a bit too rich? Check out our guide to the best Epiphone Les Pauls right now. Or widen your search: our in-house experts have been testing the year's best guitars: here is their guide to the greatest electric guitars on the planet right now.
Scott is the Content Director of Music at Future plc, which means he's responsible for the editorial strategy on online and print brands like Guitar Player, Guitar World, Total Guitar, Louder, Classic Rock, Metal Hammer, Prog, Guitarist and more. He was Editor in Chief of Classic Rock for 10 years and Editor of Total Guitar for 4 years. Scott regularly appears on Classic Rock's podcast, The 20 Million Club (opens in new tab), and was the writer/researcher on 2017's Mick Ronson documentary Beside Bowie (opens in new tab).
Over the years Scott has interviewed players like Jimmy Page, Slash, Brian May, Poison ivy (the Cramps), Lemmy, Johnny Depp (Hollywood Vampires), Mark Knopfler, Robin Guthrie (Cocteau Twins), Will Sergeant (Echo & The Bunnymen), Robert Smith (The Cure), Robbie Robertson (The Band), Jonny Greenwood (Radiohead), Joe Bonamassa, Scotty Moore (Elvis Presley), J Mascis (Dinosaur Jr), Mick Jones and Paul Simonon (The Clash), Pete Shelley (Buzzcocks) and more.
Get the latest news, reviews and product advice straight to your inbox.
Thank you for signing up to The Pick. You will receive a verification email shortly.
There was a problem. Please refresh the page and try again.