Best Looper Pedals 2022: Push The Boundaries With The Finest Loop Stations Available Today
Seriously boost your creativity with these looping stomps from Boss, TC Electronic, Chase Bliss Audio, Electro-Harmonix, MXR and more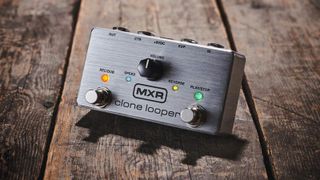 (Image credit: Future)
There could be a pretty persuasive argument made that the most powerful – and most creative – stomp on your pedalboard is not the delay, chorus, or overdrive but, in fact, a looper pedal. The best looper pedals have the ability to turn a lone performer into an arena-filling band and can even be the jolt of inspiration a songwriter needs to finish that hit song. So if you are looking to take your guitar playing to the next level, then this unassuming little stompbox may be exactly what you are looking for.
Loopers come in many forms, from simple recording functions built into delay units to full-on recording studios at your feet and everything in between. For that reason, it can get a little overwhelming when trying to decide which is the best looper pedal for your needs. To make it easier, we've put together this list of the finest loopers from the biggest names in pedals from the likes of Boss, TC Electronic, Chase Bliss Audio, Electro-Harmonix, MXR and more.
So before we get started, grab your favourite guitar and pray your timing is better than you think it is, as we're about to break down the best looping pedals on the market right now.
Best looper pedals: Our top picks
If we were to only recommend one looper, it would have to be the Boss RC-500 (opens in new tab). As the successor to the beloved Boss RC-30, the new RC-500 brings Boss' humble looper into the modern age with dual tracks, 32-bit audio and 13 hours of loop time!
If you are looking for a more affordable option, then the TC Electronic Ditto X2 (opens in new tab) is a stellar unit that is not only easy to use but also very reliable.
Best looper pedals: Product guide
Loop royalty gets the 500 treatment
Specifications
Dedicated stop control?:
Yes
Reasons to buy
+
Built to last
+
Three pedals for easy use
Reasons to avoid
-
Power supply sold separately
Boss is seen by many as the undisputed champion of the looping world, and one look at the new addition to their ever-growing looper line up and it's easy to see why. In 2015 Boss reinvented some of their most popular pedals, releasing the critically acclaimed 500 series and the RC-500 is the latest edition to this fabulous line.
This crimson looper tops our list for two main reasons – it's incredibly easy to use and it's built like a tank! With three pedals – Rec/Play, Stop and Track Select – it couldn't be simpler to use. There's no need to learn a complex series of tap dancing moves to change functions. Instead, you have a trio of well-labeled switches that allow you to focus on playing rather than working the looper.
Now, the original RC-30 boasts an impressive 3 hours of loop time, which was plenty for most players, but the RC-500 shatters that with an exceptional 13 hours of recording time, meaning it's practically impossible to run out of memory.
2. TC Electronic Ditto X2
An entry-level looper with pro features
Specifications
Dedicated stop control?:
Yes
Reasons to buy
+
Affordable
+
Intuitive layout
Reasons to avoid
-
Not as sturdy as the Boss unit
If TC Electronic is known for one thing, it's their incredible affordable pedals – and this extends to their masterfully engineered Ditto X2 looper. We love the clean and simple design of the Ditto X2. Its uncluttered layout makes for an intuitive pedal that's easy to use straight out of the box.
The Ditto is clearly designed with guitarists in mind and comes loaded with performance-friendly features such as a dedicated start and stop switch as well as a selection of looper effects, namely Stop, Reverse and Half Speed. But wait, that's not all - the Ditto also allows you to import and export your loops and even play backing tracks.
Okay, this may not be the most advanced loop pedal on this list, but simply put, we believe it offers superb value for money and a practical looping solution for most guitarists.
3. Chase Bliss Audio Blooper - Bottomless Looper
Push the boundaries of looping with this stellar looper
Specifications
Dedicated stop control?:
Yes
Reasons to buy
+
Not just for guitarists
+
Endless possibilities
Reasons to avoid
-
Too complicated for many players
Chase Bliss Audio never does things by halves – always offering guitar players more options than anyone would know what to do with. Now, while a delay pedal with too many choices could lead to option paralysis, on a looper, it can turn your guitar into a one-person song-writing power-house with bottomless sonic possibilities.
We'd go as far as to say that the Chase Bliss Blooper is one of the most creative and powerful looper pedals on the market. Merging high-fidelity looping with innovative manipulation modes and a plethora of effects, this looper is simply one of the most unique pedals available today.
As with all Chase Bliss Audio pedals, the Blooper comes with myriad dip switches on the side, which allows for advanced connectivity as well as customization options including MIDI, expression controls, syncing, loop saving, and internal modulation of all of its dials.
As simple as a looper gets
Specifications
Dedicated stop control?:
No
Reasons to buy
+
Very simple
+
The loop indicator is very useful
Reasons to avoid
-
Too basic for some players
Okay, if the Chase Bliss Audio Blooper is a futuristic spaceship brimming with out-of-this-world features, then the RC-1 is a single-passenger propeller plane that contains only the bare minimum to get you off the ground. That said, what the RC-1 lacks in features, it makes up for in useability.
This robust compact looper offers players an affordable and straightforward looping solution that is perfect for beginners and professional performers alike. With the ability to record, playback, overdub, and undo/redo loops, the RC-1 features everything you need to bring your playing to life, with none of the faff.
The standout feature of the RC-1 is the innovative loop indicator that sits atop this stompbox. Split into 24-segments, this LED display allows you to quickly and easily determine if you are in playback or record mode as well as your position in the loop – something newbies will find very useful indeed!
Now, it may not have the expansive recording time of its big brother – the RC-500 – but the 12 minutes of loop time available, should be plenty for most players to get down new riff ideas or to practice soloing over your favorite chord changes.
5. Pigtronix Infinity Looper Pedal
To Infinity and beyond
Specifications
Dedicated stop control?:
Yes
Reasons to buy
+
Very well designed
+
Sturdy construction
The folks over at Pigtronix claim the Infinity Looper is "the world's most musical looping pedal". Now, while this is certainly a bold claim, what we can confirm, is that this three-button looper is incredibly easy to use, despite its large feature set.
Boasting an impressive 24-bit/48kHz HD recording engine, the Infinity Looper stands out with its stellar audio quality and when you pair this with its flexible inputs and outputs – as well as its MIDI capabilities – and you get a very powerful loop station.
While at first, it may seem underwhelming to only get two loops – especially at this price point – when you delve in deeper, you'll realise that you can do a lot more. With up to 256 overdubs per side and the ability to sync both of the loops – not to mention the clever multiplier function, which allows the length of Loop 2 to be up to 6 times the length of Loop 1 – and it's clear to us that this is a strong contender for the best loop pedal you can buy right now.
6. Electro-Harmonix 720 Stereo Looper
Affordable two-button loop pedal
Specifications
Dedicated stop control?:
Yes
Reasons to buy
+
Expandable via footswitch
+
Affordable
Reasons to avoid
-
½ speed mode and sound a little glitchy
It's no secret that we love Electro-Harmonix pedals here at Guitar Player. Whether it's their genre-defining Big Muff fuzz, the unique modulation of the Electric Mistress, or indeed, the easy-to-use 720 Stereo Looper.
You may be wondering how the folks over at EHX came up with the 720 handle. Well, it comes from the 720 seconds – 12 minutes – of loop time found onboard. Now, while other loopers on this list do offer more in the way of loop memory, 12 minutes is usually more than enough for most players – it's certainly plenty for us.
Despite its small stature, Electro-Harmonix has managed to cram in a few effects, with a reverse and half-time mode available at the push of a button. There is also a loop fade-out option which will gradually fade a repeating loop out for a more natural end to a performance.
A small but mighty looper
Specifications
Dedicated stop control?:
Yes
Reasons to buy
+
Compact design
+
Very hardy
+
Well-labeled indicator lights
Reasons to avoid
-
Not as much loop time as others at this price category
This MXR looping device may look a little odd when compared to the classic units the Dunlop brand is famous for, but in actuality, MXR has found an ingenious way to fit two footswitches onto a fairly compact pedal – simply turn the stompbox on its side!
Another space-saving feature is the solitary dial located in the centre of the pedal, which not only controls the volume but, when pressed, can be used to select the reverse and ½ speed modes. This results in a pedal that won't take up precious real estate on your pedalboard but also has all the features you'd expect from a premium-feeling looper.
The Clone Looper may not offer the loop time found on the Boss or EHX, clocking in at only 6 minutes, but it does offer unlimited overdubs and high-headroom recording. So if you are looking for a reliable, well-made looper that's as compact as they come, then the MXR M303 Clone Looper is most definitely the pedal for you.
8. Singular Sound Aeros Loop
For those serious about looping
Specifications
Dedicated stop control?:
Yes
Reasons to buy
+
Perfect for those who want to create complex loops
+
Large footswitches are easy to hit
Reasons to avoid
-
Too much for some players
It's fair to say that Singular Sound's Aeros is a game changer in the world of loopers. Not content with allowing players to record two tracks, the Aeros features the ability to create 36 unique loops per song, with six tracks and six song sections at your disposal – it's like having a compact recording studio at your feet!
When we say recording studio, we really mean it. This sleek black box feels more like an audio workstation, with the colorful touch screen looking like a professional DAW, and better yet, guitarists can mix individual tracks with their feet via the integrated scroll wheel.
The 3 hours of loop time is expandable up to an impressive 48 hours when an SD card is inserted and this looper has a wealth of connectors on the back such as 2 x 1/4″ inputs, 2 x 1/4″ outputs, expression pedal support, MIDI in/out, stereo aux input, and 1/4″ stereo aux output – as well as the ability to send a click track to a set of in-ear monitors.
So if you are serious about looping and you want to create complex song arrangements, then this is the looper you need!
Built-in rhythms and user memory for a wallet-friendly price
Specifications
Dedicated stop control?:
No
Reasons to buy
+
40 built-in drum patterns
+
99 user memory banks
Based on their original looper – and bearing a striking resemblance to the functionality of the Boss RC-3 – the NUX Loop Core is a versatile pedal that makes looping accessible to everyone.
As you'd expect, this canary yellow pedal allows users to record, playback and overdub guitar lines, but its ace up its sleeve are the 40 built-in drum patterns and 99 user memory banks, which turns this basic looper into a powerful practice tool.
The clever Auto-Start mode is a neat feature that we'd like to see more loopers employ. Simply put, you arm the pedal and it waits until you strike your guitar to record – taking the guesswork out of recording.
Best looper pedals: Buying advice
What is a looper pedal?
Very basically, a loop pedal allows you to record short sections of music and play it back on a continuous loop. Better yet, you can also overdub extra layers and build grand-sounding arrangements with a single instrument. For this reason, looper pedals have become a go-to device for solo performers, singer-songwriters and experimental musicians looking to bolster their sound.
The majority of loopers allow you to overdub as many times as you see fit and capture any instrument you can think of, from electric guitars to basses, keyboards and synthesizers. Some loopers will use a single pedal for operation, while others add an extra footswitch so the functions can be spread across the extra control.
As well as the standard operations of record, playback, overdub and stop, some loopers will offer additional effect modes such as reverse, half-speed and even pitching effects.
How many tracks and footswitches do you need?
When we refer to tracks on a loop station, we are referring to the number of channels you can record on and effect independently from each other. As a minimum, we'd suggest going for a two-channel looper, as this will give you a lot more flexibility than single-track units such as the Boss RC-1.
Having two independent channels allows you to record your main idea on channel one and your harmony line on channel two, meaning you can stop and start the overdub at will. This is great for live performances when you don't want all the layers on the entire time.
Obviously, the more channels you have, the more creative you can get with them. Think hard about what you need your loop station to do and make sure you purchase a unit with the number of tracks you need to achieve the desired end result.
When it comes to footswitches, we recommend opting for a pedal with a dedicated stop control. This makes performing a lot easier, and if it all goes wrong on stage, and your performance turns into a car crash, you'll know which button is the emergency break! The single pedal units still have their place, but personally, we prefer a dual button stomp for playing live.
Where should the looper pedal go on my pedalboard?
Simply put the looper should be the last pedal in your chain. This is because you want the looper to "see" all the other effects and be able to record the affected sound.
If you have the looper at the start of the chain, you'll only be recording the clean signal from your instrument – meaning if you turn off an effect, it will no longer be applied to the loop. So for that reason, it's best practice to put the loop pedal at the very end of your signal chain. This way, you can add a little delay to your lead lines and it won't affect the rhythm tracks you've already laid down.
Related buyer's guides
Why you can trust GuitarPlayer Our expert reviewers spend hours testing and comparing products and services so you can choose the best for you. Find out more about how we test.
Get the latest news, reviews and product advice straight to your inbox.
First and foremost, I'm a guitar enthusiast – a fanatic, some might say. I'm a firm believer that most of the world's problems can be solved with a Gibson SG and a catastrophically loud amp. Before writing about guitars for a living as a Senior Deals Writer on Guitar Player, I worked in music retail for 7 years, giving advice on guitars, basses, drums, pianos, and PA systems. I also have a passion for live sound; I'm a fully qualified sound engineer with experience working in various venues in Scotland.
Thank you for signing up to The Pick. You will receive a verification email shortly.
There was a problem. Please refresh the page and try again.