Jeff Beck's 10 Greatest Collaborations
From Jon Bon Jovi and Roger Waters to Ozzy Osbourne and Kate Bush, here are some deep cuts from the electric guitar master's extensive catalog of collabs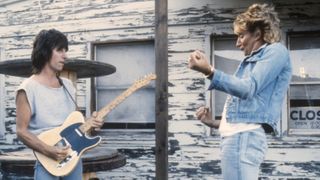 (Image credit: Getty Images)
Throughout the course of his long career, Jeff Beck collaborated with a vast array of artists.
Diverse, dynamic and in-demand, the number of fellow musicians he teamed up with is astounding.
The following list of classic moments captured on tape could easily be expanded without compromising on quality.
From Jon Bon Jovi and Roger Waters to Ozzy Osbourne and Kate Bush, here are 10 of Beck's greatest studio collaborations…
1. "Blaze of Glory" by Jon Bon Jovi from 'Young Guns II' (1990)
"Blaze of Glory" was written by Jon Bon Jovi in response to a request from actor Emilio Estevez who had originally hoped to use the Bon Jovi classic "Wanted Dead Or Alive" for the Young Guns II soundtrack.
The similarity in feel between the two songs is no accident, but the crucial added ingredient to the mix is Beck's blistering, iconic solo.
Utilizing his matchless whammy bar technique and volume swells, he opens up the solo with lines that mimic the sound of slide guitar. But it soon becomes clear there is so much more going on as Beck builds in intensity, taking the song to another level while unleashing the kind of fretboard pyrotechnics only he could deliver.
One of Beck's most celebrated collaborations, it is unsurprising that countless YouTube videos explore exactly how Beck played the piece.
As is often the case, seeing how it's done may remove some of the mystery, but the genius is in the conception as much as the execution. No one approached a song with the left-field slant that Beck brought to everything he worked on.
2. "Look Out Mabel" by Big Town Playboys from 'Roll the Dice' (2004)
Beck was always a huge fan of rock and roll and rockabilly. In fact, he devoted an entire album to Cliff Gallup's pioneering guitar work with Gene Vincent in the form of 1993's Crazy Legs.
In order to authentically recreate the tones of Gallup, Beck turned to a DeArmond Model 2000/Dynasonic-loaded 1956 Gretsch Duo Jet, eschewing the Strat with which he'd become synonymous.
The Big Town Playboys helped Beck recreate the timeless genius of Gallup and Vincent on the album, and he later reunited with the group for 2004's Roll the Dice.
Amongst a slew of great guests on the record, this particular track saw Beck team up with fellow '50s rock and roll devotee Robert Plant.
The song they took on was a cover of a single originally released in 1958 by G.L. Crockett on the Checker label. Long revered as a lost classic of the genre, it was the perfect vehicle for Beck to flex his rockabilly chops.
For a full 24 bars, Beck slips and slides into flurries of pull-offs and glissandos to deliver a knockout solo that bridges the gap between vintage rockabilly and modern rock.
3. "Hello Jeff" by Stanley Clarke from 'Journey to Love' (1975)
Beck collaborated with Stanley Clarke many times throughout his career, both in the studio and on stage. In 1975, Beck released his best-selling solo album, Blow by Blow, and recorded this track with Clarke the same year.
Clarke's genius and vision along with his ability to redraw the parameters of what the bass guitar could do paralleled Beck's own astoundingly innovative approach to the electric guitar.
The fusion of two intensely creative mavericks was bound to deliver something unique and "Hello Jeff" did not disappoint.
The opening theme rapidly gives way to Clarke's instantly recognizable bass before Beck re-enters to play a relatively simple hook, lulling the listener into a false sense of calm. The guitarist then unleashes a cascade of blazing licks – each one a masterclass in delivering the unexpected.
Every time you think you know how a line is going to end, Beck confounds your wildest expectations by finding the outside notes that somehow just work.
Even when referencing the standard licks in every guitarist's trick bag, he manages to extract something astonishing from the fretboard.
Given Beck's dynamically expressive approach it is perhaps a shame that he didn't play more of the straight-ahead gutbucket blues he rips out on this track from Paul Rodgers' 1993 all-star project.
The tone on the opening few riffs instantly focuses the listener's attention. The raw, nasty, down-and-dirty edge Beck brings creates a perfect counterpoint for Rodgers' muscular blues-wailing vocal.
From there, things only get more intense as singer and guitarist push each other to deliver some of the deepest blues recorded by either.
For the solo, Beck opens with a curveball of deep, growling bass licks – instantly wrongfooting the listener as he builds on a handful of perfectly chosen notes delivered with extraordinary finesse. Halfway through, Rodgers joins Beck as they ratchet up the urgency to breaking point.
The mark of a true artist is knowing when not to play – when to sit on a note and extract the maximum juice. And Beck's solo on this track is the epitome of such an approach.
Here, Beck has nothing to prove – no need to shred a million notes a minute. For him, it's all about the intensity of emotion.
5. "Amused to Death" by Roger Waters from 'Amused to Death' (1992)
According to Waters, Amused To Death completed a conceptual trilogy alongside Pink Floyd's The Dark Side of the Moon and The Wall.
The bleak, mournful tone of the title track provided Beck with the perfect sonic soundscape to paint an extraordinarily soulful solo.
Having had David Gilmour – a master of the understated – by his side for the first of the two albums in the putative trilogy, Waters knew he'd need to bring a seriously heavy hitter to the show for the final piece of the puzzle.
And with Beck on board, Waters found perhaps the only guitarist who could effectively convey the message at the heart of his dystopian lament.
For over nine minutes, Beck picks precisely the right moments to interject with the subtlest of fills, each one finding a way to counterbalance the vocal line that preceded it.
Dispatched by Beck with apparent ease, the guitar work here is sparse; choice vignettes of meticulous precision that expand the reach and depth of the song with every note.
Manipulating harmonics with his whammy bar, Beck produces sounds that most guitarists would not suspect lurk within their own instruments.
6. "You're the One" by Kate Bush from 'The Red Shoes' (1993)
On reflection, the pairing of Beck and Kate Bush seems like a no-brainer; Beck specializes in producing unearthly guitar tones and intensities of emotion that no other can equal, and the same could be said of Kate Bush's unique voice.
She can move in an instant from the deepest of growls to the most sublime falsettos. Likewise, Beck possessed the ability to turn on a dime and take the listener to places never imagined.
A lament for loss, "You're the One" was written by Bush at a time she later revealed had been particularly tough on a personal level. She needed someone who could turn that pain into joy.
Enter Jeff Beck.
Played over the gospel-flavored keyboard of Procul Harum's Gary Brooker, Beck's guitar solo finds endless ways to twist, turn and manipulate the melody into a statement of salvation and hope. It rises, phoenix-like, from a world gone wrong.
As Bush's vocal sears with raw pain, Beck's guitar solo brings a gentle, restorative calm.
As was so often the case, it is his ability to speak volumes with a handful of notes that brings the song home on an optimistic note.
7. "A Thousand Shades" by Ozzy Osbourne from 'Patient Number 9' (2022)
Beck's most recent work on this list, his playing here is as fresh and unexpectedly disarming as anything he ever recorded.
Ozzy has worked with some true legends of guitar – all of whom would happily defer to Beck as the master.
Taken at a slower pace than many of Osbourne's songs, there is a hint of Beatles-esque melancholia about this track (unsurprising given Ozzy's oft-stated love of the Fab Four.)
Beck's guitar asserts itself from the moment it appears, instantly transforming a standard mid-paced rocker into something transcendental.
The solo finds ways to continue ascending with quirky phrasing and virtuosic whammy bar moves. This utterly unique take on melodic invention enables Beck to find nuances in the song that Osbourne surely could not have conceived of.
Beck and Ozzy were both well into their 70s when this track was recorded; proof, if ever it were needed, that rock music is the elixir of youth. There is no trace of the miles on the clock in Osbourne's voice or the insane energy that Beck imparts with every flurry of notes and unerringly precise flick of his vibrato arm.
8. "People Get Ready (feat. Rod Stewart)" from Jeff Beck's 'Flash' (1985)
Rod Stewart and Beck's musical connection goes way back, with Stewart delivering vocals for the guitarist's first two albums, Truth and Beck-Ola in 1968 and 1969, respectively.
During the '70s, Stewart became a household name as he shot to fame as a solo artist. And while the singer had expressed some unhappiness concerning the Jeff Beck Group early on, he later became much more positive about his time with the band.
Beck had spoken fondly of Stewart and his vocal prowess, thus the stage was set for some kind of musical rapprochement.
Having featured on Stewart's 1984 LP Camouflage, Beck asked him to return the favor by appearing on his Flash album released the following year.
For Stewart's collaboration, Beck had earmarked the gospel-like "People Get Ready" – a Billboard hit for the Impressions in 1965.
Written by Curtis Mayfield (no slouch on the guitar himself!) Beck took this stirring melody and rendered its every minute inflection with an almost absurdly light touch.
Beck was able to convey every nuance of Mayfield's vocal before Stewart even got to sing a note. But when Stewart does enter the fray, he delivers one of the strongest performances in his catalog, and the half-step key change towards the end sets the seal on a truly uplifting tune.
9. "Love Is the Light" by Beverley Craven from 'Love Scenes' (1993)
Perhaps the most unlikely collaboration of Beck's long career is this track with the somewhat maudlin, U.K.-based singer-songwriter, Beverley Craven.
Seemingly, the two artists have nothing whatsoever in common and it is appears unlikely their paths would ever have crossed – much less that Beck would play on one of her songs.
However, there was a connection.
Love Scenes, Craven's second studio album, was produced by Paul Samwell-Smith, Beck's former Yardbirds bandmate from way back in the '60s. He managed to rope Beck in to play on three tracks, the best of which, "Love Is the Light," sees the guitarist deliver a solo that turns a fairly anonymous MOR piano ballad into a serious musical statement.
From the first note Beck plays, the outrageously supple fluidity of his technique elevates the song to a whole new level.
Beck's guitar stands out clearly from the backing – indeed, it is perhaps one of the most exposed-sounding lead breaks in his collaborative catalog. Furthermore, it is arguably the most transformative a contribution he has made to a recording that would otherwise appear unremarkable.
10. "Can't Start Over Again" by Dion from 'Blues With Friends' (2020)
On an album crammed full of astounding guitar players, including Billy Gibbons, Joe Bonamassa, Sonny Landreth and Brian Setzer, it is Beck who steals the show on Dion's blues collaborations collection.
Dion himself attested to the importance of Beck's contribution. "I'll be honest, when Jeff Beck said yes, I think I knew anybody else would say yes to playing on the album," he stated. "Like, okay, it's bona fide, certified, y'know? That was important because Jeff is such a huge talent, and his presence has such a weight."
Ironically, given the overall blues feel of the album, Beck's contribution was to a song that had something of a Hank Williams feel about it. His guitar mimics the sound of a pedal steel at times and exudes intense emotion.
What he plays on the intro is amazing enough, but the solo appears extraordinary as Beck mixes chords, harmonics and microscopically accurate microtonal bends.
"Anything he plays is just mesmerizing," agreed Dion. "He's one of the greatest guitarists on the planet. We have a lot of great roots in common – he loves rock and roll. I saw him do a version of 'People Get Ready' at the Rock and Roll Hall of Fame where he did about six choruses of solos and each one was amazing.
"He's the only guitarist who can make me cry."
All the latest guitar news, interviews, lessons, reviews, deals and more, direct to your inbox!
Mark is a freelance writer with particular expertise in the fields of '70s glam, punk, rockabilly and classic '50s rock and roll. He sings and plays guitar in his own musical project, Star Studded Sham, which has been described as sounding like the hits of T. Rex and Slade as played by Johnny Thunders. He had several indie hits with his band, Private Sector and has worked with a host of UK punk luminaries. Mark also presents themed radio shows for Generating Steam Heat. He has just completed his first novel, The Bulletproof Truth, and is currently working on the sequel.