How Billy Gibbons Wrote ZZ Top's "La Grange"
How a warm-up jam became ZZ Top's breakthrough hit.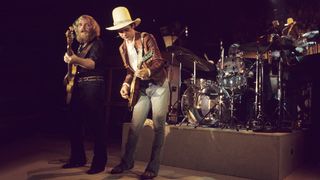 (Image credit: Tom Hill/WireImage)
"It was an important song in terms of our career, and in many ways it was the perfect introduction of ZZ Top to the world," Billy Gibbons says of "La Grange."
The romping, gutbucket boogie-blues vamp was the band's first single to make a dent in the Billboard Hot 100 (reaching Number 41), and it propelled their third album, 1973's Tres Hombres, into the Top 10.
"The genesis and, of course, the heart of the song was that boogie backbeat, which everybody and their brother has learned how to play," Gibbons says.
"Who would have thought that something so simple and severely compressed structure-wise would lead us on such a grand journey? From that cornerstone backbeat, our little song seemed to resonate and catch on with the masses, which has allowed us to chase it for going on five decades now."
A Brothel And Buddy Holly
"La Grange" is mostly a free-form instrumental jam brimming with Gibbons' unbridled blues soloing. The few lyrics it has were inspired by the notorious Chicken Ranch brothel that was located outside of La Grange, Texas.
As Gibbons recalls, "Growing up in Texas, there were two requirements toward manhood: You had to visit La Grange, and you had to go to the Mexican border. We somehow captured both in one single trip."
The guitarist points to Buddy Holly's "Peggy Sue Got Married," the rock pioneer's sequel to "Peggy Sue," as compositional inspiration. "That song showed us you didn't have to rhyme every single stanza or verse," Gibbons says.
"Plus, Holly left things open to interpretation: 'I heard it's a rumor from a friend.' Did she get married or not? So with 'La Grange,' we tagged the closing with lines like, 'I hear it's fine… but I might be mistaken.' The invitation stood at that moment."
Thank Goodness For Barbecue
While recording Tres Hombres in Memphis, Gibbons and his bandmates – bassist/co-vocalist Dusty Hill and drummer Frank Beard – would warm up with a blues vamp.
"It started to get longer and longer," he says, "and we kept asking ourselves, 'Is this a song? Let's see where this goes.'" Once they laid out the musical framework – spoken-word intro and riff, verse, then off to the races – the band debated how to work out vocal passages.
"We tried every which way we knew, but nothing felt right," Gibbons remembers. "Finally, the engineer and studio manager said, 'Let's take a lunch break.' With the studio manager dispatched to a barbecue joint some 30 miles away, Gibbons sat down in a folding chair, pulled up a microphone and said, "Run the track."
"Finally, something transpired, and whatever I was singing worked. The engineer was waving through the glass yelling, 'Don't stop! You've got it!'"
For the song's intro, Gibbons relied on a 1955 hardtail Fender Stratocaster, and for the overdriven riff, he pulled out his now-famous 1959 Gibson "Pearly Gates" Les Paul standard. Both guitars went through a 100-watt 1968 Marshall Super Lead amp.
"We did three takes of the solo, and I just went off into the ozone," Gibbons says. "I had a great time overdubbing and experimenting with twin guitars. We had the whole thing buttoned up in an hour, and when the manager returned from the barbecue joint, he said, 'I told you, fellas. I knew you had it!'" Gibbons laughs.
"It was one of those enriching moments in the rather antiseptic surrounds of a recording studio."
With Respect To Mr. Hooker...
Modestly, the guitarist claims nobody in the band had the song pegged as a hit. "It felt good, so we decided to put it on the album," he says.
Regarding a failed lawsuit by the copyright holder of John Lee Hooker's "Boogie Chillen'," which resulted in a court ruling that the rhythm was in the public domain, Gibbons says, "It seemed to be a somewhat egregious and curious accusation. At the end of the day, we were kind of flattered to know that our music had taken a very important position in the history of rock and roll."
All the latest guitar news, interviews, lessons, reviews, deals and more, direct to your inbox!
Joe is a freelance journalist who has, over the past few decades, interviewed hundreds of guitarists for Guitar World, Guitar Player, MusicRadar and Classic Rock. He is also a former editor of Guitar World, contributing writer for Guitar Aficionado and VP of A&R for Island Records. He's an enthusiastic guitarist, but he's nowhere near the likes of the people he interviews. Surprisingly, his skills are more suited to the drums. If you need a drummer for your Beatles tribute band, look him up.