Billy Gibbons Tells the Story Behind His 1959 Les Paul, "Pearly Gates"
"I've spent plenty of money putting together a collection of guitars attempting to find something to replicate Pearly, and it just hasn't happened yet," Gibbons says.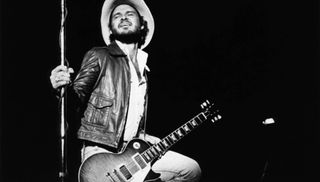 (Image credit: Fin Costello/Redferns/Getty Images)
"You gotta have the right guns when you enter the town of tone," says raconteur, bon vivant, and ZZ Top guitar-slinger Billy F. Gibbons. Translation: If you're heading into a recording studio or onto a stage, it helps to have some really hot guitars with you. And there are few hotter guns in all guitardom than Gibbons' 1959 Les Paul, known to guitar aficionados worldwide as Mistress Pearly Gates.
Gibbons acquired the instrument in 1968, just as ZZ Top were getting underway. Pearly Gates has played a starring role on every one of the band's records, from ZZ Top's First Album in 1971 to the present.
Threads of fortunate karma, both cultural and personal, crisscross the tale of how Billy acquired Pearly. It was the seminal 1966 album, Blues Breakers with Eric Clapton, that set him on a quest to own a sunburst Les Paul like the one Clapton is seen holding on the disc's rear-sleeve photo.
"A dear friend of mine," Billy recalls, "a fellow musician, Mr. John Wilson, was playing in a band called the Magic Ring out of Houston. He told me, 'There's a rancher outside of town who played in a country band but has turned his attention toward wrangling cattle. Rumor has it that the guitar still resides under one of the beds in his ranch house.'"
So Gibbons drove solo about an hour out of Houston and found the elusive rancher. "The guy was big," Billy recalls. "He was like a John Wayne guy. I had $250 in my pocket. And when he pulled out that '59 'burst, the deal went down."
Billy had freshly obtained the cash as the return on a favor. He'd loaned an aspiring actress a 1939 Packard automobile that he collectively owned with some friends so that she could drive from Houston to Hollywood for a screen test.
"We didn't think the car would make it past El Paso," Billy says. "But it brought her all the way to Hollywood, and she got the part. We figured the car must have divine connections, so we named it Pearly Gates. Meanwhile, she called and said, 'Should I send the car back or sell it?' We said, 'Sell it!' She did, and my portion of the settlement arrived the very day I drove out to see the rancher."
And so the name Pearly Gates, with all its attendant magic, was transferred to the guitar, which was in mint condition when Billy obtained it. "It still had the original set of flatwound strings from the Gibson factory on it," Billy marvels.
"Plus an extra set of Black Diamond flat wounds in the case. I still got 'em. Also in the case was a love note, which we also still have, from a girlfriend of the original owner. She said, 'I like what you do. Meet me later. You might like what I can do.'"
Over the years, the instrument has acquired a patina of scratches, scrapes, and dings, including ample belt buckle wear on the rear of the body. "I call that 'thrash rash,' " Billy says. But one of the first signs of wear and tear on Pearly was on the pickguard.
Following in the footsteps of Clapton, Segovia, and others, Gibbons grew out the fingernails of his right hand. "What I hadn't counted on was that the fingernail of the little finger started digging into the pickguard, leaving scratches," he says.
Still, Billy has kept Pearly 100 percent stock. Even the frets are original. What might such an instrument be worth today? "There was a Japanese gent who offered $5 million U.S.," Billy says. "Which is an attractive offer, but then again, I've spent plenty of money putting together a collection of guitars attempting to find something to replicate Pearly, and it just hasn't happened yet. That's what led to this closet full of hardwood that I have."
All the latest guitar news, interviews, lessons, reviews, deals and more, direct to your inbox!