Curtis Mayfield and the Power of a Deceptively Simple Groove
Curtis Mayfield's 'Super Fly' is a masterpiece that has lessons for us all.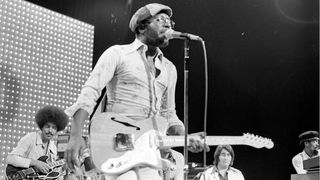 (Image credit: Michael Ochs Archives/Getty Images)
The early 1970s were a golden era for soul music, and one of the best albums from that time and genre is Curtis Mayfield's Super Fly.
Released in 1972 on his own Curtom Records, Super Fly served as the soundtrack for the film of the same name.
It came along at an explosive time for black soul records, one that included milestones like Sly Stone's There's a Riot Goin' On, Marvin Gaye's What's Going On and Issac Hayes' Shaft.
Born in Chicago in 1942, Mayfield was raised by his grandmother, who was a "healer" for the community and a fixture at their church. Through her, the gospel music of the Five Blind Boys of Alabama and Sam Cooke was instilled in his DNA at a young age.
Mayfield's falsetto and notable talent led him to join the Impressions at the young age of 16, where his songwriting skills and singing brought him success ahead of his prolific solo career.
His guitar playing and jazz-influenced sense of harmony were based on his own guitar tuning - (low to high) F# A# C# F# A# F# - that made harmonic choices like minor 7ths and major 7ths user friendly and gave his watery, pentatonic guitar lines a signature sound.
On Super Fly, his band - bassist Joseph Lucky Scott, percussionist Master Henry Gibson, drummer Morris Jennings and guitarist Craig McMullen - percolates over deceptively simple grooves, revealing the power within them.
The standout tracks - "Freddie's Dead," "Pusherman," "Little Child, Runnin' Wild" and "Superfly" - feature a multitude of great guitar ideas, including volume swells, wah-wah, funky octaves and raunchy Fuzz Face lines that serve the songs and Mayfield's artistic vision.
Lyrically and musically, Super Fly resonates with the same urgency it had upon its release almost 50 years ago. Mayfield testifies about the realities of drug dealing, addiction and bad life choices. Yet, despite the subject matter, the lovely melodies and feminine register of his falsetto is beautiful and comforting. When I listen to Super Fly, I hear compassion and hope.
I tried to employ some Mayfield-inspired stylings on my song "Dream Dictionary," but I could never capture his lightning in a bottle. And whether you know it or not, it's likely you play something in his style, either learned from him directly or peripherally via Hendrix, Robin Trower, Prince and hundreds of others.
Mayfield was paralyzed from the neck down in 1990 after a windblown scaffold fell on him at an outdoor concert, but he continued to record, and made his last album, 1996's New World Order, from his wheelchair. His beautiful falsetto never ceased, and his musicality always shone through like a beautiful light, right up to his death in 1999.
All the latest guitar news, interviews, lessons, reviews, deals and more, direct to your inbox!
Jim Campilongo has 14 critically acclaimed instrumental records available on vinyl, CD and digital download here.