"Somebody Called and Told Him I Sounded Pretty Good, and He Decided to Come by and See for Himself": When Buddy Guy Met Muddy Waters
Arriving in Chicago from Baton Rouge in 1957, Buddy was a starving musician when he was "fed by the Mud"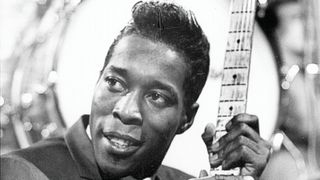 (Image credit: VAL WILMER/REDFERNS/GETTY IMAGES)
Born in Louisiana in 1936, it was in Baton Rouge during the mid-1950s where Buddy Guy got his indoctrination into the moves that were part and parcel of many blues guitarists' stage acts.
"I saw T-Bone [Walker], and he played his guitar, like, flat out in front of him, but I don't remember him putting it behind his head," Guy recalls.
"Guitar Slim, now, he was wild. The first time I saw him, he had this big repertoire of things he used to do. In Baton Rouge, when I first saw him, I heard an electric guitar, but there was no one playing. And I was saying, 'What the hell is this?' All of a sudden, he walks in the door on someone else's back, with a red suit on, playing 'I Got Something for You,' with a 100-foot cord that had been extended outside the club!
"His band was Ray Charles' band from before Ray got famous. I saw that and said, 'Well, if I ever learn how to play, I wanna play like B.B. King – but I want to act like Guitar Slim."
Meeting Muddy Waters
However, it was not a confident Guy who arrived in the Windy City on September 25, 1957. "I didn't think I was good enough for anything, especially when I got to Chicago and saw the Muddys and the Wolfs and all those guitar players," Guy says.
One of his early breaks in Chicago was playing with Otis Rush at the 708 Club on East 47th Street. "I went up and played Guitar Slim stuff that I used to do, and a number by Jimmy Reed. Muddy [Waters] was living about four blocks away and somebody called and told him I sounded pretty good, and he decided to come by and see for himself.
"Muddy had a red Chevrolet station wagon. I came out of the club and could hear it rolling up. He took me out and bought me a bologna sandwich. He said, 'I heard you were telling people you're hungry.' And I was! I hadn't eaten in three days, but nobody believed me because of how I played the guitar. They said, 'You can't be hungry and play like that!' So I got fed by the Mud."
Guy embraced every opportunity to be nourished by Waters, musically as well. "I didn't work with him," he explains. "I was in class. I just sat in a corner, and if I ever got asked to play with Muddy, I would always learn something."
Meeting John Lee Hooker
A fan of Hooker's since his days playing "Boogie Chillen'," Guy didn't meet the Crawling King Snake until the mid '60s when he was part of a package tour in Europe, backing a variety of American folk and blues acts. "I was the youngest one out there" Guy says, "so the promoter told me, 'I will give you 50 dollars a week to make sure everybody wakes up to be on the bus on time.' So I did that too."
Guy's moment with Hooker came one morning when the tour was in Germany and everyone was gathered in the common room of a venue. "I wanted to meet John Lee Hooker," he recalls, "and someone was at one of the tables, kind of stammering – 'Bah-bah-bah…' I thought, Whoever that is, I don't want to be bothered with him. I started playing 'Boogie Chillen' over in the corner with an acoustic guitar.
"Next thing I know, the guy with the stammer is coming over to talk to me. I said to myself, Oh my god, I ain't never gonna meet John Lee Hooker, 'cause here's someone who's gonna keep bugging me. And the man started laughing, and he laughed until he started crying – 'cause he knew I didn't know who he was.
"He said, 'I'm Johnny.' I said, 'I don't want to meet Johnny; I want to meet John Lee!' and he just fell down on his knees, laughing. He said, 'I'm John Lee, boy!' And from that day until he died, he was my best friend."
All the latest guitar news, interviews, lessons, reviews, deals and more, direct to your inbox!