"I Got to Chicago on September the 25th, 1957. And I'm Still Here": How Buddy Guy Went From Diddley Bow "Country Boy" to Chicago Blues Legend
"I said to myself, I want to do something the rest of the kids can't do. And I thought, I want to play the guitar," says the blues icon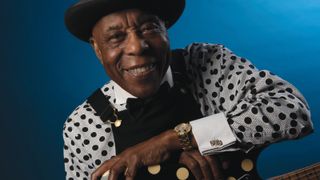 (Image credit: Paul Natkin)
Buddy Guy's reached that point in life, and in career, where he could wear the proverbial Grumpy Old Man tag with pride and purpose. But the truth is he's anything but.
With nearly 70 years of a playing career behind him, the Chicago-based legend prefers to be a wise and wizened gentleman, a gracious and enthusiastic representative of the Old School, with a sworn mission not to let his chosen music, the blues, fade away, even as he hits the road this year with his own Damn Right Farewell Tour.
Guy, at 86, is certainly well-suited to the task. Hell, his story even sounds like a classic blues song.
Guy was born to sharecroppers in Lettsworth, Louisiana, and did his own time in the fields, getting $2.50 for every 100 pounds of cotton he would bag. He learned to play guitar first on a homemade two-string diddley bow, then on a Harmony acoustic given to him by a generous stranger.
He journeyed from the country to the city, settling in Baton Rouge before moving to the Windy City in September 1957 and being mentored by greats such as Muddy Waters, Willie Dixon, Howlin' Wolf, Lightnin' Slim, B.B. King, Junior Wells and many other bluesmen.
Guy was a house guitarist with Chicago's Chess Records, and while his own style wasn't fully appreciated by the label, it set him up for some redemption in the latter part of his career.
British artists like Eric Clapton, the Rolling Stones, Jeff Beck and Jimmy Page revered Guy, along with other blues guitarists, and elevated him to a status in their country that was well above what he achieved at home.
"The British Invasion is basically an American story," Traffic co-founder Dave Mason acknowledges. "All we did is learn everything that was created there and sell it back to you – turn you on to your own music."
In 1991, however, Guy began a "comeback" with Damn Right, I've Got the Blues, the first of 13 studio albums to date. Together, those records have earned him eight Grammy Awards – and that's just a tip of the prizes Guy has accumulated during the past three-plus decades.
You can add a Grammy Lifetime Achievement award, along with 23 W.C. Handy/Blues Music Awards and inductions into the Rock and Roll Hall of Fame, the Musicians Hall of Fame and the Louisiana Music Hall of Fame.
Guy also operated the Checkerboard Lounge, with L.C. Thurman, on Chicago's South Side from 1972 to '85. He gave up his stake three years later and in 1989 opened Buddy Guy's Legends, where he spends each January performing a month of shows.
"That's a dream come true for me," Guy says of the accolades. "Sometimes I've had to pinch myself and say, 'Did I really make it in there? Like the Hall of Fame and all that stuff?' I didn't start out thinking anything like that would happen – could happen, to be honest with you."
Far from grumpy this day at his Chicago home, Guy is characteristically generous and engaging, happy to tell his story and fully aware that the tale is a microcosm of the blues in general. His conversation is free-form but always passionate and engaging, not unlike his fluid and often dynamic solos. Summing up his career, he modestly asserts, "I did the best I could."
That "best" has always been good enough, and some of the best we've been lucky to hear all these years.
"My parents had no radio or anything like that at first," Guy says of his youth in Lettsworth, where his first musical influence was the church. "They finally got this old radio that you had to put an antenna on your shotgun house to use, and if it was cloudy or raining you couldn't hear nothin' except for static. It had to be a clear day for you to hear.
"You could hear these random records coming out of Tennessee, mostly. And then Chess was opening in Chicago, and that's when I started hearing Little Walter and Muddy Waters and Howlin' Wolf and people like that.
"Before that you'd maybe find one person out in the country with a phonograph that you had to wind up to make it play the 78. So I'd hear a little bit here and there."
First Guitars
"I was in the country, where you'd have little sandlot baseball teams. And that was about it," Guy continues. "There'd be baseball on Sundays, because it was work all the other days of the week. I said to myself, I want to do something the rest of the kids can't do. And I thought, I want to play the guitar. I'd heard the late Lightnin' Hopkins and T-Bone Walker – all those great blues players. I just wanted to do something that the average person ain't gonna be able to do."
He began modestly, to say the least. Guy's diddley bow was homemade from a piece of wood and two wires pulled from a window screen. It was limiting, he says, "but I'd play it all the time."
His fervor for the instrument didn't immediately have the full buy-in of his family, however. "My brothers and sisters used to tell my mama, 'Get him outta here with that noise!' he remembers, laughing. "I knew it was noise 'cause I didn't know how to play nothin', but I kept fooling around with it. And finally, when I learned how to play, my oldest sister – she passed away, it'll be two years this year – she looked at me one day and said, 'Now you can come on in with that noise.'"
Flash forward to Baton Rouge, where Guy says "a stranger saw me sitting on my sister's porch one day with them two strings on the piece of wood, and he just said, 'Son, you could probably learn how to play if you had a real guitar.' And I said, 'Yeah, I guess.' I didn't know who he was. He said, 'Will you be sitting here tomorrow?' I said yeah, and he comes by the next day and says, 'Let's go! I'm gonna get you a guitar.'
"And he bought me a Harmony guitar with six strings on it. I was staying with my sister, and when she came home from work she said, 'Whoa, what is this? A country boy with a guitar!'"
It wasn't long before Guy had his eureka moment. "The first thing I learned how to play was 'Boogie Chillen',' by John Lee Hooker," he says. "When I figured that out, I walked a mile and found every distant relative I had and said, 'Look! Listen!' and they'd say, 'Yeah, that kind of sounds pretty good there.' And I was afraid to quit. I played it so long my fingers started bleeding."
Electric Guitars
While in Baton Rouge, Guy learned about using a pickup to amplify his guitar, as John Lee Hooker, Lonnie Johnson and others had begun to do. "That's what all of them was doing. There weren't no Strats and all that until later," he says.
Guy started playing electric guitar "a little bit before I left Baton Rouge. I think it was a Gibson, but there was another guy named Big Poppa. He had a band, and I was too shy to sing back then – 'til I learned how to drink a shot of wine first," he says with a laugh.
"Big Poppa bought the guitars. He said, 'I'll buy you a guitar, but you've got to come play in my band. I wouldn't sing, but I played and finally made a little noise in Baton Rouge.
"A friend of mine had left Baton Rouge and gone to Chicago. His wife got killed and he came back. He said to me, 'Man, you should go to Chicago!' I thought, As soon as I save up a little money I'm gonna come and see it, and if I don't like it, I'll come back.
"I got to Chicago on September the 25th, 1957. And I'm still here."
All the latest guitar news, interviews, lessons, reviews, deals and more, direct to your inbox!