Watch the Rolling Stones' Iconic Television Performance of Willie Dixon's "Little Red Rooster"
The producer, bassist and immensely prolific songwriter was responsible for some of the blues' – and popular music's – most enduring hits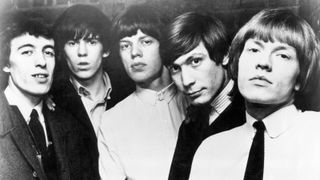 (Image credit: Michael Ochs ArchivesGetty Images)
Ever browsed through Willie Dixon's songwriting credits?
It's a sobering experience, a Rosetta Stone of popular music crammed with hits that anyone with half a grasp of blues, soul, rock, pop and even punk will recognize: "You Shook Me," "I Just Want to Make Love to You," "Hoochie Coochie Man," "Bring It on Home," "Talk to Me Baby," "You Need Love" (which Jimmy Page adapted for Led Zeppelin's "Whole Lotta Love"), "I Can't Quit You Baby," "Evil," "Back Door Man"…
They are songs that have been immortalized by Zeppelin, Fleetwood Mac, Muddy Waters, Etta James, the Doors, Canned Heat, UFO, Grateful Dead, Johnny Thunders, Tom Petty, New York Dolls and many others.
Arguably, it was the Rolling Stones who turned the wider world on to Dixon's most pivotal song.
On November 20, 1964, the Stones appeared on the British TV pop music show Ready Steady Go! to perform their ninth single, "Little Red Rooster."
In what has since become an iconic clip, Mick Jagger stalks the stage, alternately mouthing lyrics and blowing his harp while Brian Jones minces a sideways glance into the camera as he hits the song's slide lick on his teardrop-shaped Vox Mark III teardrop guitar.
A bassist, producer and the blues' most prolific songwriter, Dixon was accustomed to his songs achieving a higher profile than him.
For years he'd been spinning gold for Chicago blues artists like Muddy Waters, Howlin' Wolf, Bo Diddley and others. He'd also played bass on many of the Chicago blues sides we now cherish.
And in an electric-blues obsessed 1960s Britain, his tunes would fatten up the set lists of just about every R&B band.
You might suppose that the Stones and other English groups lifted Dixon songs from imported Muddy Waters, Howlin' Wolf and Little Walter 45s.
That did happen, but as Dixon revealed in his essential 1990 biography, I Am the Blues, he made tapes of his music to help players like Brian, Mick and Keith in their studies.
"Kids would come and say they liked our music and want to sing our music," Dixon said. "Sometimes I'd write it out for 'em. Sometimes I'd put it on a tape. That's how the Rolling Stones and the Yardbirds got their songs."
The great man died of heart failure in California on January 29, 1992. He never did become as recognizable as the artists he helped to break through, but everyone knows his songs.
Order The Willie Dixon Story: I Am the Blues here.
All the latest guitar news, interviews, lessons, reviews, deals and more, direct to your inbox!
Guitar Player is the world's most comprehensive, trusted and insightful guitar publication for passionate guitarists and active musicians of all ages. Guitar Player magazine is published 13 times a year in print and digital formats. The magazine was established in 1967 and is the world's oldest guitar magazine.
When "Guitar Player Staff" is credited as the author, it's usually because more than one author on the team has created the story.