"I Owe It to All of Them": Jimmy Page Explains How His Love of the Blues Fueled the Fire for One of Rock's Biggest Bands
"It was just an undeniable element of everything that was going on in Led Zeppelin," says the guitarist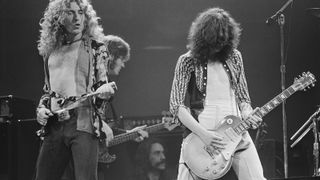 (Image credit: Jay Dickman/CORBIS/Corbis via Getty Images)
"The blues is scary," Jimmy Page says. "It's threatening. It's saying: 'I'm coming to get you.'"
Harder, heavier and hairier than anything before them, Led Zeppelin shook up the blues scene, established Robert Plant as a bona fide rock star and Page as an untouchable guitar god, and gave the world the ferocious rhythm section of drummer John Bonham and bassist John Paul Jones.
"The blues – I mean, it's just undeniable," Page says. "It was just an undeniable element of everything that was going on in Led Zeppelin. If there hadn't been that sort of movement in Chicago, back in the '50s, and all that sort of riffing, then you wouldn't have got what came through in various bands later – certainly for me and how it affected me in Led Zeppelin.
"In those days, all the guitarists were learning from records. I was lucky that I had a blues collector called Dave Williams. Through him I got to hear stuff like Elmore James. You weren't going to hear that on the radio."
Given his legacy, Page doesn't owe anything to anyone as a guitarist, but he waves away the notion. "I owe it to all of them," he explains. "That's how I learned. My breakthrough was when I understood how to do bottleneck guitar. That's the point when open tunings first come in for me. Boom! That's it. And that whole world opened itself up for me. I wasn't actually trying to play note for note what anyone else had done."
Instead, Page broke the mold. It's impossible to overstate the impact of that first Led Zeppelin album.
"As far as the material for the first Zeppelin album goes," Page recalls, "I definitely knew that I really wanted to do 'I Can't Quit You Baby.' 'Dazed and Confused,' too. And that's not blues, I know. But it is! If you have the harmonica playing that riff, you know that it's blues all right. And also 'Babe I'm Gonna Leave You.' All of these things. I could just list them and list them.
"It was very intentional what the first album was gonna be. There was gonna be a definite showcase of the blues. But it needed to have that Led Zeppelin character put into it."
How did Zeppelin's treatment of the blues differ from, say, John Mayall's and Eric Clapton's three years before? "Well, it's the atmosphere and it's the attitude that's created on something like Muddy Waters' 'Standing Around Crying,'" Page says. "It's like Howlin' Wolf: When you hear Wolf, he's not messing about. It's like, 'I'm coming at you – and I'm gonna get you!' And that's why I love him.
"So let's put it this way: Whether it was the first album or whether it was 'Since I've Been Loving You' [from Led Zeppelin III] or 'Tea for One' [from Presence], whenever Led Zeppelin do a blues, it's not like anybody else doing the blues."
Remarkably, Page says he wasn't Zeppelin's biggest blues fan. "We all had our roots," he explains. "Each and every one of us had played the blues in some sort of department or other.
"What I would say is that Robert was a blues aficionado, but he was very into the country blues. He was a damn fine harp player.
"He was used to playing that acoustically, but I was keen to get him playing it through an amp. So then you get things like 'When the Levee Breaks,' which is really gonna scare the pants off you with what he does on harmonica."
Order Led Zeppelin's 1969 debut album here.
All the latest guitar news, interviews, lessons, reviews, deals and more, direct to your inbox!
Guitar Player is the world's most comprehensive, trusted and insightful guitar publication for passionate guitarists and active musicians of all ages. Guitar Player magazine is published 13 times a year in print and digital formats. The magazine was established in 1967 and is the world's oldest guitar magazine.
When "Guitar Player Staff" is credited as the author, it's usually because more than one author on the team has created the story.