Listen to Memphis Minnie & Kansas Joe's 1929 Original "When the Levee Breaks"
Here's why the artist born Lizzie Douglas remains a blues guitar legend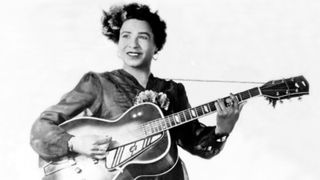 (Image credit: Donaldson Collection/Getty Images)
Born Lizzie Douglas in Louisiana in 1897, Memphis Minnie rocked the blues with guitar in hand and a voice both honeyed and forceful.
She ran away to Memphis at 13 and honed her talent as a powerhouse singer, guitarist and writer of earthy blues tunes.
As skilled, charismatic and raunchy as her many male peers, Minnie challenged their monopoly on the genre with her songs and performances.
She moved to Chicago in the '30s, where she famously beat Big Bill Broonzy in a cutting contest on his own turf.
Minnie's early sides with her partner Wilbur "Kansas Joe" McCoy (1905-1950) secured her legend and made more than a few male artists richer.
She and McCoy cut "Bumble Bee" (a huge hit that inspired Muddy Waters' "Honey Bee"), "If You See My Rooster" (which Willie Dixon remade as "Little Red Rooster") and "When the Levee Breaks," which Led Zeppelin famously appropriated for their fourth album in 1971.
"There are so many classics from way back which we can give a little of ourselves to take them through the years," singer Robert Plant told Melody Maker in the mid-'70s.
"That's one thing about blues – you can do more or less anything, around a very vague shell," he later explained to the Guardian. "And the more of it you do, the better you get until at the end there's very few boundaries to it at all, and yet it's all very tight.
On her own, Minnie enjoyed numerous hits, including 1941's "Me and My Chauffeur Blues." She took up electric guitar as early as 1942 and began laying down the kind of gritty electric blues guitar Muddy Waters wouldn't play for another few years.
Although ill health forced her to retire in the '50s, Minnie got her due in the '60s blues and folk revival and through covers of her music by Jefferson Airplane and Led Zeppelin.
She spent her last years in a nursing home and died penniless in 1973. She's buried in Walls, Mississippi, under a tombstone paid for by her fan and musical beneficiary Bonnie Raitt.
Order the Memphis Minnie Essential Recordings here.
All the latest guitar news, interviews, lessons, reviews, deals and more, direct to your inbox!
Guitar Player is the world's most comprehensive, trusted and insightful guitar publication for passionate guitarists and active musicians of all ages. Guitar Player magazine is published 13 times a year in print and digital formats. The magazine was established in 1967 and is the world's oldest guitar magazine.
When "Guitar Player Staff" is credited as the author, it's usually because more than one author on the team has created the story.