Expand Your Blues Vocabulary With These Essential Tunings, Scales and Chords
No guitarist should miss out on these blues staples.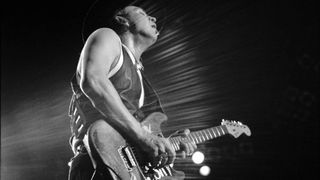 (Image credit: Robert Knight Archive/Redferns)
Early blues guitar players established techniques, chords and song structures that remain popular today. And while many of the chords and scales owe a debt to earlier forebears, over the decades many artists have put their own stamp on the blues.
Here are some essential pointers when it comes to mastering the basics...
Still Got the Blues Scale?
These four scale shapes are essential for any guitarist looking to expand their arsenal of blues licks. Once you've learned them, try playing them all over the fretboard in as many different keys as you can.
Open All Hours
Try out these three open tunings as used by some modern slide guitar greats…
Jack White: Open A
The White Stripes | "Seven Nation Army"
One of the biggest songs of its time saw guitarist Jack White's guitar tuned to open A. You can play the mega-easy main riff in any tuning – it's in the chorus where the open tuning comes into its own. Those slide guitar lines wouldn't be possible in standard.
Derek Trucks: Open E
The Derek Trucks Band | "Sweet Inspiration"
Revered as perhaps the finest slide player of his generation, Trucks' go-to tuning is open E. One of his tricks is to press down with his slide so you effectively fret the notes. He doesn't do it all the time but it's worth experimenting.
Dan Auerbach: Open G
The Black Keys | "Black Door"
A keen slide-man, the Black Keys' Dan Auerbach demonstrates once again why open tunings are so vital. It's simply not possible to slide smoothly between chords unless your guitar is tuned to an open voicing of some kind.
Blue Moods
Try these chord shapes for better blues jams…
A7
This simplified version of an 'E7 shape' barre chord is great for the sparser sounds of jazz-blues.
D9
The tension in dominant 9th chords makes this shape a great choice for funk grooves and blues jams.
E7
This 7th chord shape is frequently found in fingerstyle folk and blues. It sounds great plugged in or acoustic.
BbDIM7
On its own this diminished 7th chord is pretty out there. As a passing chord between A7 and Bm7 it sounds sophisticated.
BM7
Another simplified barre chord, this minor 7th voicing has a sparser sound, similar to our A7 chord.
Looking for more on essential blues guitar technique? Click here.
All the latest guitar news, interviews, lessons, reviews, deals and more, direct to your inbox!
Guitar Player is the world's most comprehensive, trusted and insightful guitar publication for passionate guitarists and active musicians of all ages. Guitar Player magazine is published 13 times a year in print and digital formats. The magazine was established in 1967 and is the world's oldest guitar magazine.
When "Guitar Player Staff" is credited as the author, it's usually because more than one author on the team has created the story.