Watch Howlin' Wolf's Electrifying "Smokestack Lightning" Performance Featuring Hubert Sumlin on Guitar
The biggest, baddest voice of the Chicago blues scene, Wolf was a far-reaching inspiration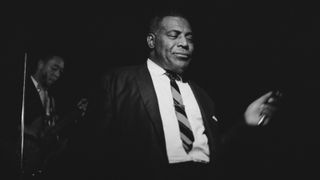 (Image credit: Don Paulsen/Michael Ochs Archives/Getty Images)
With his booming voice, towering stature and commanding presence, Howlin' Wolf fired up generations of blues and rock frontmen. Although he passed away in 1976 at age 65, it's impossible to overstate his importance as one of the most influential figures in the evolution of the blues and also in the whole of 20th century popular music.
"If you think of the way Howlin' Wolf made records, you get the feeling there wasn't a production manager onsite, or a publicist having his say on how he should sing the songs," folk-and-blues guitarist M. Ward says. "When you listen to his records, you feel like you're tapping into his voice."
And as the late New York City rock guitarist Robert Quine once noted of Wolf's music, "Once you arrive at the point that you understand it, the emotional factor is darker than some of the saddest blues stuff."
In Wolf's case it's not hard to see the source of that darkness. Born in 1910, Chester Arthur Burnett of White Station, Mississippi, earned the moniker Wolf from his grandfather, who would tell him that the big, bad wolf would get him if he misbehaved.
Wolf's mother threw him out when he was still a child, forcing him to hike barefoot over frozen ground to the home of his great uncle, a man he once described as "the meanest man between here and hell."
Wolf eventually ran away to his father's home, where life was much happier.
In his early 20s, Sonny Boy Williamson II taught him how to play the harmonica, and through the 1930s, alongside farm work, Wolf befriended an enviable cast of Delta blues heroes, playing juke joints with Son House, Johnny Shines, Honeyboy Edwards and Willie Brown.
Many bluesmen claimed to have known and played with Robert Johnson. But Howlin' Wolf actually did.
Not until his father's death in 1949 did he focus on music, and by 1951 he'd met guitarist Ike Turner, his link to Sam Philips at Sun Records. In 1952, Wolf relocated to Chicago, where his from-the-depths howls and vein-popping expressions saw him find favor with white youths discovering the blues, and become one of the scene's biggest stars.
Order Howlin' Wolf: The Complete RPM & Chess Singles As & Bs, 1951-62 here.
All the latest guitar news, interviews, lessons, reviews, deals and more, direct to your inbox!
Guitar Player is the world's most comprehensive, trusted and insightful guitar publication for passionate guitarists and active musicians of all ages. Guitar Player magazine is published 13 times a year in print and digital formats. The magazine was established in 1967 and is the world's oldest guitar magazine.
When "Guitar Player Staff" is credited as the author, it's usually because more than one author on the team has created the story.