'Led Zeppelin III' Track by Track
Freewheeling, exotic and rootsy, 1970's 'Led Zeppelin III' showcased the band's profound evolution and extended the reach of rock music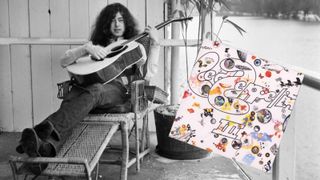 (Image credit: WATFORD/Mirrorpix/Mirrorpix via Getty Images (Jimmy Page); Atlantic ('Led Zeppelin III' artwork))
Led Zeppelin III might open with the rolling thunder of "Immigrant Song" but it's an album that debuted a more pastoral sound. Periodically switching to acoustic guitar to leave the electricity to Robert Plant's righteous wail, Jimmy Page integrated folk and alternate tunings into the mix, changing perceptions of what rock could be at the time.
It confounded critics, but then they were always confounded by Led Zeppelin. Maybe they shouldn't have been surprised. Led Zeppelin were never going to be just another rock band – new decade, new sound. As Jimmy Page said: "Our attitude was, 'Fuck the '60s! We're going to chart the new decade!' We were on a mission."
1. "Immigrant Song"
Driven by a thundering Jimmy Page F# octave riff and Bonham's propulsive beat, "Immigrant Song" kicks off Led Zeppelin III – the so-called acoustic album – with even more force than "Whole Lotta Love" launched Led Zeppelin II.
And were Led Zeppelin ever more over the top than when Plant let loose with his chest-beating Viking wails on the song's intro? (One need only witness Jack Black's wild-eyed re-creation in the 2003 comedy School of Rock to confirm that, yes, this is quite possibly the most Zeppelin-y of all Zeppelin moments.)
It's a standout opener, as Page knew it would be. "With that hypnotic riff and Robert's bloodcurdling scream, I thought, 'That's the way to open an album,'" he once noted.
2. "Friends"
"Friends" features one of Page's most intriguing alternate tunings: C6 (low to high, C A C G C E). His right-hand rhythm work and fret-hand pull-offs suggest a ragtime feel, but with its exotic chord shadings and John Paul Jones' expert string arrangement, the song sounds decidedly more Eastern in nature.
In addition to re-recording the tune in Mumbai in 1972, Page and Plant pulled it out again for 1994's UnLedded project (a version appears on their album, No Quarter), where they were accompanied by an orchestra that included numerous Middle Eastern musicians.
3. "Celebration Day"
With its jaunty rhythm and slippery guitar riff, "Celebration Day" sounds as freewheeling and lighthearted as its title suggests.
While it's not one of the band's heavier electric songs, famed producer Rick Rubin once correctly noted that it "feels like a freight train." Adding to the rollicking nature is the fact that the song seems to stumble in at the intro, a result of the original beginning having been accidentally erased by an engineer.
Rather than re-record the part, Page extended the synth line from the end of "Friends" into the top of "Celebration Day," filling the space until his guitar part came in. "That's called 'salvaging,'" he remarked.
4. "Since I've Been Loving You"
This Zeppelin original is quite possibly their greatest blues composition. Some critics and fans have pointed out similarities to Moby Grape's "Never," but the power of the song – Plant's rafters-shaking wail, Page's frenzied guitar solo and unique chord work, Jones' warmly glowing organ and Bonham's thunderous drums (squeaky bass-drum pedal and all) – is 100 percent Zeppelin.
Page once called the song "sophisticated," and it is, but the furious climax is also as primal and cathartic as any Zep moment recorded before or after.
5. "Out on the Tiles"
The title – British slang for a night out drinking – came from Bonham, who received a writing credit in return. His tight-but-loose drumming holds the whole thing together, not an easy task given the knotty riffing and herky-jerky chorus syncopations.
And while Zeppelin performed the entire song onstage just twice in their career, its opening salvo was later reassigned as the live intro to another heavily syncopated hard rocker, "Black Dog."
6. "Gallows Pole"
This side-two opener has its roots in a centuries-old European folk number, "The Maid Freed From the Gallows," though its most famous form before Zeppelin's was the 1939 version, "The Gallis Pole," by 12-string bluesman Huddie Ledbetter, a.k.a. Lead Belly. However, Page said he first heard the song "on an old Folkways" album as recorded by white American folksinger Fred Gerlach.
While Zeppelin's rendition is clearly rooted in folk-blues, Page and Jones' expert layering of acoustic and electric instrumentation – including six-string guitars, banjos and mandolins – is practically symphonic in nature.
7. "Tangerine"
With hushed minor-key verses that give way to soaring major-key choruses and Plant's yearning vocal, "Tangerine" demonstrates Led Zeppelin's range as skilled pop balladeers.
The song's origins stretch back to a tune Page wrote while in the Yardbirds, "Knowing That I'm Losing You," although "Tangerine" was also among the pieces he and Plant worked on at Bron-Yr-Aur.
Like several of the acoustic-based tunes on III, the power of the song stems largely from the thoughtful arrangement, with Page on six- and 12-string acoustic, electric guitar and pedal steel, and Jones adding mandolin.
8. "That's the Way"
In a sense, "That's the Way" is the most conventional of Led Zeppelin III's acoustic numbers, carried along by little more than a strummed acoustic in open-G tuning and Plant's poignant, affecting vocal and lyrics (which seem to address a relationship gone south but have also been said to be about Zeppelin's ambivalent feelings toward America).
Despite its simple arrangement – which includes pedal steel, dulcimer and mandolin – "That's the Way" is one of the band's most beloved songs and the acoustic track that critics and fans often single out for praise. A truly beautiful composition, it's seemingly the essence of Bron-Yr-Aur brought to life.
9. "Bron-Y-Aur-Stomp"
Despite its unplugged arrangement, "Bron-Y-Aur Stomp" has its roots in a full-band jam called "Jennings Farm Blues" (included on the 2014 deluxe reissue of III), which featured several of the song's riffs in heavy, electrified form.
For whatever reason, Zeppelin chose to rework the tune in a wholly acoustic arrangement for the record and onstage, where it was usually performed with Jones on upright bass.
The title appears to incorporate both a reference to Bonham's thumping rhythmic pulse and Plant's Welsh cottage, whose name is, intentionally or not, misspelled.
10. "Hats Off to (Roy) Harper"
Featuring Page on acoustic guitar and Plant singing lines culled from old blues songs (most notably Bukka White's "Shake 'em on Down"), "Hats Off to (Roy) Harper" is less a song and more a sound collage.
Page frequently punctuates his rapid strumming with what appear to be random slashes of slide work, while Plant's voice is fed through the tremolo channel of, according to Page, an old Vox amp. The song is psychedelic, spellbinding, perplexing and inscrutable. One thing it most certainly is not – critics take note – is a CSN&Y imitation.
"We did a whole set of country blues and traditional blues numbers [see the Page/Plant acoustic jam "Key to the Highway/Trouble In Mind," included on the 2014 deluxe reissue of III] that Robert suggested," Page said. "But that was the only one we put on the record."
In a last bit of abstruseness, "Hats Off" was credited on Led Zeppelin III to Charles Obscura, a pseudonym for Page.
Order Led Zeppelin III here.
All the latest guitar news, interviews, lessons, reviews, deals and more, direct to your inbox!
Rich is the co-author of the best-selling Nöthin' But a Good Time: The Uncensored History of the '80s Hard Rock Explosion. He is also a recording and performing musician, and a former editor of Guitar World magazine and executive editor of Guitar Aficionado magazine. He has authored several additional books, among them Kurt Cobain: Montage of Heck, the companion to the documentary of the same name.