He Escaped From a Chain Gang, Charmed His Way out of Prison, and Was Immortalized in Music History: How Lead Belly Became a Guitar Legend
The forefather of rock and roll was charming and dangerous in equal measure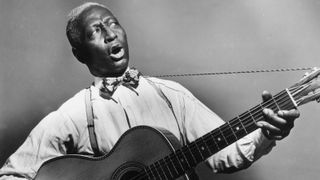 (Image credit: Hulton Archive/Getty Images)
Lead Belly was born Huddie Ledbetter in 1885 in Mooringsport, Louisiana, close to Caddo Lake, a tranquil spot far removed from the bright city lights of Shreveport, the nearest big town.
His parents were farmers, and by all accounts Huddie was a tough kid who was able to pick more cotton than anyone else.
He quickly came to like women, corn liquor and trouble in about equal proportions. He liked hanging out in Shreveport's red-light district, and by the age of 16 had not only gained an enviable reputation for his sexual prowess but also heard the barrel-house piano players, whose walking-bass figures would become a trademark of his own powerful rhythmic style.
By the age of 33, Lead Belly had mastered the 12-string guitar, met up with Blind Lemon Jefferson and become a regular performer at local dances and fish fries.
But he soon ran into serious trouble.
After an assault conviction, he spent a year on a chain gang, from which he escaped. He subsequently adopted the name Walter Boyd.
At about the same time that the United States entered the First World War, Walter Boyd was with two friends on his way to a dance. After an altercation over a girl, one of the men drew a pistol, but Boyd shot him in the head before he could use it.
Six months later, in 1918, he was sent to Shaw State Prison with a 30-year sentence.
In a remarkable streak of luck – something that seemed to characterize his entire life – Lead Belly, as he was now known, charmed his way out of prison after serving only seven years by writing a song about the prison governor, Pat Neff.
But Lead Belly's temper soon got the better of him again, and by 1930 he was behind bars once more, this time in Louisiana's Angola prison, for attempted murder.
Incredibly, history would quickly repeat itself. In 1933, John Lomax arrived at Angola looking to record the songs of the inmates for the Library of Congress.
Once again, Lead Belly sang a suitably ingratiating song he'd composed about the governor, and the next year he was released.
He lived a colorful life, but Lead Belly's real claim to a place in rock history is his repertoire of songs, from cowboy ballads like "Out on the Western Plain" (covered by Rory Gallagher) to his takes on the old English ballad "Gallows Pole" (immortalized by Led Zeppelin), "Where Did You Sleep Last Night?" (covered by Nirvana) and "Black Betty" (adopted by Ram Jam).
His final performance was a concert at Carnegie Hall in 1949. He died that year, aged 61.
Order The Definitive Lead Belly here.
All the latest guitar news, interviews, lessons, reviews, deals and more, direct to your inbox!
Guitar Player is the world's most comprehensive, trusted and insightful guitar publication for passionate guitarists and active musicians of all ages. Guitar Player magazine is published 13 times a year in print and digital formats. The magazine was established in 1967 and is the world's oldest guitar magazine.
When "Guitar Player Staff" is credited as the author, it's usually because more than one author on the team has created the story.