Rory Gallagher's School of Blues
This archive gem could be the best free guitar lesson you've ever had.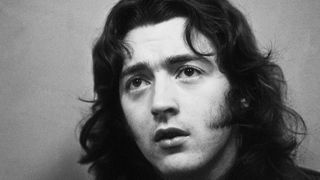 (Image credit: Gijsbert Hanekroot/Redferns)
Today, on the anniversary of his passing, we remember Irish blues-rock legend Rory Gallagher.
Born in Ballyshannon, County Donegal, Ireland, the first pieces Gallagher attempted to play were cowboy songs and Irish folk tunes on acoustic guitar, beginning at age nine.
American rock 'n' rollers such as Buddy Holly, Eddie Cochran, Elvis Presley, and Chuck Berry had an early impression on the budding guitarist, though he discovered blues, à la Leadbelly and Woody Guthrie, by way of Lonnie Donegan's British skiffle hits.
At 15, Gallagher joined the Fontana Show Band, which toured England and Ireland. The constant work helped refine his playing, but the commercial nature of the repertoire caused him to look elsewhere for artistic satisfaction, jamming with the group's drummer and bassist in small clubs throughout Europe.
By 1966, Gallagher had formed Taste, the now legendary blues-rock trio, comprised of Eric Kitteringham on bass, Norman Demery on drums, and Gallagher on guitar, vocals, and, occasionally, saxophone.
In 1969, the group signed with Polydor Records, but had disbanded by the following year, at which point the guitarist began to pursue a solo career in earnest.
Throughout the '70s, Gallagher recorded a steady stream of solos albums, picking up legions of fans along the way and establishing himself as one of the era's most influential guitarists.
In this interview extract from the March 1978 issue of Guitar Player, Gallagher talks about his various musical styles and techniques and the gear he used to arrive at his distinctive, energetic sound.
What he has to say about blues and rock 'n' roll should be required reading for any guitarist...
Hypothetically, if you were teaching blues guitar at a school, how would you go about it?
I'd keep it within a reasonably rigid blues framework, just to keep it on center. A lot of it would depend on what music the student had been exposed to.
I mean, if your parents were interested in music anyway – your father, for instance, had a couple of Bill Broonzy or Lonnie Johnson albums – or you were brought up listening to jazz programs on the BBC where they'd slot in the odd blues thing, you'd obviously have a head start.
Otherwise, you'd probably get into blues through rock 'n' roll – through Chuck Berry or maybe "High Heeled Sneakers" by Tommy Tucker. Then with the Rolling Stones era, you could sneak into the blues thing that way.
In my case, I started on the proverbial Lonnie Donegan skiffle music trail, where I heard Lonnie doing Leadbelly songs, such as "Rock Island Line" and "Bring Me A Lil' Water Silvy."
Before I even owned records by Woody Guthrie or Big Bill Broonzy, I used to get library books out in Cork – because you couldn't buy the albums in Britain – and I'd learn the lyrics to these songs.
But at the same time I was interested in rock 'n' roll – such as Buddy Holly. Eddie Cochran, Chuck Berry, and Fats Domino. I was listening to both of these strains, because at lots of points they'd cross.
Once you get beyond the Chuck Berry/Eddie Cochran thing, you begin to figure out that you've got Broonzy at one end of the scale – and that goes right back to the old tradition of Charley Patton – then John Lee Hooker has the Detroit electric blues style, which evolved from his acoustic style.
And you also get the Josh White sort of folkie style of blues. You just have to listen to a lot of records.
Which records do you think are essential for someone who wants to get into blues?
I suppose you'd have to go back to one of the main sources, say, either Robert Johnson, Lemon Jefferson, Willie McTell, or Leadbelly. The two Robert Johnson records [King Of The Delta Blues Singers, Vols. I & II] are obviously cornerstones; you'd have to get at least one of those.
It's pretty hard to zone in on it, because some guys mightn't get into Robert Johnson and might prefer, say, Willie McTell. But if we try to break it down to the key blues albums, I think that a Robert Johnson record would have to be included.
Then Blind Boy Fuller is another favorite of mine, especially that album With Bull City Red and Sonny Terry, with "Pistol Slapper Blues" on it.
I think that Broonzy album where he does "Banker's Blues" [The Young Big Bill Broonzy] is an important one, because he was broadening the scale.
It's different from the ones he made around 1950, where it was blues plus ballads.
The Best Of Muddy Waters [reissued as Sail On] is definitely an archetypal electric blues album.
Do you think albums by people such as Elmore James and Howlin' Wolf are important listening?
Oh yeah. You'd have to get The Real Folk Blues by Wolf, with "Spoonful" and "Shake For Me" [reissued in part on Howlin' Wolf: the Chess Box] for Hubert Sumlin's electric blues guitar.
He's the great undiscovered, underrated lead player. And Wolf himself harks back vocally to Charley Patton, and, besides, he plays a little bit of slide guitar here and there, too – like on "Down In The Bottom."
And his harmonica playing is important, even though everyone seems to write it off as just, "He plays harmonica." I think he plays good gut-bucket harmonica.
Which of Elmore James's albums would you single out?
Its hard to pin down one album for him, because there are so many oddball ones. I've got one on Ember Records – just sort of a bargain label – and it was reruns of some of his stuff, like "Sunnyland," "Standing At The Crossroads." and "Dust My Broom" yet again.
I find that any Elmore James album is good.
What about the older country blues players?
In terms of intensity, Son House has to be listened to. Of all the blues players, that's probably the closest connection with Africa. I've got that one album, with "John the Revelator." [The Legendary Father Of Folk Blues] That's an ace album.
If people come to hear you in concert, and they want to learn how to play guitar themselves, do you think it's more important for them to buy your records or these old records you spoke of?
To learn guitar? Well, I write a lot of my own stuff, so it's a cross between ego and the heritage thing.
If you want to play like Rory Gallagher, I think you'd buy my records. But if you want to pick up on whatever echoes of the bluesmen that I respect and love, certainly go ahead and buy some blues records.
In my case, I'd say the obvious influences would be Hubert Sumlin, Earl Hooker, and Buddy Guy, electrically; and, acoustically, Blind Boy Fuller and Blind Blake, though I can't get anywhere near what Blake does.
But you see, I never started out to become a strict recreator of the blues or even a modern young bluesman, as it were. I mean, I wanted to be me.
I'm a huge blues fan, but I still have a bit of Eddie Cochran and Buddy Holly hovering around in my head, plus certain folk people, such as Doc Watson – a pretty wide range of listening.
What type of instrument would you recommend for an acoustic blues novice to start on?
With acoustic guitar, for the first couple of years at least, I think you should leave a wound third string on and really build up strength in the fingers. In other words, don't try bending strings the first week you buy the guitar.
Kids are lucky nowadays; you can get a Yamaha or something, and the cheaper model guitars are much better quality than they were years ago when you got this stuff with terrible action.
The first guitar I got cost just over four pounds, which was about twenty dollars then, in the good old days.
After a while you get that urge to say, "To hell with this – I'm going to bend this string," instead of sliding up. But you have to build that up.
But do you think a student should start out with, say, a wooden Yamaha or a metal-bodied National such as you sometimes play?
Well, lets put it this way: If you're a kid with ears the size of the moon and an amazing sense of direction, who heard Son House or Blind Boy Fuller or any of the National steel-body players and said, "They're the people I want to play like," then go ahead and buy the National, because that's a great place to start.
But if you start with a National. you're talking about a guitar that weighs quite a bit.
Do you use a wound or an unwound third string on the National?
A wound third, because the numbers I happen to play need that fairly stiff action. I don't do any Broonzy-type bending with light strings on the National, whereas on a Martin acoustic I probably would.
Do you use an acoustic onstage?
I do; I play a Martin D-35. I use the National for things like "Pistol Slapper Blues," which I play faster than Blind Boy Fuller did, and a J.B. Hutto song called "Too Much Alcohol," which he plays electric, of course.
There's always the nature of the banjo in the National, I find, and you have to play it sort of like that. I do anyway.
Do you play acoustic with a plectrum or your fingers?
With a plectrum and the fingers. I fool around with National metal fingerpicks and the plastic ones sometimes.
How is your Martin set up?
Well, that's set up with the same strings, because at present I'm doing numbers like Leadbelly's "Out On The Western Plain," where the tuning is D - A - D - G - A - D [low to high]. It's [open] D tuning, except that the G remains a G [rather than major third/F#.]
What do you use for an electric guitar?
I have two different electrics. I have a [Fender] Stratocaster with Fender light gauge Rock And Roll strings, which I use for basic playing and some slide work in straight tuning.
I also have a [Fender] Telecaster for A tuning and other open tunings, for songs like "Bullfrog Blues."
Why the Stratocaster?
Well, that's the eternal argument among Fender fans. Buddy Holly had a Strat, and as a child you go after the appearance of a guitar; I don't care what anyone says. You look at the shape of the thing, and that's it. I've tried Gibsons, but I'm not a great fan of humbucking pickups.
Why is that?
Because as you bring down the volume from 10 to 9 to 8, after that – forget it; the guitar loses its sensitivity and drive.
Whereas with the single-coil or P-90 pickups – one of the old Gibson units with the black or white plastic covers – the volume control goes down nice and gradually, and even at 6 the guitar is still doing something.
Why do you usually switch to the Telecaster for slide?
I like a good bright tone, and I like the out-of-phase sound you can get with the switch set between the normal positions on a Strat.
Its comfortable, the scale seems right, and I like having the machine heads on one side – it just seems to make sense.
But if you want, say, a more luxurious, fatter sound, the Gibson guitar certainly would do the job, and it's got an extra fret – if anybody ever touches that fret; I'm sure they don't.
I thought it had a certain steel guitar type of tone which would work well with slide, but I was frustrated with the rhythm [neck/front] pickup – I thought it was too thin. So I put a Strat pickup there, and it remained that way for a year.
Then I said, "To hell with it – I'll do the Telecaster à la Strat," so now I've got two Strat pickups and a Tele lead pickup and a five-way Strat toggle switch.
It's like the best of both worlds with the Telecaster lead pickup, which is slightly hotter than a Stratocaster's.
What do you use for a slide?
It depends; I shift around. I sometimes use a bottleneck on my ring finger for electric stuff; otherwise I've got two stainless steel tubes, which I sometimes use on my small finger or the ring finger. They get a more stinging, Muddy Waters sound.
You get a different sound depending on what slide you use. For instance, if you're playing slide on a National with a glass slide, forget it. You have to have something like steel or, even better, copper. Son House used copper, and I've got one of those as well.
What type of amplification do you use?
For years I used a Vox AC30, which is the best all-around European amp I've ever come across. I still have it. The Shadows used to use them, and the Beatles used them, so you know it was the popular amp.
But I found that when using the [Dallas Rangemaster] treble booster, that along with the treble boost you got a built-in gain, because the transistors were fairly primitive.
If I used the normal input – which was very bassy, as opposed to the brilliant input – I could get that nice rough edge without getting into a very fuzzy sound.
I used that for years, and I've had odds and sods in between, but then I moved on to an old Fifties tweed Fender Twin, which I still have.
Then I got into a tweed Fender Bassman, and recently I got a Fender Concert, which is an old brown one, from around 1959, with four 10" speakers.
I use a Hawk booster through that just to roughen it up a bit, or if it's a quiet number I plug straight in and keep the guitar clean sounding.
Do you think it's advantageous to learn acoustic before moving on to electric?
Well, I played acoustic for two or three years before I bought an electric. I wasn't particularly interested in electric for the first couple of years, because I was a Lonnie Donegan fan.
I think it's better to start on acoustic and then get into electric, but you could get into a fistfight over that. I mean, some people would say, "To hell with acoustic guitar; it never existed. You've got to get a solidbody right away."
Fair enough, but I think they're missing out. Even if you're going to become the consummate 1978 electric guitarist, I think you're missing out on an awful lot, if only for the fun of playing an acoustic guitar at home as a hobby.
And it's nice to go from the acoustic, where even at the best of times the action is fairly taut, to the electric with light strings, where you float around like jelly. If you're always playing on light-gauge strings, you'll never really build up strength and subsequently real volume without turning up your amp yet again.
Are there any other techniques that you can adapt from acoustic to electric?
If you never played acoustic the odds would probably be three-to-one that you might never get into, say, playing with a plectrum and fingers or ever get interested in the various acoustic right-hand things.
I think if you're just playing with a flatpick full-time, you're only half playing the guitar.
So would you advise learning to fingerpick with bare fingers, with fingerpicks, or with a plectrum and the fingers?
Well, if you could wave a magic wand, you should tell the person to try all forms and be familiar with them all – anything instead of just using the plectrum alone.
I think at some point in every song you're going to need the fingers.
If you're interested in classical guitar, it's nice to get a couple of years training at that, and then you'd have very strong hands, and you could skip thumbpicks and metal picks or whatever.
Do you use fingerpicks mainly for volume, or do you use them for a specific sound?
I would use them for volume, you know, and to save wear and tear.
If I were a highly developed thumb-and-fingers person I'd just use the bare skin, but you do get the real sharp, biting sound with the metal claws.
Gary Davis just used the one plastic fingerpick, and he seemed to make great sense out of that.
So you think it's very important for a student to learn to use their fingers as well as a pick.
Yeah, even if they never touch folk or blues music. Of course, the sky's the limit nowadays, and I suppose for Chuck Berry rock 'n' roll it doesn't matter too much, but even Keith Richards uses his fingers on things like "Honky Tonk Woman."
Do you think it's important for a guitarist to learn to read music?
I did it by ear, listening to records. I never had a teacher, and I regret that I can't read music. I went into the library once and got Teach Yourself How To Read Music or something, and it said, "Sit down at your piano." We didn't have a piano, so that went down the chute.
Then I worked out F, A, and C and gave up, because I was too impulsive, and I was already delighted that I could play "Lost John" and a couple of other songs.
Then, next thing, I was playing blues and rock 'n' roll, which is fairly instinctive and primitive stuff anyway. But later on you start getting beyond the open tunings and ragtime blues, you know, and you're listening to someone like Diango Reinhardt or modern jazz guitarists, even bossa nova stuff like Charlie Byrd, and you begin to feel a little inadequate if you're an all-around guitar fan.
So you get a couple of books on chords and try to make sense of that. That's where the reading would probably come in; it would help if you were a bit of a jazz fan.
When recording with other musicians, do you find that not knowing written music limits your ability to communicate ideas in the studio?
No, that's no problem. Because you can hum it to them or play it on the guitar. I don't think that's the drawback; the only drawback is if you were interested in playing a classical piece verbatim, or you wanted to play a Charlie Christian solo and really wanted to find out all the notes that he played and the harmony and theory thing behind it.
Sometimes you say. "To hell with it; it doesn't matter anyway," but it kind of does matter. I'd say a year or two of just learning a little bit of theory wouldn't do any harm. Even tablature foxes me; I have no head for mathematics.
What advice could you give in terms of practicing the guitar?
Well, it's like the old cliché: You have to love the instrument and the idea of the instrument and the whole aura of the thing, and that will dictate how much you practice, really.
I don't think you have to sit down for eight hours a day or anything, but if you're really interested, you'll probably do that anyway in the early stages – and even after that, between trying to write songs and experimenting with notes and loosening your fingers.
I think you're bound to get in an hour or two a day anyway, although some guys say they only play five minutes a day outside the gig.
Could you offer any advice for guitarists wanting to become professionals?
If you wanted to get into, say, electric blues, I'd get into a band as soon as possible, no matter how bad it is.
Don't be too proud – get into some kind of band; get playing with a drummer. That's essential for electric blues.
If you want to play acoustic music on your own, just hurry up and get a gig if you can; get out there and play in front of people.
You feel that playing in front of people is an important thing to do as soon as possible?
Yes, it brings something out. I know for a fact that if I'm off the road for a long spell, even if I'm rehearsing like mad and playing a lot at home, the real crunch comes when I get out in front of people.
The things you thought were really hot in rehearsal don't make any sense, because quite often you've forgotten the basic drive.
In rehearsals sometimes the basics get glossed over, because you're fooling around too much with the frilly stuff. If you get out there in front of an audience, drop your pick or break a string, that toughens you up, and it brings out projection in your playing.
You have to direct your playing somewhere – unless you want to sit in a room like the painter looking at the painting he's just done, and he won't show it to anybody.
You do get people like that, who think there's no one in the city who's good enough to play with. But even acoustic players should get to a folk club and listen to other people, play with other people.
There's always a thin line between studying the old records by the old masters and trying to develop yourself. I think both can be done at the same time, because if you forget the old masters, you miss out on a whole heritage and a whole world, really.
But you shouldn't get too clogged up with the old stuff to the point where you won't be moving on yourself, because you won't end up like an old master yourself anyway, you know.
Order the Rory Gallagher 1971 debut solo album 50th anniversary edition here.
All the latest guitar news, interviews, lessons, reviews, deals and more, direct to your inbox!