Here's Why Blind Lemon Jefferson Was a Guitar Genius
The Father of Texas Blues helped shape the future of rock 'n' roll.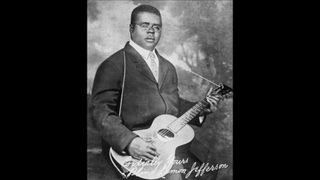 (Image credit: Hulton Archive/Getty Images)
The great blues guitarist Blind Lemon Jefferson recorded for Paramount from 1927 through 1928. As one of the earliest blues recording artists, he was among the first to attain exposure via disc. This, together with his genius, made him a monumental contributor to the blues as we know it.
Dubbed the father of Texas blues, Blind Lemon Jefferson's influence has impacted many musicians, such as Lead Belly, T-Bone Walker, Charlie Patton and Chet Atkins, who called Jefferson "one of his first fingerstyle influences."
His music has been recorded by a diverse crew that includes Bob Dylan, B.B. King, Phish and the Beatles, who covered his song "Match Box Blues" as "Matchbox," learning it via Carl Perkins. The Rock and Roll Hall of Fame named the song one of the 500 that shaped rock and roll.
That said, much of Jefferson's history is conjecture, contradictory or unknown. The son of sharecroppers, he was born blind, or partially blind, in Texas, in 1893 or 1894. He died sometime after 1930 either by exposure, a heart attack or foul play. In any event, his recordings survive, and they are, fortunately, filled with certainty and truth.
Jefferson's blues guitar playing was similar to ragtime piano, with a counterpoint that implied a left- and right-hand piano approach. "Low Down Mojo Blues" is terrific example of his command of the guitar, as he stabs and caresses triads interlaced with turnarounds. "Match Box Blues" features a wonderful melody, as does "Bootin' Me Bout," where he knowingly lays down a strong downbeat. "Lemon Worried Blues" almost sounds like two guitarists, yet it's relaxed with none of the posturing of virtuosity that might distract from the melody.
While you may not wish to learn a Jefferson piece note for note, you can easily cherry-pick from his goldmine of turnarounds, bass runs and clever dominant-7th triads, and his piano-like approach. His guitar style is like a mini-orchestra of players who prefer whisky to wine, and his playing perfectly supports his fiery singing.
There are many reissues of his Paramount sides. Browse Blind Lemon Jefferson albums here.
All the latest guitar news, interviews, lessons, reviews, deals and more, direct to your inbox!
Jim Campilongo has 14 critically acclaimed instrumental records available on vinyl, CD and digital download here.