"Rick Rubin Said We Needed One More Song for the Album": Billy Gibbons Explains How ZZ Top Melded Hip Hop and Blues Rock With "I Gotsta Get Paid"
"We had this great meeting of the minds," says the frontman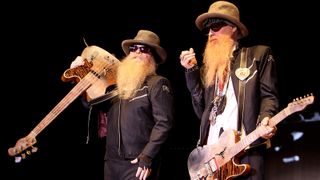 (Image credit: Gary Miller/FilmMagic)
Back in 2012, while Billy Gibbons was renovating his Houston studio, ZZ Top decided to set up in a nearby facility called John Moran's Digital Services.
It was here the band met and became friendly with local hip hop artists. Hanging out in the studio's communal lounge, Gibbons says they found some "common ground" chatting about music.
"We were comparing notes and exchanging ideas," recalls the guitarist. "They were showing us beats and I was showing them guitar stuff. A great time was had."
Inspired, the band set about recording a cover of Houston rapper and producer DJ DMD's chart-topping "25 Lighters" (featuring Fat Pat and Lil KeKe). The result – "I Gotsta Get Paid" – became the lead single from ZZ Top's 2012 La Futura album.
The following interview extract appeared in the October 2019 issue of Guitar Player...
As far as taking the blues up a notch, you did it with the song "I Gotsta Get Paid," which interpolates the 1998 Houston rap classic "25 Lighters" [by DJ DMD and featuring Lil' Keke and Fat Pat]
"I Gotsta Get Paid" has its origins down the street. When La Futura was set for release, I had been giving my studio in Houston a bit of a facelift. So we wound up driving down the street, and we were using the neighbor studio, which was called John Moran's Digital Services. He said, "I know you're reworking your studio. Come on down. There's plenty of room for you."
So we were working there, and the place had a studio on the left and a studio on the right, and the lounge was in the middle – the great meeting spot. And John Moran's studio had become extremely popular, particularly with the hip-hop and rap crowd. There was Rap-A-Lot Records; that's the Geto Boys – Scarface and the late Bushwick Bill, who just passed away last month. And then the Cash Money guys over in Baton Rouge started hanging out; that was Mannie Fresh, Juvenile.
So we had this interesting common ground in the lounge. I wanted to know what all these rap guys were doing. They wanted to know where all these guitar sounds were coming from. So we had this great meeting of the minds.
"I Gotsta Get Paid" came out of that. It was the retitled version of the song originally called "25 Lighters." And that was Fat Pat and Lil' Keke. [La Futura producer] Rick Rubin said we needed one more song for the album, and so I was in the studio with [engineers] Joe Hardy and Gary Moon. And I looked over at Mr. Moon, and he was grinning, and he said to me, "Man, you oughta check out YouTube. Somebody unearthed a bunch of film performances of Lightnin' Hopkins." And I said, "Well, that may be just the impetus I need. I've got this crazy song."
Years ago, in fact, Mr. Moon was the engineer at John Moran's Digital Services, and he's the guy that engineered "25 Lighters." I said, "You remember that song you did for Fat Pat and Lil' Keke?" And he said, "Don't tell me that you're thinking about that." I asked him why. He said, "Well, I can't envision ZZ Top… I don't see you as a rap group, just yet." And I said, "Well, you're listening to Lightnin' Hopkins. Maybe the two shall meet!" And that was the genesis.
You have a history of conjuring pretty gnarly guitar sounds, but this song might just have one of the gnarliest tones you've ever committed to tape.
One afternoon, we had some time on our hands in the studio, and it was just Mr. Hardy, myself and Mr. Moon, and I brought up a point. I said, "You know, the fuzz-tone signal, the square wave, has been chopped up, decentralized, it's been turned upside down. There's every kind of fuzz out there. Just go to the music store, close your eyes, point through the glass showcase and there'll be a hundred fuzz pedals."
I asked them, "How can we out-fuzz the fuzz?" So we came up with a contraption called the Frazz. And it's heard liberally throughout "I Gotsta Get Paid."
And what, exactly, is the Frazz?
The Frazz is a random-signal generator. It alters the EQ frequencies and at the same time it alters the amplitude. It's all random until you commit it to the tape machine. Then it becomes repeatable. But before it gets repeatable, it is definitely out there. You never really know what you're going to get.
It's probably most noticeable on a song that Dusty sang from the Rhythmeen album called "Loaded." The closing note of that track features the Frazz in its first incarnation.
You know, I had the funniest phone call once from Bill Paxton, the actor. He called me up one afternoon and said, "Damn you!" And I said, "What's up, Bill?" He said, "Well, I was listening to that crazy song you guys did called 'Loaded,' and I thought my car stereo system was going to explode. I took my mind off the speedometer and I got pulled over." Then he goes, "Thank god the cop was a ZZ Top fan. He let me go!"
Order ZZ Top's La Futura here.
All the latest guitar news, interviews, lessons, reviews, deals and more, direct to your inbox!
Rich is the co-author of the best-selling Nöthin' But a Good Time: The Uncensored History of the '80s Hard Rock Explosion. He is also a recording and performing musician, and a former editor of Guitar World magazine and executive editor of Guitar Aficionado magazine. He has authored several additional books, among them Kurt Cobain: Montage of Heck, the companion to the documentary of the same name.